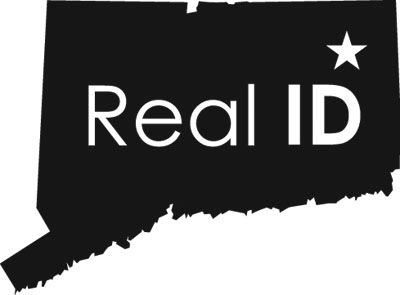 Frequently Asked Questions About the Real ID Program
NOTE: "REAL ID" will take effect on May 3, 2023. The U.S. Federal Government extended the deadline in March 2020 and April 2021.
Since October 2011, DMV has asked renewing customers whether they want to show original identity documents to establish an historical record of their identity with the agency as well as for federal identification purposes. Customers can also decline the verification and simply get a regular driver's license or ID card.
THE OVERALL PROGRAM IN BRIEF:
The program began in Connecticut in October 2011 and the federal government has established a deadline of May 3, 2023 (deadline was extended in March 2020 and again in April 2021) for individuals wanting to board an airplane for domestic travel by just showing their driver's license or ID card. Travelers without a verified license or ID card will also have the option of showing other identity documents, such as a passport or military ID to board a plane.

People wanting a license or ID card indicating their identity was verified by DMV will need to present certain original documents like a birth certificate, a valid U.S. passport or other primary documents, proof of Social Security number, proof of name changes including as a result of marriage, divorce, etc. as well as proof of current address.

Anyone not wanting this verification can simply decline and renew their regular license or DMV-issued ID card. If someone declines, a valid U.S. passport can serve the same purpose as the verified license or ID card at federal screening checkpoints.

Non-U.S. citizens who request the identity check must show various identity documents and establish legal presence in the U.S. DMV will verify using the Systematic Alien Verification for Entitlements Program (SAVE). Without legal presence, DMV will not renew the driver's license or DMV-issued ID card. A Drive Only license is not eligible for verification.

Anyone with a renewed license can drive legally regardless of whether an identity check is done.
I HAVE A GOLD STAR "verified" LICENSE, DO I NEED TO BRING ADDITIONAL PROOF OF IDENTITY TO A DMV SERVICE LOCATION FOR RENEWAL?
No. You will not need to bring any additional documents to the DMV if there is no change.
CAN I GET A VERIFIED LICENSE OR ID CARD ANY TIME BEFORE MY CURRENT ONE EXPIRES?
Yes. A $30 duplicate fee applies.
WHAT IS THE REAL ID PROGRAM?
Based on the federal REAL ID law, the Connecticut Department of Motor Vehicles started a program for customers renewing driver licenses and DMV-issued ID cards. It stems from national security measures and federal identification standards resulting from the Sept. 11, 2001, terrorist attacks in the U.S. It is also designed to offer residents additional protection against identity theft. Since October 2011, DMV has offered customers renewing driver licenses and DMV-issued ID cards the option to have the same identity verification that existing federal and state standards require for new license and ID card applicants. This identity verification is a one-time review of original identity documents
WHAT DOES A VERIFIED ID DO FOR ME?
These identity-checked driver licenses and DMV-issued ID cards are part of a federal program showing that the credential holders meet a federal identity standard that will be in place on May 3, 2023 for flying domestically or entering certain federal buildings. Connecticut DMV started offering this verification in October 2011 so that everyone had an opportunity at renewal time to get the verification prior to May of 2023.
AM I ELIGIBLE FOR A VERIFIED CREDENTIAL?
Only U.S. citizens and permanent residents are eligible for a verified credential. Citizens without a valid U.S. Passport, U.S. Birth Certificate or U.S. Consular Report of Birth Abroad will be subject to verification using the Systematic Alien Verification for Entitlements Program (SAVE). An Alien Registration Receipt card (Form I-151) is not considered an acceptable document and must be updated before any Connecticut Department of Motor Vehicles credential can be issued.
WHAT DO I NEED TO DO TO GET IT?
This process generally will involve residents bringing in original proof of identity documents.
Proof means: an original birth certificate and other primary documents, original Social Security card and original papers showing permanent residency in the U.S.
Also, if a name is different than as shown on a birth certificate, the person must also show proof of the name change: original marriage licenses, divorce decrees, legal documents name changes by court orders, adoption papers, etc. Certified copies will also be accepted.
Everyone wanting the identity verification will also need to show their address on two items of proof.
WHAT ARE REQUIREMENTS FOR NON-U.S. CITIZENS?
Non-U.S. citizens also will need to show a permanent resident card or other legal presence documents proving permanent residency.
CAN I USE MY U.S. PASSPORT AT THE AIRPORT INSTEAD OF HAVING THIS ADDITIONAL IDENTITY CHECK DONE?
Yes. A valid U.S. passport can also be used because existing federal standards are built into them. See additional documents, other than a license, ID card or passport, TSA will accept at the airport.
DO I HAVE TO TAKE THIS OPTION FOR GETTING A GOLD STAR ON MY LICENSE OR ID CARD?

No. People not wanting the identity verification can decline and need only say that they want to renew their current driver license or ID card.
WILL MY LICENSE OR DMV-ISSUED ID CARD CONTAIN A NOTATION TO SHOW THAT I ACCEPT OR REJECT THE OPTION FOR IDENTITY VERIFICATION?

Yes. The new identity-checked driver licenses and DMV-issued ID cards will have a gold star in the upper right hand corner. Those without this identity check will have their licenses or ID cards stamped "Not for Federal Identification" since it has not met the federal standard for identification.
WILL I STILL HAVE A VALID DRIVER LICENSE REGARDLESS OF MY CHOICE FOR VERIFICATON?
Yes. Driver license holders who are renewed can drive legally with or without the identity verification.
DOES THE VERIFICATION COST EXTRA?
The cost of the driver license or ID card renewals cards is the same whether identity is checked or not. (Regular license renewal for 6 years is $72; an 8-year license renewal is $96; anyone 65 years-old and older can renew for two years at $24; commercial driver's license renewal is every 4 years and is $70. DMV-issued ID cards are renewed for $22.50 for six years.). If you are not renewing and want to obtain a verified license or ID card, you will be charged a one-time $30 fee.
ARE VERIFICATIONS DONE AT DMV OFFICES AND DMV EXPRESS OFFICES?
Yes. These identity verification checks are done at either DMV offices, participating AAA offices and Nutmeg State Financial Credit Union. Non-U.S. citizens must visit a DMV office. Select
this link for specific location information
.
DOES A DRIVE ONLY LICENSE QUALIFY FOR A VERIFIED LICENSE?

No. Under current law, a Drive Only license does not qualify for a verified license.