Penn State Alumni Association Plate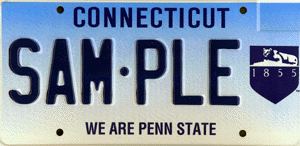 Thank you for showing an interest in the Penn State Alumni Association Plate.
In order to purchase these plates, you must...
Contact the person listed below to obtain an application.

Be sure that the vehicle is currently registered in Connecticut.

Note: Any applications received for vehicles registered out-of-state or with a temporary registration will not be accepted. Also, if your registration is due to expire within the next 45 days, you must renew your registration before requesting these plates.
You may only acquire the same registration type as is currently on your vehicle. For example, if you currently have combination plates on your vehicle, you can only request combination plates - you cannot request combination plates if your vehicle is currently registered with passenger plates.
Vanity plate options - see additional information.
---
Contact: Jeff Gartman
Phone: (814) 571-1908