DMV Has Transitioned to Mailing Driver Licenses, ID Cards
Change Aims to Help Prevent Identity Theft, Fraud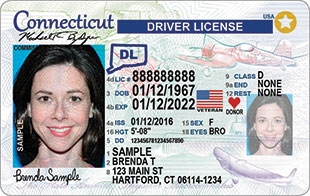 Customers who come to DMV for their renewal will receive
their license in the mail. It also will have a new design.
To increase the security of customer identities, DMV transitioned in June 2017 from issuing cards in their offices to printing and mailing them from a secure facility. This new approach aims to prevent identity theft and fraud. If your renewal occurs after this transition, you will keep your expiring card and will receive a temporary one. DMV will soon be sending to customers with expiring license and ID cards a renewal notice with this information.
Beginning in June 2017, DMV transitioned to a new process for issuing driver licenses and ID cards. Under the new process, called central issuance, customers will no longer receive their permanent driver license and ID cards while at the office.
After fraud checks have been completed to ensure a customer's identity, a newly designed and more secure driver license/ID will be printed at a central facility. The permanent driver license/ID card will be mailed to the specified mailing address on the customer's application and customers should receive them within 20 business days.

At the office, customers will receive a paper license/ID for temporary use until the permanent driver license/ID card arrives in the mail. Customers can keep the expiring driver license/ID card.
No Need to Replace Immediately
Customers with a valid driver license/ID card are not required to obtain the redesigned card immediately. Existing cards will remain valid until their expiration.
New Driver License Security
As part of the new central issuance process, DMV is introducing a redesigned driver license/ID card. The redesigned card contains increased security features to safeguard personal information.
These new licenses will be produced using an improved production and issuing process, resulting in a more tamper-proof construction. This will make it much more difficult to alter or counterfeit.
The new process and redesigned card enhance the security of customer identities and reduce opportunity for identity theft. These changes are in accordance with Connecticut's security plan under the Real ID Act and as required by federal law.
Press Release Announcing Start of Phase-In of Central Issuance Program (June 2017)