Medical Certification Requirements for Commercial Driver's License and Learner Permit Holders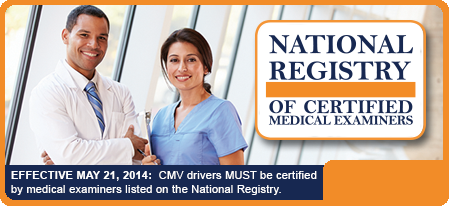 Effective 3/24/2020 FMCSA has provided needed relief for CLP holders, CDL holders, and non-CDL drivers and motor carriers using those drivers, who have expiring medical certificates on or after 3/1/2020. Full details can be found here.
For all of FMCSA's notices regarding COVID 19, including waivers, please visit FMCSA's website using this link: https://www.fmcsa.dot.gov/COVID-19
All Commercial Driver License (CDL) holders and Commercial Learner Permit (CLP) holders must provide DMV with a valid Medical Examiner's Certificate.
All medical exams MUST be completed on a form MCSA- 5876.
You are required to upload your medical certification to:
Have you received a CDL downgrade notice?
If you do not submit a valid medical certificate, your medical status will be listed as "Not-Certified". You will receive a downgrade letter advising you that the DMV has not received your valid medical certificate. If you do not submit your valid medical certificate by the downgrade date listed in your letter, your license will be downgraded to a Class D license.
Should your CDL license expire for two years or longer, you are required to obtain a new CLP and pass knowledge test(s) obtain a new CLP and pass a skills test in a representative vehicle.