Success Stories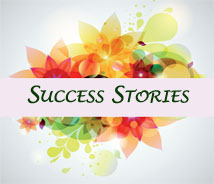 Living Life
A Day with Ken and Cindy Dubey - Time to Shop
Aida Fuentes Thoughts on Retirement
Alison Smith Success Story
Annalee Hughes Success Story
Bertha and Nancy - Living the Dream Success Story
Carol Grabbe Direct Hire Success Story
Carol Grabbe - An Independent Single Woman!
Corinne Jackson, RTAII Recreation Success Story
Genna Lewis at the Best Buddies Conference
Greg Washington - Art Works!
Jared Schlegel's Success Story - Seeds of Change - Living on My Own
Joe Edelstein - Joe Edelstein, also known as "Jukebox Joe", shares his abilities with his community.
Joyce Rivers, A Wonderful Inspiration To Us All!
Keep Walking and Exercising to be Fit
Kellie and Bin Hartigan - New Homeowners
Kevin Arce - My life is but one part of the story of the world. . .
Linda's Success Story - Seeds of Change - "Living and Thriving in the Environment of My Choice"
Mackie and Tara Artwork at the Five Points Gallery Success Story
Michael Adamczyk Living My Life Success Story
Shawntay, Margaret, Brian and Kazuyo's Happily Ever After
Sung-Bin Hartigan Success Story
Trey Barnes Success Story - A New Man
Varian S. - Apartment Success Story
Yana Razumnaya - Apartment Success Story
"Got A Job!"
Craig Taylor Success Story - Quality of Life Means Doing a Job you Love
Haley Marks - Haley is living her life and contributing to her community of Greenwich. Being competitively employed has made a difference to both Haley and the people with whom she works.
Jimmy Dzurnak - Enjoys Doing Real Work for Real Pay!
Kaitlyn Critchley - A Job that Includes Wet Noses, Slobbery Kisses, and Wagging Tails
Karen Armington - One Job is Not Enough When You Love to Work!
Kelly Bond - Kelly Bond follows her passion in getting the job she has always wanted
Nick Sinacori - Employment Success Story
Raeqwan Jordan - Makes His Life Happen!
Real Jobs for Real Pay Success Stories
Richard Goodenough and the Thomaston Savings Bank
Sarah Liebeskind - Sarah's Red on Wheels Creations
Suzanne Johnson - Success Story
Varian S. - Employment Success Story