Natural Resources
Connecticut is a state rich with natural resources and a great diversity of habitat, landscapes, plant life, and wildlife. From the coastline of Long Island Sound, to the Litchfield Hills, the Connecticut River Valley and the Eastern Highlands, DEEP works to protect and preserve the natural resources and scenic beauty that make Connecticut a special place to live, work, or visit.
Recreating and Learning in the Connecticut Outdoors
Fisheries
Fish Connecticut | Fishing Guide | Learn to Fish | Take a Friend Fishing | Return of the Tiger Trout | Get Your Fishing License Online | Report a Sturgeon Sighting | and more....
Hunting
Hunting and Trapping | Hunter Education | 2023 CT Hunting and Trapping Guide | Connecticut Migratory Bird Hunting Guide | Online Licensing | Hunting Roadmap | Public Hunting Area Maps
Wildlife
Learn About Wildlife | Wildlife Problems | Natural Diversity Data Base | Endangered Species | Habitat Management for Wildlife | Living with Black Bears | Report a Wildlife Sighting | Meet the Wildlife Division | Community Science and Volunteer Opportunities | and more….
Forestry
Forestry Division Programs | Forestry Division Services | Service Forestry | State Lands Management | Urban and Community Forestry | Forest Health and Climate Change | Forest Products and Practitioner Resources | Letterboxing | Fall Foliage | and more….
Insects and Invertebrates
Mosquitoes | Ticks | Integrated Pest Management (IPM) | and more….
Wetlands and Water Resources
Long Island Sound | Ground Water | Lakes and Ponds | Rivers and Streams | Wetlands | and more….
Geology
Connecticut Geological Survey | Bedrock Core Repository | Geological Survey Publications | Radon | and more….
Related
Housatonic River Basin Natural Resources Restoration Plan
Public Act No. 21-52 Regarding the Bix Six African Species
Invasive Species | Plants | Open Space | Environmental Conservation Police | Maps and GIS Data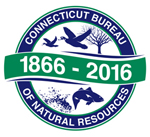 The DEEP Bureau of Natural Resources celebrated 150 Years of Natural Resource Conservation in Connecticut in 2016. We looked back at our history and also forward to the future of natural resources in our state. Check out our historical timeline Connecticut Bureau of Natural Resources Through the Years and see what it was like "Then and Now."
Content last updated in January 2023.