Hazardous Waste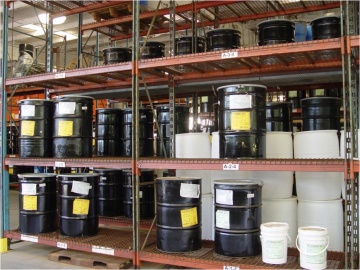 On this web page you can find detailed information and guidance concerning the requirements for the management of hazardous waste. The term "Hazardous Waste" as used here means discarded chemicals and other wastes generated from commercial, industrial, and institutional activities.
DEEP recently passed a new regulation adopting the EPA's 2013 Solvent-Contaminated Wipes Rule. This rule provides an exemption from hazardous waste requirements for certain solvent-contaminated wipes that meet specified management requirements. In particular, qualifying wipes may be: (1) laundered at certain laundry facilities; or (2) disposed of at certain in-state combustion facilities or at out-of-state combustion or landfill facilities meeting the requirements of the receiving state. A copy of the final DEEP regulation is available on the Connecticut eRegulations website. More information about this new rule is available in a DEEP PowerPoint Presentation. Note: pursuant to the adoption of this new regulation, the DEEP's fact sheet entitled "Industrial Rag Handling" is no longer valid, and will be replaced.
Information on Hazardous Wastes that are generated by residents in their homes. Such wastes are not subject to the same rules as wastes generated by commercial, industrial, and institutional activities.



Are you new to Hazardous Waste requirements? Do you find them overwhelming or don't know where to begin? Try this one-stop guide to get you on your way to compliance.


Hazardous Waste On-Line Training Course
An Internet-based training course that provides detailed instruction in hazardous waste requirements for large and small quantity generators of hazardous waste.

What is Hazardous Waste?
An overview of the kinds of wastes that are subject to hazardous waste requirements, and links for more specific information to help you determine which of the wastes you generate are hazardous.
Hazardous Waste Management Regulations
Download a copy of Connecticut's Hazardous Waste Management Regulations, and the federal regulations that they incorporate. Includes fact sheets and other documents concerning Connecticut's Hazardous Waste Management Regulations.
Hazardous Waste Compliance Assistance
Information on DEEP's Hazardous Waste Compliance Assistance ("COMPASS") program. This program includes a number of different outreach tools to assist hazardous waste handlers in Connecticut achieve compliance and minimize waste.
Hazardous Waste Inspection & Enforcement Process
Describes how DEEP performs hazardous waste inspections and enforces violations of hazardous waste requirements. Includes numerous tips and advice to help hazardous waste handlers prepare for an inspection and ensure the best outcome (i.e., full compliance – no violations) and advice on how hazardous waste handlers should respond if violations are found during an inspection.
Information for Generators of Hazardous Waste
If you are looking for help to find out what kind of hazardous waste generator you are, see RCRA Help!, or DEEP's Hazardous Waste Generator Category Fact Sheet.

Permitting Requirements
Hazardous Waste Site Cleanup For information on cleanup of hazardous waste sites, see:
Hazardous Waste Manifests

Related Links

Questions? If you have questions about hazardous waste, call our toll-free COMPASS hotline at 1-888-424-4193, Monday through Friday, 8:30 a.m. to 4:30 p.m. (except state holidays), or send us an email.


Content Last Updated January 27, 2020