Training Resources and Links
Fire & Rescue, Hazardous Materials, and Other Emergency Services Related Training Programs
The Connecticut Fire Academy is operated under the guidance and administration of the Department of Emergency Services and Public Protection,
Connecticut Commission on Fire Prevention and Control
. The Training Division is responsible for the development and delivery of Fire & Rescue, Hazardous Materials, and other Emergency Services related training programs. The Division also offers a variety of industrial OSHA compliance programs to assist private industry to comply with State and Federal Health and Safety regulations.

CT DESPP Division of Emergency Management and Homeland Security Training Resources
The
US DOT Pipeline and Hazardous Materials Safety Administration (PHMSA)
hosts free training modules:
https://www.phmsa.dot.gov/training/hazmat/training-modules
To register for any HazMat webinar offered by PHMSA, please visit the registration webpage at:
https://www.phmsa.dot.gov/hazmat/seminars/webinars
PHMSA also has lists of resources:
PHMSA Resource List - 2021-01-21
PHMSAs Public Resources Presentation to CT SERC 20210121
Tier II Reporting and Compliance Assistance Workshops
The U.S. Environmental Protection Agency periodically conducts EPCRA Compliance Assistance Workshops regarding Facility Planning and Reporting Obligations under EPCRA-Sections 301-312.
EPCRA Tier II Reporting Requirements for Connecticut Facilities
Tuesday, January 26, 2023, 1:30-3pm ET
Register at: https://usepa.zoomgov.com/webinar/register/WN_j59MirHtRni8LTy-x1huew
The Emergency Planning and Community Right-to-Know Act (EPCRA) establishes requirements for federal, state and local governments, Indian tribes, and industry regarding emergency planning and reporting on hazardous and toxic chemicals. Individual facilities are required to report annually on the presence and use of chemicals on-site in order to help states and communities improve chemical safety and protect public health and the environment. Every March 1st, facilities covered by EPCRA must submit an emergency and hazardous chemical inventory form (Tier II Report) to the Local Emergency Planning Committee (LEPC) or Tribal Emergency Planning Committee (TEPC), the State Emergency Response Commission (SERC) or Tribal Emergency Response Commission (TERC) and the local fire department for the previous calendar year.
EPA Tier2 Submit software provides facilities with a simplified, easy-to-use reporting process for the EPCRA Tier II Report. For this webinar, EPA New England's Len Wallace, will provide a live demonstration of EPA's 2022 Tier2 Submit reporting software, and answer questions from attendees.
Representatives from the State of Connecticut will provide additional information on state-specific requirements.
The Connecticut State Emergency Response Commission and the Department of Energy and Environmental Protection Connecticut continues to accept submittal of reports via EPA's Tier2 Submit™ Software with electronic file submissions sent to DEEP.CTEPCRA@ct.gov.
Connecticut SERC and DEEP will also be using the Hazconnect® Tier II Manager system to manage EPCRA Tier II chemical inventory reports due March 1, 2023.
To use the Hazconnect® Tier II Manager platform please register for a system user account by the end of December, 2022. This is to provide time to link your facility's account data to your user account so that you can work from your existing information when submitting your next report. Here's how:

1. Sign up as a User at this link: https://connecticut.hazconnect.com/Account/Login.aspx
2. Click on the REGISTER button in the middle of the page.
3. Choose Reporting Facility/Business User then click Next.
4. Enter your information. Please be sure you enter information in the "Facility Details" text box at the bottom of the screen to inform CT DEEP of facility reports you have submitted in the past. Using this information CT DEEP will link the previous year's report for that facility to your new user account so you can start with data pre-populated.
5. Once your User account is approved, you will receive a notification and then you can begin submitting the next year's report. If you don't see previously submitted reports in your account, please contact us at DEEP.CTEPCRA@ct.gov.
Facilities are still required to submit reports to their Local Emergency Planning Committee and fire department.

You can also sign up for any of the upcoming EPA EPCRA webinars at: https://www.epa.gov/epcra/emergency-planning-and-community-right-know-act-epcra-workshops-new-england. On the EPA website, you can also view recordings of our EPCRA four-part video series for more information about EPCRA requirements and Tier II Reporting.
EPCRA_Tier2_Demo_Slides_CT_January 2021
TRI Compliance Assistance
The U.S. Environmental Protection Agency, New England's EPCRA Team periodically hold a series of TRI compliance assistance workshops. F Facility owners and operators are invited to participate in one of these workshops. TRI Reports are due annually by July 1.
The U.S. Environmental Protection Agency has information on their TRI Program webpage regarding how to submit TRI reports and who needs to report.
EPA Information on General Duty Clause; Refrigerated Ammonia resources
US EPA Presentation to CT SERC re General Duty Clause and Refrigerated Ammonia Compliance Assurance Resources
EPA's State Delivery Prohibition Website
Section 1527 of the Energy Policy Act of 2005 stated that, by August 2007, states and territories receiving funds under Subtitle I of the Solid Waste Disposal Act were required to meet delivery prohibition requirements described in grant guidelines EPA developed. EPA consulted with states and representatives from the underground storage tank and fuel delivery industries to develop the guidelines. During that consultation, some stakeholders requested that EPA provide information on delivery prohibition programs developed and used by states and EPA committed to provide that information. This website fulfills that commitment.
Chemical Management and Climate Resilience
Free on-line Training:
CT DEEP has developed a FREE, short online training (approximately 20 minutes) to help a variety of businesses, especially those in flood prone areas that use chemicals in their process, sell chemicals and store hazardous waste onsite.
Find out how to be prepared, lessen the impacts of a natural hazard, save money, and prevent risks to human health and the environment.
Examples of actions some CT facilities/businesses have already taken are included.
Go to the Training Now:
CT DEEP Pollution Prevention 21st Century Resilient Business: How Managing Chemicals Can Help You Weather the Storm Training | Center for Land Use Education and Research (uconn.edu)

CT's businesses can be prepared to "weather the storm"
Connecticut was hit with at least 5 major storms plus lesser weather events since 2010. It is important to make your business and property resilient to natural hazards and reduce the risk of on-site chemicals causing pollution. Storm events can result in property damage, loss of inventory, and environmental contamination and liability. Accidental releases of toxic chemicals have also put communities and emergency responders at risk. Working together, businesses and local emergency officials can increase awareness and take steps to reduce risk and protect human health and safety. Use the resources below to be better prepared.
1. Take CT DEEP's Free on-line Training
The 21st Century Resilient Business: How Managing Chemicals Can Help Your Business Weather the Storm - Designed to help a variety of businesses, especially those in flood prone areas that use chemicals in their process, sell chemicals and store hazardous waste onsite, including service providers and retail stores that sell toxic products. It provides steps businesses can take to reduce risks and prevent damage, contamination, and liability and keep your business operating. Examples of actions some CT facilities/businesses have already taken are included. (Approximately 20 minutes)
Related Materials: Course Transcript,Checklist, Additional Resources and Links document referenced in the training, informational survey and Certificate of Completion
2. Watch
Videos with Information from CT Businesses:
If your business or facility has hazardous materials, chemicals or waste on site you'll want to watch this! Come along on site-visits to a business and a facility, both located in flood prone areas along CT's coast, to find out what changes they are making towards becoming disaster resilient. They offer ideas and examples that you can incorporate at your site.

3. Use Tools, Outreach Materials & Resources for Businesses: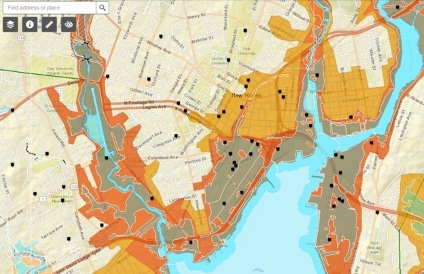 The CT Toxic Users & Climate Risk Viewer is a tool for businesses as well as local and state emergency preparedness and response planners. Layers include
the national flood hazard zones,
hurricane evacuation areas,
facilities that are EPCRA Tier 2 filers,
RCRA hazardous waste generators,
storage/ disposal facilities, and
Toxic Release Inventory reporters.
A layer with sea level rise will be added in the future.
Business, especially those that store hazardous chemicals, materials and/or wastes on site can assess the vulnerability of their location to climate-related natural hazards and take action to prevent damage or contamination from toxic on-site materials.
EPCRA-regulated facilities subject to
CGS 22a-610(e)
can assess risk and update hazard mitigation plans and applicable evacuation plans accordingly.
Guidance Documents:
Local, Regional, and State Emergency Planning:
Municipalities and regions can utilize their Natural Hazard Mitigation Plans (NHMP) to promote best management practices to prevent pollution from chemical releases from businesses in the event of a natural hazard. NHMPs that are due for an update can include new initiatives aimed at chemical management, utilize DEEP's information and promote through municipal websites and social medial.
Natural Hazard Mitigation Plans with chemical management initiative:
DEEP offers to meet with/make presentations for COGs, municipalities, LEPCs and other emergency response officials, business associations and others to provide detailed information about our project, promote outreach materials and training and provide technical assistance.
Other Resources & Links:
Last updated December 21, 2022