Adult Immunizations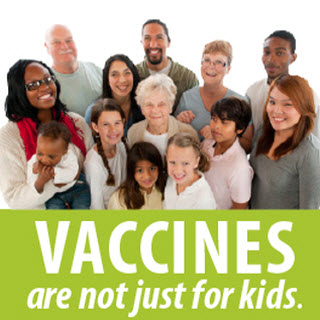 The need for vaccinations does not end in childhood. Vaccines are an important step in protecting adults against several serious and sometimes deadly diseases.
You may not realize that you need vaccines throughout your life. Adults need to keep their vaccinations up to date because immunity from childhood vaccines can wear off over time. You are also at risk for different diseases as an adult. Vaccination is one of the most convenient and safest preventive care measures available.
In the United States, vaccines have greatly reduced infectious diseases that once routinely harmed or killed many infants, children, and adults. However, the viruses and bacteria that cause vaccine-preventable disease still exist and can cause illness in people who are not protected by vaccines. Every year, tens of thousands of Americans still suffer serious health problems, are hospitalized, and even die from diseases that could be prevented by vaccines.
The DPH Immunization Program works to ensure that adult patients in Connecticut are immunized and have protection from serious vaccine preventable diseases. In Connecticut, vaccines for adults are ordered and distributed through the private sector. DPH partners with healthcare providers, community partners, pharmacies, and local health departments to improve access to vaccines and to implement the Advisory Committee on Immunization Practices (ACIP) Standards for Adult Immunization Practices.
The good news is that getting vaccinated is easier than you think. Adults can get vaccinated at doctors' offices, pharmacies, workplaces, and some local health departments.
Visit Shingrix vaccine locator. Just type in the zip code and the number of miles and it will give a list of sites who have the vaccine. Shingrix is an FDA-approved vaccine for the prevention of shingles (herpes zoster) in adults 50 years and older.
You have the power to protect yourself and the ones you love. The DPH Immunization Program encourages all adults to talk to their healthcare professional about which vaccines are right for them and to get vaccinated. To learn more about vaccines and take a quick quiz to find out which vaccines you may need, visit: www.cdc.gov/vaccines/adults.

Keep Your Vaccine Records Up to Date Vaccination records provide a history of all immunizations from childhood to adulthood. These records may be required for certain jobs, travel abroad, or school registration.
National Adult and Influenza Immunization Summit (NAIIS). The NAIIS is dedicated to addressing and resolving adult and influenza immunization issues. The NAIIS consists of over 700 partners, representing more than 130 public and private organizations.
The Connecticut Immunization Coalition meets monthly and is dedicated to the promotion of ACIP recommended adult vaccinations for the protection from the illness or complications of invasive pneumococcal disease, shingles (herpes zoster), pertussis (whooping cough) among other vaccine preventable diseases. The Coalition also has a focus on influenza vaccination throughout the community. The Coalition hosts two symposiums a year. The fall event focuses on Influenza and the spring event focuses on adult vaccinations. Become a member of the Coalition and find out about monthly meetings, receive the biannual newsletters, and learn more about the symposiums. Check out their Facebook page.
Other Resources
Return to Immunization Home Page