Connecticut Source Water Collaborative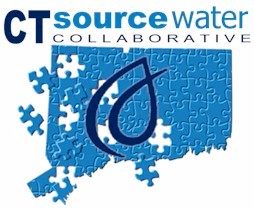 Introduction
Modeled after successful national, state, and regional initiatives, Connecticut has kicked off its own statewide Source Water Collaborative. What is a Source Water Collaborative? It's a group of organizations with a common goal, protecting our drinking water at the source. By working together, we hope to find ways to combine our resources and knowledge to better protect our public drinking water supplies.
CT Source Water Collaborative Charter Signing
On May 4, the Connecticut Source Water Collaborative a celebrated Drinking Water Week by signing a charter formalizing the group.  A ceremony was held on the banks of the City of Middletown's Mt. Higby Reservoir.  The weather was cloudy and blustery with a constant threat of cold rain, but that didn't dampen members' enthusiasm in sharing their visions of the Collaborative using the theme of a rose, a thorn and a bud.  Some roses include the group itself and the support that the members receive from their employers to continue participating, thorns include the challenge of communicating the message broadly and maintaining CT's progressive laws that protect sources of public drinking water from waste water discharges and development of water utility owned lands, buds were opportunities that ranged from growth of participants that can benefit an entire organization to contributing to the growth and education of the next generation of water professionals.  David Knauf of the CT Association of Directors of Health summed up the ceremony perfectly when he used an analogy about the nurturing and care that culminates in a beautiful rose to describe the efforts needed to grow a collaborative.  The event was covered by the Middletown Press and featured on the front page of the May 7, 2016 edition.  Photos of the signing event are here.  
Connecticut Source Water Collaborative Charter
Please take the time to visit the web pages of the CT Source Water Collaborative Partners:  
Workshops/Meetings
Links
| | | |
| --- | --- | --- |
| | | |
| | | |
| | | |
| | | |