Where to Fish
Saltwater (Marine) Fishing
With over 100 species of fish found in Long Island Sound, anglers can enjoy some of the very best striped bass, bluefish, summer flounder, scup, hickory shad, black sea bass and tautog fishing along the entire coast. The State of Connecticut offers anglers many fishing opportunities with excellent boat launches along the coast and great shore fishing locations at coastal state and city parks, and convenient party and charter boat fishing. Fishing is Family Fun!
Shoreline Fishing and Property Rights: While much of the Connecticut shore is privately owned, the coastal tidelands actually belong to all the people — not just in terms of our environmental and cultural heritage, but in a specific legal sense as well. Under the common law public trust doctrine, a body of law dating back to Roman times, coastal states (as sovereigns) hold the submerged lands and waters waterward of the mean high water line in trust for the public. The general public may freely use these intertidal and subtidal lands and waters, whether they are beach, rocky shore, or open water, for traditional public trust uses such as fishing, ­shellfishing, boating, sunbathing, or simply walking along the beach.
Saltwater Fishing Resource Maps
Looking for a place to Fish, find a Party/Charter Vessel to go fishing on, Launch a Boat or Locate a Bait and Tackle shop? Use our interactive Saltwater Fishing Resource Maps to help plan your next trip!
Both maps have the same information but it is presented in different forms. The "all in one" map is better suited to desktop computers, while the "Story Map" is better suited to mobile devices - although either one should work on any device.
Connecticut Coastal Access Map: is designed to help you explore the Connecticut shore. Use the guide to identify sites open to the public for boating, swimming, fishing, hiking and other outdoor activities. Some sites are posted with brown and white public access signs. Use the signs and the map and detailed driving directions in the Coastal Access Guide to find your way to hundreds of coastal access sights.
While all the sites included on this guide are open to the public, DEEP does not manage all of them. Please review the Site Contact Information for each site to determine the appropriate party to contact with questions or concerns about a site.
Enhanced Opportunity Shore Fishing Program
This Marine Fisheries program is part of a broader Department effort to improve the fishing experience and quality of access to our Public Trust marine fisheries resources in CT, especially in urban areas. Shore-based fishing is the simplest and most affordable form of salt water fishing and a popular way to enjoy Connecticut's coastline. At the same time, shore fishing is an opportunity to catch the evening's meal. To that end, minimum size limits have been reduced for two abundant marine species at forty-one public fishing access areas listed in the DEEP Coastal Access Guide. These sites offer good shore based summer flounder and/or scup fishing opportunities in at least 18 different communities distributed from Stonington to Westport.
At these sites, summer flounder may be taken at 17 inches (compared to 19 inches otherwise) and scup may be taken at 8 inches (versus 9 inches), giving the shore angler at these sites a considerably better chance of taking home a meal or two. To aid law enforcement the sites chosen for this program are separate from any boat launches or marinas where boat caught fish may be present. It is important to the success and continuation of this program that anglers at these enhanced access sites take their catch directly home after fishing. Possession of these species under the standard minimum size at other locations is a violation and can result in significant fines.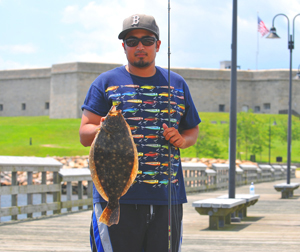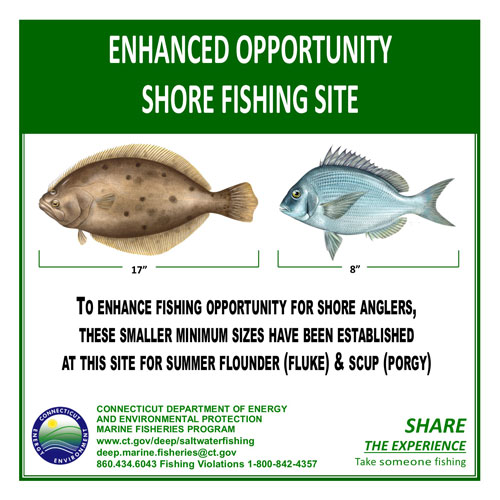 Multi-Lingual Enhanced Marine Recreational Fishing Regulation Sign
Enhanced Shore Fishing Access Sites are locations where smaller summer flounder - fluke (17 inch minimum length) and scup (8 inch minimum length) may be taken.
Find an Enhanced Shore Fishing Access Site
Fishing in State Parks
During regular hours, a vehicle parking fee is required for out-of-state vehicles to enter most of the state parks. There is no parking fee for Connecticut registered vehicles. Parking fees are collected from 8 a.m.–6:30 p.m. on weekends and holidays, and 8 a.m.–6:30 p.m. during the week, except at state parks marked with an asterisk. Late day fees (4 p.m.–6:30 p.m. any day) for Harkness, Hammonasset, Rocky Neck, and Sherwood Island are $7 for non-residents. For more information please see the coastal state parks website.
* Parking fees subject to change.
Night Fishing Rules
Anglers entering a park by vehicle must obtain a vehicle permit in order to park and fish. Between the hours of 6:30 a.m. and 8:00 a.m., no vehicle will be allowed into the day-use area of the park. Individuals entering the park without a vehicle do not require a permit, but must possess fishing tackle (rod and reel, bait, light, etc.) and engage in fishing.
Please contact the Fisheries Division with any questions.
Phone: 860-434-6043; E-mail: deep.marine.fisheries@ct.gov
Content last updated March 2021