Ansonia-Milford Victim Restitution Information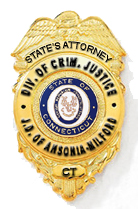 Office of the State's Attorney
Ansonia-Milford Judicial District Information for Victims of Crime
If you are a victim of a crime that is being prosecuted in the Milford Superior Court (GA #22), and you have out-of-pocket expenses for which you seek restitution, you may email the appropriate receipts and estimates to this office at DCJ.Milford@ct.gov.
Generally, once an arrest is made, restitution can be sought in cases involving injuries, destruction of property (Criminal Mischief), and traffic accident matters. Restitution does not include lost wages or "pain and suffering".
Verifiable out-of-pocket expenses must be accompanied by appropriate documentation. This includes: documentation of expenses not covered by insurance, letters of insurance claims paid and deductible amount (when deductible is sought as restitution), receipts for repair or replacement, or estimates by reputable repair facilities or appropriate contractors. You may also print and fill out a Statement of Loss.
All requests should include your name, email, and daytime phone number, the name of the defendant in the matter pending before this court, the docket number (if known), and the amount of restitution sought (as confirmed by receipts and/or estimates). Estimates, receipts, and insurance documentation should be scanned, and attached to the email in pdf format. No other documents should be attached.