Second Edition of Cold Case Playing Cards Arrive in Correctional Facilities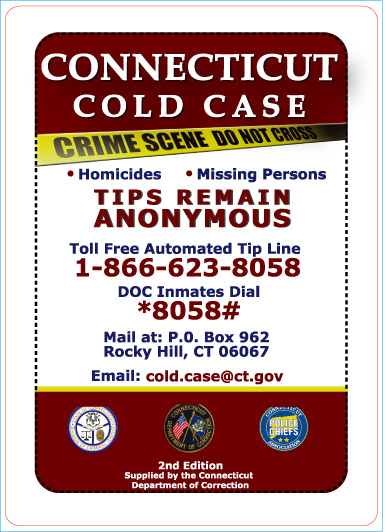 A second edition of "cold case" playing cards soliciting information in unsolved homicides and missing person cases is now available to inmates throughout the Connecticut correctional system.
The playing cards were produced by the Cold Case Unit in the Office of the Chief State's Attorney in conjunction with the Department of Correction and other law enforcement agencies working to solve cold cases.
"The cold case playing cards have provided a valuable tool to assist investigators working to solve cases and achieve justice for the victims of these crimes, their families and the people of Connecticut," said Chief State's Attorney Kevin T. Kane. "I applaud the Department of Correction for its support of this innovative effort to help our cold case units, which have achieved remarkable results from their efforts."
"We are confident that among the state's inmate population is information that these cards will bring forth, that will result in solving some of these crimes and bringing a degree of closure to the loved ones of these 52 individuals," said Leo C. Arnone, Commissioner of the Connecticut Department of Correction.
Each card in the deck of 52 cards features a photograph and brief details about an unsolved homicide or missing persons case and lists telephone, mail and e-mail contacts inmates can use to supply information.
The cold case playing cards are the only playing cards available for purchase by inmates in the facilities operated by the Connecticut Department of Correction. The money generated from sales of the cards is used to produce subsequent decks, making the project self-sufficient and operating at no cost to taxpayers.
Investigators report that the cards have generated more than 200 tips and information about unsolved homicides and missing persons cases. The initial deck of 52 cards has been in circulation for approximately two years and has produced a number of leads for investigators, including one Hartford case where an arrest in a previously unsolved homicide has been attributed directly to information generated by the cards.
In addition to the Hartford case, an arrest has been made in one other homicide case in Milford and investigators in Norwich have recovered the remains of another homicide victim whose case was among those in the first deck of cards.
Only one case is repeated in the latest deck, that being a New Britain homicide where the victim's identity was not known when her case was included in the first deck.
The cases featured on the cards are changed in subsequent decks to allow for the maximum number of cases to be circulated through the correctional system.