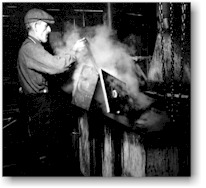 The Department of Public Health's Occupational Health Unit conducts occupational disease surveillance, intervention, prevention, and education activities in Connecticut, based on physician reports and other data sources. Analysis of surveillance data has led to identification of clusters of occupational diseases in specific work sites and industries, such as silicosis in three Connecticut foundries, industrial mercury poisoning, hypersensitivity pneumonitis in aerospace industries using metal working fluids, clusters of ergonomic disorders in various industries, and a cluster of building related illness in a large office building. Intervention activities are then conducted in conjunction with other agencies.
The Occupational Health Unit is partially funded by grants from the National Institute for Occupational Safety and Health (NIOSH) in two ways:
Conduct adult lead poisoning surveillance through the Adult Blood Lead Epidemiology and Surveillance (ABLES) program, and

Support fundamental capacity for conducting occupational disease surveillance.
The program also has a Memorandum of Understanding with CT's two federal Occupational Safety and Health Administration (OSHA) offices for site investigations of companies where workers have highly elevated blood lead levels.
---
Connecticut Open Data Portal (Occupational Health Indicators)
The following data set presents 24 indicators that describe the occupational health status of the working population of Connecticut. Data from subsequent years will be added as they become available. Connecticut's Open Data initiative was launched in February 2014, with a purpose of providing open access to data in its rawest form, before it has been aggregated and analyzed. New indicator data is published to the Open Data Portal annually which allows easier accessibility of indicator data to public health stakeholders in Connecticut and our partners in other states. This data can be accessed at:

---
Workplace Hazard Assessment Program
The Connecticut Department of Public Health offers health and safety evaluations for all Connecticut employers free of charge. These non-regulatory on-site evaluations are designed both to assist Connecticut employers with identifying potential workplace hazards and to provide recommendations for implementing or improving appropriate controls to enhance their existing health and safety efforts. If you are an employer, collective bargaining representative/union officer, or physician treating a current employee, and are interested in learning more about the Workplace Hazard Assessment Program, please read the information below.
Information for Physicians, Laboratories and Other Health Professionals
---
Occupational Health Activities
---
Occupational Health Press Releases & Publications
---
Occupational Health Fast Facts, Health Alerts and Fact Sheets
---