Burlington State Fish Hatchery
The 100th anniversary celebration at the Burlington State Fish Hatchery is rescheduled for Saturday, October 14, 2023, from 10:00 AM - 3:00 PM. This fun and family-friendly event is FREE and will be held rain or shine.

Address:34 Belden Rd, Burlington, CT 06013
Hours: 8:00 a.m. to 3:00 p.m. (7 days a week)
Tours: Self-guided or by reservation.
Phone: 860-673-2340


The oldest hatchery, Burlington was constructed in 1923. Artesian wells and nearby streams provide all of the water necessary for the operation thereby keeping the electrical needs at a minimum and making this the State of Connecticut's most cost effective facility. Being near the top of the watershed ensures that land development will have little impact on its future operation. The hatchery produces Brook Trout, Brown Trout, Kokanee, and Rainbow Trout for Fisheries Management Programs.
Take a virtual tour of the hatchery via this video below with hatchery supervisor - Tom Chairvolotti
Learn about how staff care for the eggs in order to make the next generation of fish.
One unique fish culture project is the Brown Trout "Survivor" Program. It is intended to produce a strain of fish that is better suited to survive in the wild. Ideally the "Survivor" strain will behave like a wild trout, will be more temperature tolerant, will have better avian predator avoidance and will readily reproduce. Annually, the Fisheries Staff collects fish from the West Branch Farmington River that have survived for more than one year and each fall transfer these fish to the Burlington facility to be used as brood stock. The offspring of these fish are returned to the West Branch Farmington River to grow and spawn thus increasing the number of "Wild" Brown Trout in the river. While research continues on the effectiveness of the program, the initial information indicates the program is working. Prior to these efforts there were few "Wild" Brown Trout in the West Branch Farmington River. Now "Wild" Brown Trout catches are commonplace.
Unique hatchery improvements have been put in place to protect fish growing in the outside ponds. Fencing and overhead netting has reduce predation and increased the number of fish available for stocking while providing easy access.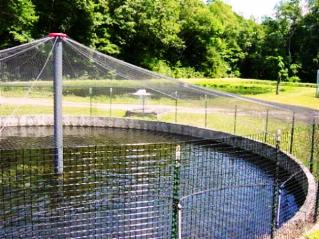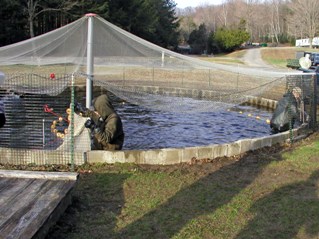 The Burlington State Fish Hatchery is the sole producer of Kokanee Salmon fry which are stocked into West Hill Pond and East Twin Lake in support of the Kokanee Salmon Program.

Get Your Fishing License Here!
Content last updated October 2023