Commercial Fishing
Connecticut has a rich heritage of commercial fishing, from the offshore fleet in Stonington and New London, to Long Island Sound lobster boats spanning the coast to Greenwich. Commercial fishing makes an important contribution to Connecticut's economy.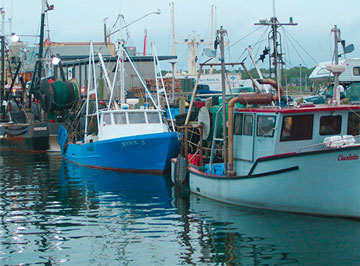 Connecticut CARES Act Assistance to Fisheries Participants -- The Consolidated Appropriations Act, signed into law on December 27, 2020, provided a second round of funding for the CAAFP program, from which Connecticut has been allocated $3 million in aid funds. CT DEEP and DOAG are distributing a proposed spend plan for the second round of CT CAAFP aid for public comment.
Current Connecticut Commercial Fishery Trip Limits
Order of the Commissioner Concerning the Licensure of Commercial Fishermen and Certification of Commercial Forest Practioners
Marine Fisheries News:
Federal ESA Endangered Atlantic Sturgeon Conservation Gear Restricted Areas
Connecticut State Boundary Line in Long Island Sound
Marine Fisheries Interstate Management
Collect fishery dependent statistics from harvesters and dealers on catch, harvest, fishing effort by gear type and season; compile and analyze the data to provide information for quota monitoring, stock assessment, and development and evaluation of Fishery Management Plans (FMPs) and management measures.
Content last updated in July 2021.