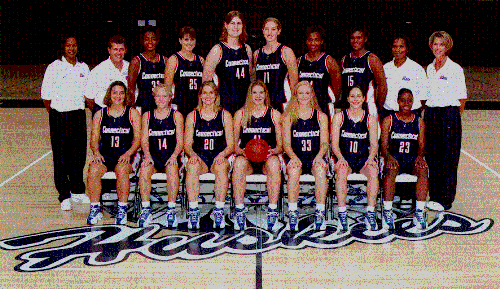 The 2000 University of Connecticut Women's Basketball Team
University of Connecticut Women "Huskies"
Once again the people of the State of Connecticut have been treated to a season of remarkable basketball. The awards and accolades for the 2000 Huskies are numerous. NCAA National Champions, for the second time; Big East Tournament Champions, for the ninth time and seventh straight tournament championship; Big East Regular Season Champions for the tenth time and seventh straight Big East title; ranked No.1 for nineteen straight weeks; and amassing 3,184 total points, for the most points ever scored in a season. There have also been individual triumphs. Geno Auriemma was named the Naismith, Associated Press and WBCA coach of the year. Shea Ralph, Svetlana Abrosimova, Sue Bird, Tamika Williams, and Swin Cash have also been singled out for their outstanding achievements.
As great as those achievements are, and as proud as we all may be of each member of this team, we are forced to recognize that there is something very special happening on the hardwood when the "Huskies" take the basketball court. Year after year, we have become accustomed to their winning ways. There is a tradition of accomplishment for Connecticut's Women "Huskies" and members of this team are the current torchbearers who carry that tradition forward. Winning has become their hallmark, but perhaps the most important element in that tradition is their ability to succeed as a team. As in prior years, these women bring an energy and ability to their game that is greater than the sum of their parts. They work and play as a team and that teamwork translates into a level of play that is nothing short of extraordinary. When we see this team, either on or off the court, we cannot help but to be dazzled by their skill and impressed by their camaraderie and obvious good will. These are young women who love what they do and enjoy the company of that greater team that makes those hard fought victories possible.
They have charmed us and we cannot help but admire them. But we do not admire them simply because they have won. No, that admiration is spontaneous and natural, because we have grown to know them in a very personal way. We have seen their talent and determination, the grace of their play and the quiet strength that has enabled them to accomplish so much. Their relentless pursuit of excellence and unfailing good sportsmanship make them desirable role models for our young people. They are champions in every sense of the word. We thank them for all the thrills of this and so many other seasons, and we wish them success and happiness in everything they undertake.
Amistad - A Connecticut Story 160 Years in the Making
Amistad: 1839
The story of the Amistad is more than a tale of a shipboard rebellion, freedom, and slavery. It is a Connecticut tale with international significance that transcends the boundaries of race. It is a story about history, leadership, and the continuing pursuit of racial equality, tolerance and unity.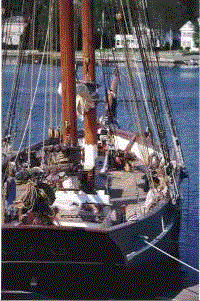 The saga began near the coast of western Africa in 1839, when over 500 African men, women and children were kidnapped from the Mende country, in what is now known as Sierra Leone. They were shackled and loaded aboard a ship, where they endured physical abuse, sickness and death during a horrific journey to Havana, Cuba.
Once in Havana, 53 of the African captives were fraudulently classified as native Cuban-born slaves and purchased by two Spaniards, Jose Ruiz and Pedro Montez. On June 28, 1839, Ruiz, Montes, Captain Don Ramon Ferrer and a small crew set sail for Puerto Principe, Cuba with these 53 Africans via a coastal cargo schooner, La Amistad. (La Amistad, ironically, means "friendship" in Spanish.)
Three days into the journey, one of the captives, a 25-year-old Mende named Sengbe Pieh - or "Cinque" to his Spanish captors - was able to unshackle himself and the others. Led by Sengbe, the desperate and frightened Africans revolted, killed Ferrer and the cook and set the rest of the crew adrift.
The Africans ordered Ruiz and Montes to use the rising sun as their guide to sail east toward Africa. By night, however, the two Spaniards would secretly change course back toward Cuba and the southern United States.
After 63 days, the Amistad was seized by the United States Naval Revenue Cutter, USS Washington, near Montauk Point, Long Island, New York and towed to Connecticut's New London harbor on August 28, 1839. The Africans were taken to a New Haven jail on charges of murder. There, the next phase of their struggle for freedom - a lengthy legal battle - began.
They were tried in the circuit court at Hartford, September 18, 1839. On September 23, the court ruled that the Africans could not be tried on the charges of murder, but still must be held to answer the property claims of Ruiz and Montes. The subsequent defense of the Africans in New Haven District Court, four months later in January 1840, centered on the fact that the Africans showed no trace of Spanish in their Mendi language, indicating they had come directly from Africa and had not lived in Cuba for several years as Montes and Ruiz claimed.
After only seven days, the district court judge ruled the Africans were legally free and should be transported to their homeland. United States President Martin Van Buren immediately appealed the decision.
The case took on historic proportions when former President John Quincy Adams argued on behalf of the captives before the United States Supreme Court. In 1841, the surviving Africans won their freedom. Freed by the courts, they lived in Farmington, Connecticut, from March to November 1841. During that time they worked with supporters from Connecticut and elsewhere to raise the funds necessary for their return to Africa.
Amistad 2000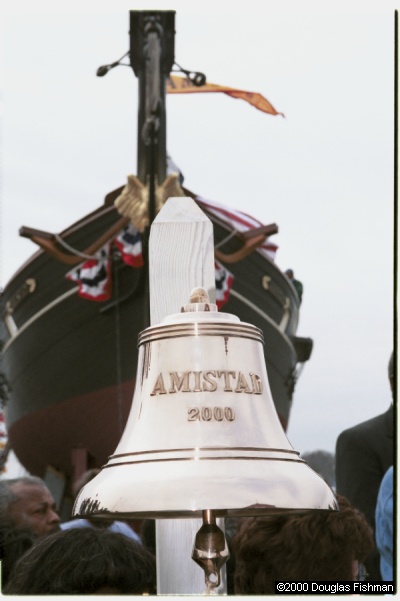 More than 160 years later, the Amistad sails again this summer in its inaugural mission to teach the historic lessons of leadership, cooperation and racial harmony of the Amistad Incident of 1839 and to apply those lessons to the contemporary issues facing young people today.
The seed for AMISTAD America and the Amistad "freedom schooner" reproduction was planted almost a quarter of a century ago during Operation Sail 1976, a spectacular parade of the world's tall ships up New York's Hudson River. Participating in that event was an inaccurate "representation" of La Amistad - a Western Union vessel with its name temporarily hidden under signs proclaiming her Amistad. Warren Q. Marr II, then editor of the NAACP's Crisis Magazine, was inspired enough by the sight to steer through a 24-year journey that would realize an effective reproduction of the original Amistad schooner.
July 1994 marked a milestone for the people of Connecticut when Governor Lowell Weicker and The State of Connecticut, acknowledging its own historic legacy and commitment to human rights and cultural affairs, announced a $2.5 million bond for the construction of the Baltimore-style schooner at Mystic Seaport. In September 1996, AMISTAD America, a consortium comprised of Amistad Affiliates, the Connecticut Afro-American Historical Society, the Amistad Committee and Mystic Seaport, held its first meeting and set its sight on the additional fundraising needs of building Amistad and ensuring the long-term operational and educational programs of her projected 30-year tenure.
The 85-foot Amistad reproduction was the largest vessel the Seaport museum ever built. In keeping with Amistad's message of unity and diversity, the schooner was constructed by a team of Mystic Seaport Shipyard staff, interns, students and volunteers from all over the world.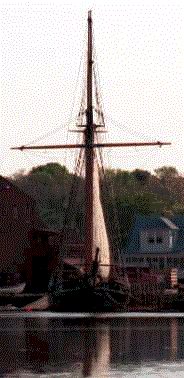 More diverse than the crew that built the schooner are the materials that make up Amistad. In Amistad's hull construction, purpleheart, a dense tropical hardwood from Guyana, South America, makes up the keel, stem, stern, post, and keelson. Deck planking is comprised mostly of douglas fir from British Columbia. The "King Planks" - thicker and wider planks that run down the centerline of the vessel - are iroko, a durable hardwood from West Africa. The two species used here celebrate the connections between West African and American cultures and the iroko used on Amistad is a gift of the Republic of Sierra Leone, the West African nation which was the home to Sengbe Pieh and his fellow captives aboard the original Amistad. Other woods used on the freedom schooner are live oak and white oak from South Carolina, yellow pine, hackmatack, and Honduras mahogany.
The strength and durability of Amistad is a result of the diverse materials used in her construction and is symbolic of Amistad's role in celebrating the strength and durability of Connecticut and the United States through the diversity of its people.
On March 25, 2000, in a launch ceremony at Mystic Seaport, Amistad took the first step in its mission to teach the history of the Amistad Incident of 1839, to foster unity among people of diverse backgrounds, and to help improve race relations. The Amistad "freedom schooner" reproduction, owned and operated by AMISTAD America, will serve as a floating classroom, giving people of all ages and backgrounds the opportunity to develop historical, cultural and interpersonal skills from a variety of experiences, including onboard and dockside exhibits, half-day, day and overnight excursions, and apprenticeships. Amistad's permanent home is Long Wharf Pier in New Haven, Connecticut.
The Amistad is a powerful symbol of the indomitable spirit of humankind and serves as a reminder that, although incomplete, our journey in search of fellowship, tolerance and equality continues. I am very pleased to dedicate the 2000 edition of the Connecticut Register and Manual to this proud symbol of courage, justice, and moral strength.