Memoriums in Honor of Connecticut's Lost Soldiers
This year's book also features special memorials in honor of Connecticut soldiers who lost their lives serving our country in Iraq. Biographies and photographs provided by the families of servicemen lost prior to printing appear in the bound version, with additional memoriams included in this online edition.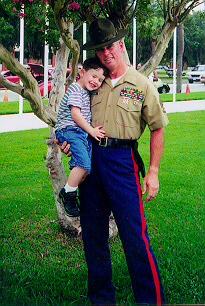 Gunnery Sergeant Phillip A. Jordan, U.S.M.C. (KIA)
Gunnery Sergeant Phillip Jordan was born in Texas on April 20, 1960 and graduated from Clear Creek High School in League City, Texas. He joined the United States Marine Corps in 1987 and served in the 1991 Gulf War. Based out of Camp Lejeune in North Carolina, Gunnery Sergeant Jordan was assigned to the 1st Battalion, 2nd Marine Regiment, and 2nd Marine Expeditionary Brigade. Gunnery Sergeant Jordan, 42, was killed on March 23, 2003 along with eight other Marines in a clash near the Iraqi city of Nasiriyah when enemy soldiers feigned surrender before opening fire. A resident of Enfield, CT Gunnery Sergeant Jordan leaves behind his wife of nine years, Amanda and their six-year-old son Tyler.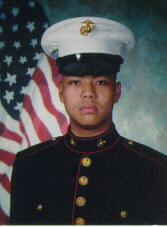 Corporal Kemaphoom "Ahn" Chanawongse, U.S.M.C. (KIA)

Corporal Kemaphoom "Ahn" Chanawongse was born in Bangkok, Thailand on May 5, 1980 and settled in Waterford, CT with his family, when he was nine. He graduated from Waterford High School in 1999 and immediately enlisted
in the Marine Corps. Based out of Camp Lejeune in North Carolina, Corporal Chanawongse was assigned to the 1st Battalion, 2nd Marine Regiment, and 2nd Marine Expeditionary Brigade. His parent command was the 2nd Assault amphibian Battalion. Corporal Chanawongse was first reported as missing in action after his amphibious assault vehicle was ambushed near Nasiriyah as the unit tried to take control of a bridge over the Euphrates River. On April 16, 2003 the Department of Defense confirmed that he had been killed in action on March 23, 2003 during that operation. Corporal Chanawongse leaves behind his mother and stepfather Tan and Paul Patchem and a brother Kemapasse.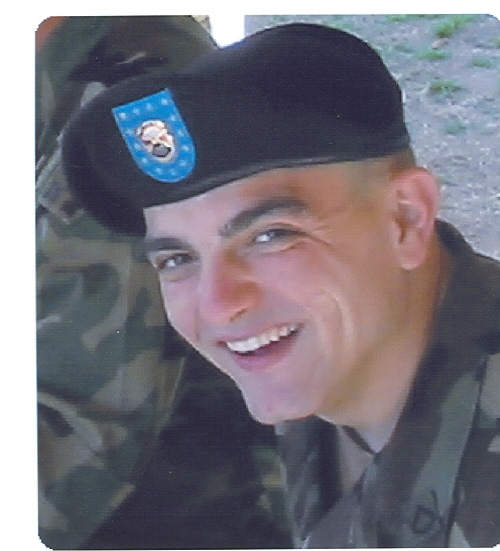 Army Spc. Wilfredo Perez, Jr.
Army Spc. Wilfredo Perez, Jr., 24, of Norwalk, CT, was born in Brooklyn, NY on December 19, 1978 to Wilfredo Perez, Sr. of Norwalk and Ann Marie Eccles of Queens. He lived in Queens until middle school, was a member of the Sea Cadets and was proud to have marched in the 1991 Desert Storm ticker tape parade in New York City.
Wilfredo moved to Connecticut to live with his father. He attended Nathan Hale Middle School and Norwalk High School and was a member of the R.O.T.C. program and a peer counselor, helping kids work out disputes. He walked numerous years for the MS Society and the American Diabetes Foundation. He volunteered at the 1995 Special Olympics World Games.
Army Spc. Perez was assigned to Headquarters and Headquarters Company, 1st Battalion, 67th Armor Regiment, 4th Infantry Division, Ft. Hood, Texas. Army Spc. Perez and two other soldiers were killed on July 26, 2003 during a grenade attack in Iraq as they were guarding a children's hospital in Ba'Qubah, just north of Bagdad. He was the third Connecticut serviceman to die in Iraq and the first soldier in Norwalk killed in war since 1969.
Before shipping out to Ft. Hood, Wilfredo Perez, Jr. worked with his father as a remolding contractor. He also worked for Stew Leonard's and Sign-A-Rama in Norwalk. He loved designing signs freehand and with software. He hoped to use this experience and the GI bill to pursue a career in computer graphic design.
Wilfredo Perez, Jr. was a leader. Strong physically and mentally; handsome and charismatic. You liked him immediately. He was kind-hearted and loved his family--he would do anything for them. He had a beautiful smile and loved to make people laugh. And even if you knew him only briefly, you would never forget him.
Army Spc. Wilfredo Perez, Jr. was awarded the Army's Commendation Medal for meritorious service while assigned as the Personal Security Detachment for the Brigade Commander, the Purple Heart for wounds received in action, and the Bronze Star for the ultimate sacrifice for his country.
Army Spc. Wilfredo Perez, Jr.'s final resting place is Cypress Hills Cemetary, Queens, NY. To honor our fallen hero, a scholarship has been established in his name at Norwalk High School.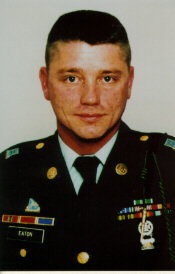 Army Staff Sergeant Richard Selden Eaton, Jr.
Staff Sgt. Rick Eaton was New Haven-born and raised in Guilford, CT. While still a youth, he decided on an Army career and, especially, in Military Intelligence (MI). Never wanting to be anything more - or less - than a Counterintelligence Special Agent and Analyst, the ancestor of two Generals turned down an appointment to West Point.
He was called to duty in the Iraq war with the Fort Meade, Maryland-based 323rd MI Battalion. He was attached to the 3rd Armored Cavalry Regiment when he was found dead of an apparent heat stroke following his return from an August 11, 2003 mission.
Staff Sgt. Eaton was awarded the Army's Bronze Star and the Military Intelligence Corps Association's Knowlton Award, both posthumously. Staff Sgt. Eaton was recognized repeatedly for exemplary achievement during his service in the Regular Army and Army Reserves, including the Army Commendation Medal with three Oak Leaf Clusters (four awards), Army Achievement Medal with one Silver and Oak Leaf Cluster each (seven awards), the Good Conduct Medal (three awards); the National Defense Service Medal with Star Device, the Army Superior Unit Award, the Noncommissioned Officer Professional Development Ribbon with two Devices, the Army Service Ribbon, the Overseas Service Ribbon (five awards), and the Expert Marksmanship Badge with bars for rifle, pistol and grenade. As the "Connecticut State Register and Manual" was going to print, his nomination for induction into the Military Intelligence Hall of Fame was being prepared.
He is survived by his parents, former State Senator Richard S. Eaton, Sr., and Sharon Noble Eaton of Guilford. He was buried in the historic Grove Street Cemetery in New Haven, not far from the tomb of his great-great-great grandfather General Amos B. Eaton, U.S.A.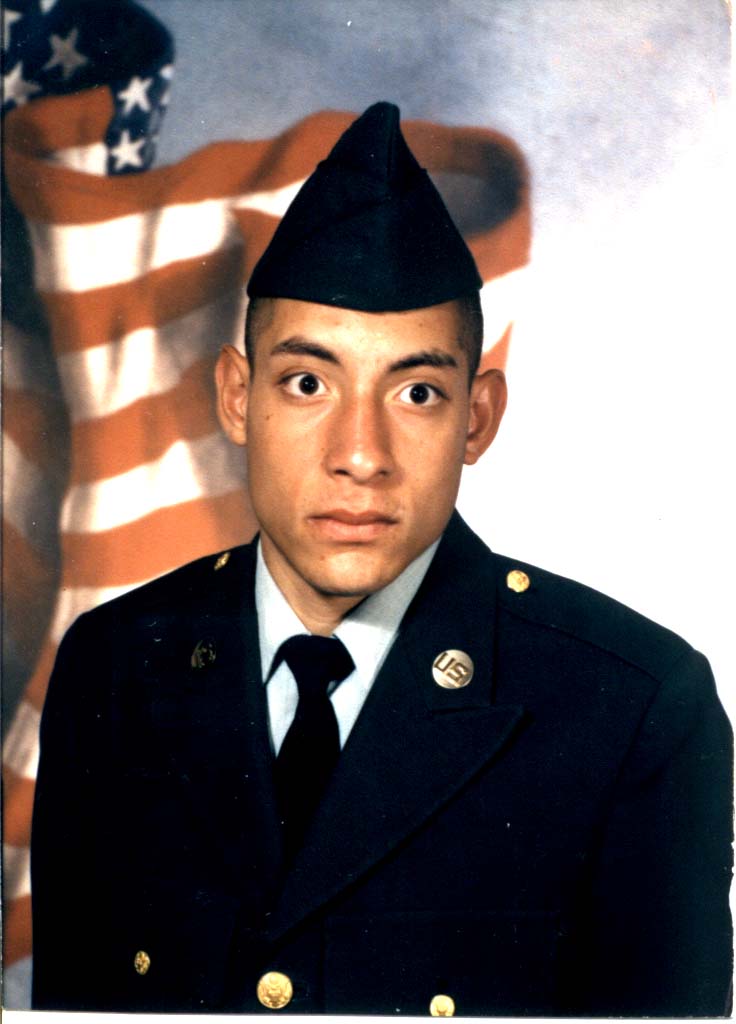 Private First Class Jeff Braun
Jeff Braun was born on July 24, 1984 in San Pedro Sula, Honduras and was adopted by William and Meridith Braun when he was 6 months old. From early on, Jeff was a curious, friendly, outgoing, and active boy with a contagious smile that could light up a room. Highly intelligent, Jeff was an avid reader and pursued a wide variety of literary interests, which ran the gamut from comic books and fantacy to mysteries, political thrillers and the Bible. He always prided himself on his vocabulary and his verbal ability and wit contributed to his being an excellent debater and philosopher.
A successful student, Jeff's independence and unquenchable desire to always be involved led him to join many activities in middle and high school. In fourth grade he personally began a chess club which endures until this day. Enthusiastic and described as an extremely "coachable" athlete, Jeff played soccer, both indoor and outdoor, was on the track and field team and was on the wrestling team. He was also involved in music, service corp. and church activities.
Friendships were very important to Jeff and he always had a wide variety of friends in addition to having a core of close friends that he maintained close ties with until his death. A natural leader and imbuing others with his positive outlook on life, Jeff often organized activities and had numerous goals and aspirations. He was concerned with the plight of the downtrodden and wanted to help others less fortunate than himself. Truly delighted with the arrival of his sister when he was three, Jeff became Julie's protector during high school and had continued this role while in the military. Due to Jeff's involvement in so many areas of life and his incredible personality, vitality, and sense of humor, his influence on people's lives was widespread.
Jeff joined the Armed Forces to help give himself direction, meet the physical and mental challenges of military service, and to have the opportunity to travel before beginning college to study to be a physical education teacher, a career path from which he had never deviated. Jeff received numerous honors and awards while in military training and when stationed in Iraq. He was highly respected and appreciated by his fellow troops and commanding officers because of both his skills and his positive outlook and attitude. His desire to build an orphanage in his birth country of Honduras and the fact that he had already begun the process to have this dream reach fruition is just one of the indicators that Jeff Braun was a truly extraordinary young man with the potential to make great contributions to our world. Jeff was a young man of courage and convictions who touched the lives of many people.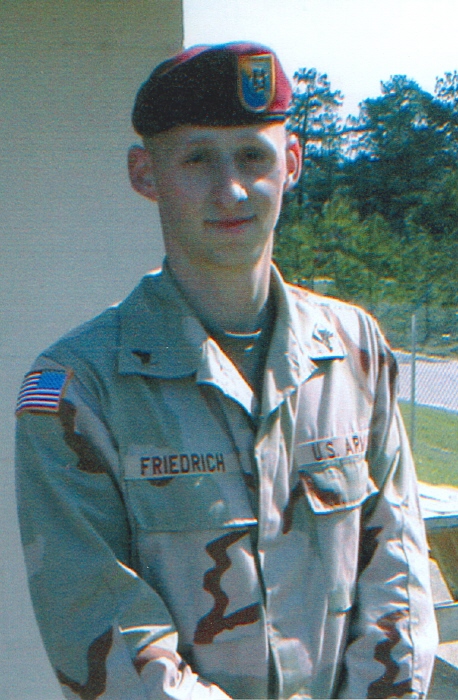 Sergeant David "Travis" Friedrich
Sergeant David Friedrich was born March 10, 1977, in Middlebury, Vt., the son of David and Elizabeth (Neal) Friedrich. He graduated from Gouverneur High School in 1995, attended the Delta Honors College at SUNY Brockport, from where he graduated Cum Laude with a B.S. in chemistry. While a student, he interned with the Ogdensburg Police Dept., as well as in Edinburgh, Scotland where he created a toxicology database for the Leeds and Borders Police Dept.
Friedrich worked undercover for a private investigator in the Boston, Mass. area before enrolling in the U.S. Army Reserves Military Intelligence. His first deployment was in the United States. He enrolled in the Forensic Science master's program at the University of New Haven in Connecticut and worked for a large pharmaceutical company.
He had nearly finished his degree when he was deployed for a second time, this time to Iraq. Friedrich was a sergeant serving with B Company, 325th Military Intelligence Battalion, based out of Waterbury, Conn.
Friedrich enjoyed running, in which he was competitive in high school and college. He completed the Burlington Marathon in Vermont in May 2001. He also enjoyed downhill skiing and windsurfing.
Sergeant David "Travis" Friedrich died September 20, 2003 in a mortar strike at a U.S. Army base in Abu Gareeb, Iraq.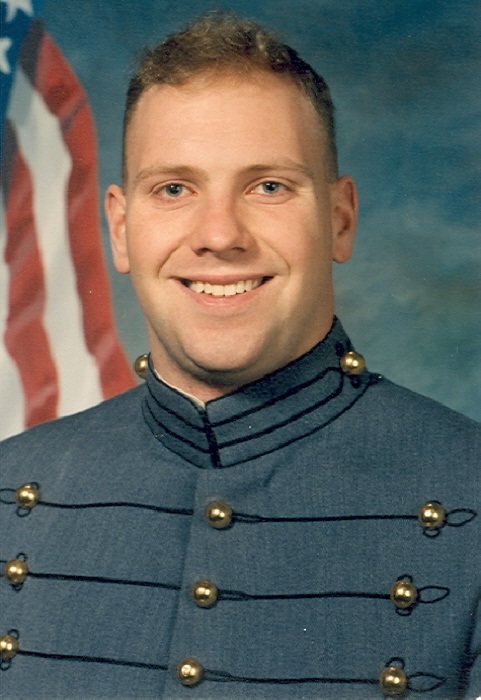 Army Captain Eric Thomas Paliwoda
United States Army Captain Eric Thomas Paliwoda, 28, formerly of West Hartford, Connecticut was killed in action on January 2, 2004 in Balad, Iraq. Born February 23, 1975 in Hartford, Eric was the beloved son of Alfred and Mary Paliwoda of Sedona, Arizona. In addition to his parents, he is survived by his fiance Wendy Rosen of Hartsdale, New York, his sister and brother-in-law Allison and Captain Jeff Csoka of Clarksville, Tennessee, and his uncle, aunt and cousins Thomas, Susan, Michael, and Cailin Luneburg of Danville, California. Eric is predeceased by his maternal grandparents Phyllis and Thomas Luneburg and paternal grandparents Helen and Jan Paliwoda.
Growing up in Farmington, Connecticut, Eric attended West District Elementary School and Irving A. Robbins Middle School. Eric graduated from West Hartford's Conard High School in 1993, where he was an exceptional student and an All-State and All-American honored basketball player. During high school, he received a congressional nomination and was accepted to attend the United States Military Academy at West Point, New York. Eric entered the Academy in 1993 and over his four years there was a member of Army's Division I Basketball and Track & Field teams. He graduated from West Point in 1997 with a Bachelor of Science degree and was commissioned as a Second Lieutenant in the United States Army.
Following graduation from the Academy, Eric traveled to Fort Hood, Texas where he served as both a Platoon Leader and an Executive Officer for an Engineer Battalion. He then moved to Fort Carson, Colorado where he was the Battalion Personnel Officer in the 4th Engineer Battalion and Assistant Brigade Engineer for the 3rd Brigade Combat Team of the 4th Infantry Division. Eric's extensive military education included graduation from the Engineer Officer Basic Course, the Scout Platoon Leaders Course, the Armor Officer Advanced Course, the Combined Arms Services Staff School, and the Cavalry Leaders Course. Over the course of his career, Eric was awarded both the Army Commendation Medal and the Army Achievement Medal twice, the National Defense Service Medal, and the Army Service Ribbon. Eric will be honored with a Purple Heart and a Bronze Star posthumously. Eric served as Company Commander for Bravo Company, 4th Engineer Battalion, 3rd Brigade Combat Team, 4th Infantry Division, as part of Operation Iraqi Freedom since April 2003. He had also recently been chosen to return to West Point as an instructor in the Department of Environmental Studies.
Eric will be terribly missed by all of those who knew, loved and cherished him. As a special leader and friend, he reached, touched and changed many lives during his brief time on this earth.
Harriett Beecher Stowe and Mark Twain
19th Century Neighbors
Nineteenth Century Hartford
"…every individual is part and parcel of a great picture of the society in which he lives and acts, and his life cannot be painted without reproducing the picture of the world he lived in…"
- Harriet Beecher Stowe, Oldtown Folks
"Of all the beautiful towns that it has been my fortune to see, this is the chief. Everywhere the eye turns it is blessed with a vision of refreshing green. You won't know what beauty is if you have not been here."
- Samuel L. Clemens (Mark Twain) describing his first impressions of Hartford, Connecticut for the September 6, 1868 issue of Alta California.
In the mid-nineteenth century, Hartford, Connecticut was an affluent town, the wealthiest city per capita in the nation. It was to become a hub of manufacturing and invention, the birthplace of the modern insurance industry, a center of finance and book publishing. It was a city balanced by Samuel Colt's sprawling arms factories on one side and by an early and expansive city park system designed by Frederick Law Olmsted on the other.

By the mid-1850s, the city had started to spread out, and a remarkable community had begun to grow at the western edge of Hartford on a 140-acre tract of land known as Nook Farm, so named for the nook in the Park River that snaked through the property.
Nook Farm
"So the good, the great, and the beautiful pass on, but what a fund of lovely memories they bequeath to the oncoming generations. May the guardians of these memories in Hartford cherish and preserve them within their own setting."
- Katharine Seymour Day, grandniece of Harriet Beecher Stowe, founder of the Harriet Beecher Stowe Center and founding president of The Mark Twain Memorial.
"As a closely knit neighborhood of authors and reformers, Nook Farm flourished for approximately three decades, from the late 1860s into the 1890s. Its total impact upon 19th-century American culture is difficult to assess. The most obvious effects were upon American literature and the significant changes of attitudes and thinking that occurred during the second half of the 19th century. The elusive quality of Nook Farm that makes it so fascinating is the interplay of ideas and the stimulation that the residents had not only upon each other but also upon their wide circle of friends and associates. Finally, the homes of these notable Victorians that have been preserved and restored provide a three-dimensional means by which the present and future generations may better understand the ambiance in which they lived."

- Joseph Van Why, Nook Farm
Nook Farm's residents were a panoply of literary, political and religious leaders whose ideas and actions helped to shape mid nineteenth century society. Residents included Francis Gillette, Connecticut's U.S. Senator and the father of future playwright and actor William Gillette (who would inhabit another Connecticut treasure, Gillette Castle); Isabella Beecher Hooker, woman suffragist and Stowe's sister; Joseph Hawley, co-editor of The Hartford Courant and a Civil War general who became a governor, congressman and senator; and Hawley's partner, Charles Dudley Warner, who would co-author (with Mark Twain) The Gilded Age, a novel that defined late 19th century industrial America.

But Nook Farm's most famous residents were two internationally recognized literary figures whose names resonate with readers today: Harriet Beecher Stowe and Samuel Langhorne Clemens, better known as Mark Twain.

Stowe and Twain were of different generations. They grew up half a continent apart and lived vastly different lifestyles. Twain was born in a small town on the Missouri frontier. Stowe was born into a New England community as a member of one of the most influential families of the 19th century. Twain worked as a printer's apprentice, riverboat pilot and gold prospector. Stowe juggled the demands of a growing family with her urge to become a "literary woman." Twain would travel the world as a newspaper correspondent and lecturer and live for years in Missouri, California, Nevada, New York, and countries throughout Europe, in addition to his two decades in Hartford. In an era when women did not speak to the public, Stowe traveled as a lecturer in Europe and across the United States. She arrived in Nook Farm as the author of 12 successful works, most notably the anti-slavery novel and international best seller, Uncle Tom's Cabin. Twain moved to Hartford as his star was rising, already the author of two successful books. It would be during his time in Hartford that Twain would write The Adventures of Tom Sawyer and other masterpieces that would bring him an international following and define his standing as the founding father of modern American literature.

In addition to sharing backyards on their abutting properties, Twain and Stowe also shared a burning passion to right the injustices they saw in a racially fractured American society. Although of different generations, Stowe and Clemens shared a profound respect for one another.

Most of Nook Farm has changed. In the 20th century, several of its magnificent homes gave way to Hartford Public High School. Others were torn down for apartment buildings. The Park River was ultimately buried as part of flood control projects.

Glimpses of the grandeur of Nook Farm remain, however. Six of the original homes still line Forest Street and Farmington Avenue. Three are preserved as parts of museums -- The Harriet Beecher Stowe Center (with the Harriet Beecher Stowe House and the Katharine Seymour Day House) and The Mark Twain House -- that tell the stories of the life and work of Nook Farm's most notable figures.

Harriet Beecher Stowe
1811-1896
The author who moved a nation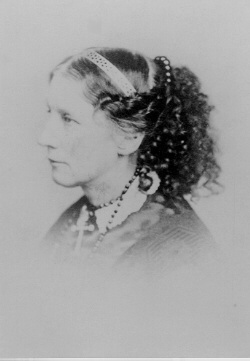 Harriet Beecher Stowe (1811-1896) was the author of the internationally famous ground breaking antislavery novel, Uncle Tom's Cabin, published in book form in 1852. A member of Connecticut's activist Beecher family, Harriet Beecher Stowe published more than thirty books and numerous sketches and articles, many dealing with the role of women. She was one of the most influential Americans of the nineteenth century and a resident of Nook Farm from 1864 to 1896.

Stowe was born in Litchfield, Connecticut, on June 14, 1811. Her Connecticut roots were deep and pervasive. Stowe's father, Lyman Beecher, was a Congregational minister in Litchfield, at that time one of the state's most thriving and progressive towns. Her mother, Roxanna Foote, was a member of the learned and artistically talented Foote family of Guilford.

Stowe was at the forefront of change in women's education - as a student at the Litchfield Female Academy and the Hartford Female Seminary - and later, as a teacher at the Hartford Female Seminary and the Western Female Institute in Cincinnati, Ohio. Both were founded by her sister, Catharine Beecher.



Photograph courtesy of the Harriet Beecher Stowe Center, Hartford CT
Lyman Beecher was said to have fathered more brains than any man in America. All of Stowe's seven brothers became ministers and one, Henry Ward Beecher, became nationally prominent. Stowe's family, including her sisters, Catharine Beecher and Isabella Beecher Hooker (a woman suffragist and Nook Farm resident) were leading figures in education and social reform in the 19th century.

From 1832 to 1850, Stowe lived in Cincinnati, where her father was president of Lane Theological Seminary. While there, she met fugitive slaves, heard abolitionists speak, and observed the workings of slavery in Kentucky, across the Ohio River. She also published her first book and married Calvin Ellis Stowe, a Lane faculty member, and noted Biblical scholar. They were to have seven children (one of whom, Samuel Charles Stowe, died as an infant in 1849).

That loss, and the passage of the Fugitive Slave Act in 1850, moved her to begin a work that would depict slavery "in the most lifelike and graphic manner." Serialized in forty-two installments in the anti-slavery newspaper The National Era, Uncle Tom's Cabin was released as a book in March 1852. Ten thousand copies sold within months of publication. A million copies sold by the end of the first year in the U.S. alone. Throughout the 19th century, and well into the 20th, only the Bible sold more copies. It was translated into at least a dozen languages within its first year. It has been published in more than 60 countries to date. Upon meeting her for the first time, President Abraham Lincoln is alleged to have said, "so you're the little lady who wrote the book that started this great war."

The Stowe family built their first Hartford home, Oakholm, now demolished, in 1864. In 1873, they moved to the Forest Street home, which the Stowe Center preserves and interprets. Stowe's interest and talents were broad and diverse. In addition to her writing, she was a prolific and talented painter and an avid gardener. She and her sister Catharine Beecher wrote American Woman's Home in 1869. Characterized as a thinking woman's guide to household management, the book remains informative and relevant today. Over the years, Stowe maintained correspondence with other reformers and writers such as Frederick Douglass, George Eliot, William Lloyd Garrison, Henry Wadsworth Longfellow, Sarah Orne Jewett, Elizabeth Cady Stanton, the Duchess of Sutherland (a noted British anti-slavery activist,) and Oliver Wendell Holmes.

Stowe's life and work has generated keen interest from scholars and others. Not one, but two biographies of Stowe received the Pulitzer Prize (1995, Joan Hedrick of Hartford's Trinity College for Harriet Beecher Stowe : A Life and in 1942, Forrest Wilson for Crusader in Crinoline.) Stowe's greatest work, Uncle Tom's Cabin was controversial when it first appeared and remains controversial today. James Baldwin blamed it for segregation; Langston Hughes called it "a moral battle cry for freedom."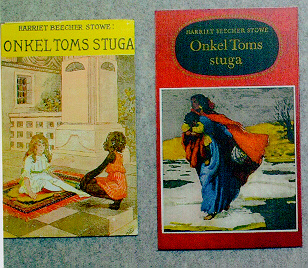 Photograph courtesy of the Harriet Beecher Stowe Center, Hartford CT


Harriet Beecher Stowe died in Hartford on July 1, 1896, just two weeks after her 85th birthday. She was buried in Andover, Massachusetts next to her husband and their oldest son, Henry.

The Harriet Beecher Stowe Center, founded by Stowe's grandniece, Katharine Seymour Day in 1942 and opened to the public in 1968, is the site of Stowe's final Nook Farm home. (Katharine Day was also the founding President of the Mark Twain Memorial and served from 1927 to 1954.)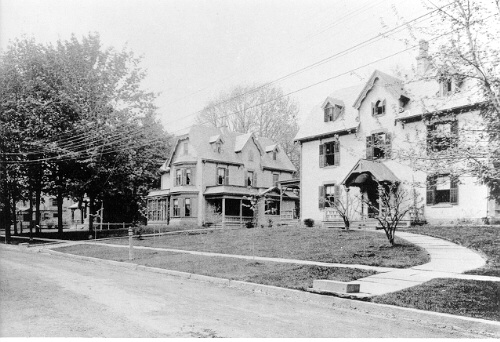 The Stowe Center is open for tours and programs year-round and welcomes visitors of all ages. The Harriet Beecher Stowe House (1871) is a Victorian Gothic Cottage containing family and period furniture, paintings and memorabilia. The Stowe Center Library (in the 1884 Katharine Seymour Day House) holds an important collection of materials on 19th century African-American and women's history, the Stowe and Beecher families, and Victorian architecture and decorative arts. (The grounds include the Visitor Center, with exhibition space, a Museum Shop and visitor amenities.)

Photograph courtesy of the Harriet Beecher Stowe Center, Hartford CT

The gardens contain Connecticut's largest magnolia and one of the oldest dogwood trees. Tourists, scholars and students all come to the Stowe Center to capture the spirit of Stowe's life and times.

In 2002, the Stowe Center marked the anniversary of the publication of Uncle Tom's Cabin with a year-long series of programs and events, Uncle Tom's Cabin at 150 and was awarded the Wilbur Cross Award for exemplary heritage programming from the Connecticut Humanities Council. The Stowe Center provides sought-after learning opportunities to teachers, students, public historians, families and collaborating partners. In 2002, the Stowe Center and The Hartford Courant's Newspapers in Education program received the national Newspaper Innovators in Education Award from the Newspaper Association of America Foundation for the "Let Your Pen Be Your Voice" writing program and essay contest for 6000 students in grades 2 through 8.

Today, the Stowe Center continues to inspire generations to embrace and emulate Stowe's commitment to social justice. It is proud to partner with its neighbor, The Mark Twain House and other 21st century Hartford neighbors on a variety of programs and activities. The Stowe Center website www.HarrietBeecherStowe.org provides resources for scholars, students, tourists and others.
Samuel Langhorne Clemens
(Mark Twain)
1835 - 1910
The riverboat pilot who defined American literature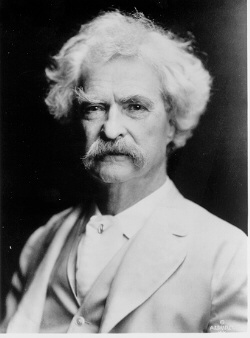 Samuel Langhorne Clemens was born in a small town in the frontier state of Missouri. As the writer Mark Twain, he is often identified with the mighty Mississippi River that flowed through the nation's heartland and past his boyhood home of Hannibal, MO. But when, after 18 years of ceaseless wandering, it came time for Mark Twain finally to establish a home of his own, it was to Hartford that he and his new wife moved in 1871. It was his two decades in Hartford, including 17 years at the house he and his wife Livy built on Farmington Avenue in the city's West End, that would be the happiest and most productive years of his life--and years that would change the course of American literature forever.

Mark Twain first visited Hartford in 1868, shortly after the publication of The Celebrated Jumping Frog of Calaveras County. He was a restless, 32-year-old former riverboat pilot and gold prospector who had finally found steady income as a newspaper correspondent and lecturer. In Hartford to visit the publisher of his first travelogue, The Innocents Abroad, Twain was also in the midst of another momentous occasion in his life, the courtship of Olivia Langdon of Elmira, New York.

Photograph courtesy of the Mark Twain House, Hartford CT

Sam and Livy were married in 1870 and moved to Hartford in 1871 to be near his publisher, the American Publishing Company. The family first rented a house on Forest Street in Nook Farm from Livy's friends, John and Isabella Beecher Hooker, and later purchased land on Farmington Avenue, where their neighbors were some of Hartford's most prominent citizens. In 1873, they engaged New York City architect Edward Tuckerman Potter to design the house. Livy sketched a layout relating the various rooms to views over what was then open countryside and a bend, or nook, in the Park River. The cost apparently exceeded their budget and the interior of the home remained unfinished when the family moved in October 1874.

The house was a treasure for the Clemens family. Twain wrote:
"To us, our house . . . had a heart, and a soul, and eyes to see us with; and approvals and solicitudes and deep sympathies; it was of us, and we were in its confidence and lived in its grace and in the peace of it benediction."

In 1881, the success of The Adventures of Tom Sawyer and several lecture tours allowed Twain and his wife to enlarge the home's kitchen wing and hire Louis Comfort Tiffany's design firm, Associated Artists, to decorate the home's first floor.

Even as his fame grew from his writings and his lecture tours across the United States and Europe, Twain always returned to his home on Farmington Avenue in Hartford where he and Livy raised their three daughters, Susy, Clara, and Jean.

Twain often referred to his years in Hartford as the happiest of his life, and during his 17 years at his Farmington Avenue home, Twain wrote several major works - including Life on The Mississippi (1883), Adventures of Huckleberry Finn (1884), and A Connecticut Yankee in King Arthur's Court (1889) - that would redefine modern American literature. "All American literature comes from Huck Finn . . . the best book we've ever had," Ernest Hemingway once said. "There was nothing before. There's been nothing good since."

Financial problems resulting from failed investments, forced Sam and Livy to move the family to Europe in 1891. Though he would complain about the other places the family lived ("How ugly, tasteless, repulsive are all the domestic interiors I have ever seen in Europe compared with the perfect taste of this [the Hartford home's] ground floor"), the family would never live in Hartford again. Susy's death in 1896 would make it too hard for Livy to return to their Hartford home and they sold the property in 1903.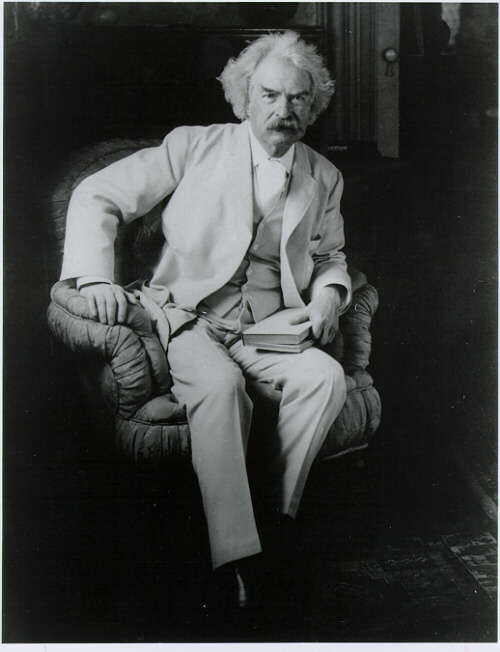 Photograph courtesy of the Mark Twain House, Hartford, CT

Twain's remarkable 19-room Victorian mansion changed owners several times after the turn of the century. It was used as a private school and an apartment building. In 1919, a group of local citizens recognized the house's historic importance and developed plans to preserve the home. Ten years later, the Mark Twain Memorial and Library Commission purchased the property. The house served as the Mark Twain Branch of the Hartford Public Library for many years before a total restoration began in the 1950s. The Mark Twain House was opened as a museum in the 1960s under the auspices of the Mark Twain Memorial, the private, non-profit organization that still owns and operates the museum.
The Mark Twain House was designated a National Historic Landmark in 1963 and is the winner of a major award for restoration from the National Trust for Historic Preservation. The house contains many pieces of Clemens family furniture, including Twain's ornate Venetian bed, an intricately-carved mantel from a Scottish castle, and a billiard table owned by the author.

Now open year-round for guided tours, The Mark Twain House attracts more than 60,000 visitors a year and is one of the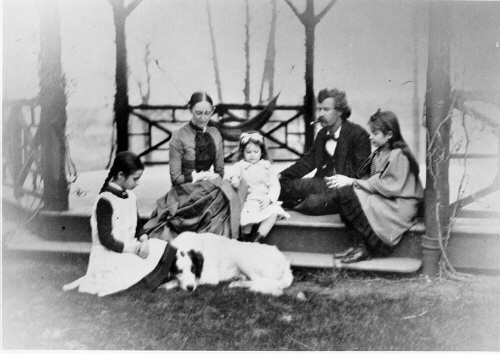 premier tourist attractions in Connecticut. Because of the international notoriety of Twain, The Mark Twain House attracts visitors from every state in the nation as well as from more than 70 countries. In addition to opening the historic house for tours, the organization also runs dozens of special programs about Twain's writing, his family life, and the literary elite who lived in Connecticut during Twain's time, including his Nook Farm neighbor, Harriet Beecher Stowe. The organization's website www.marktwainhouse.org provides information for visitors and resources for teachers and students to understand Twain's remarkable legacy.

Photograph courtesy of the Mark Twain House, Hartford CT
As it passes the century mark since Twain's ownership, The Mark Twain House is in the midst of its most ambitious project since the initial restoration of the House. In the Spring of 2002, the organization held a groundbreaking for the new Education and Visitors Center adjacent to Twain's Carriage House. The new center, which will be completed in the fall of 2003 and open to the public, will give the organization an opportunity to attract more repeat and new visitors. The 35,000-square-foot building will house many artifacts from the museum's collection that cannot currently be shown in the House itself. The new building will contain a lecture hall and classroom facilities to allow the organization to attract more school groups. A new larger museum store and a café will help enhance the visitor experience. In addition, a gallery will give the museum the space to mount changing exhibits, which will provide new ongoing attractions for tourists.
Dedication:
It is with great pride and admiration that I dedicate the 2003 edition of the State Register and Manual to two of Connecticut's literary legends: Harriet Beecher Stowe and Mark Twain. Their presence as neighbors in Hartford's historic Nook Farm, to this day, is testimony to the enduring value of their lives and works. Stowe and Twain represent beacons for us even today: compelling writers and concerned citizens who chose to live and work in Hartford. I am pleased to perpetuate the legacy of Harriet Beecher Stowe and Samuel Langhorne Clemens (Mark Twain).


Susan Bysiewicz
Secretary of the State