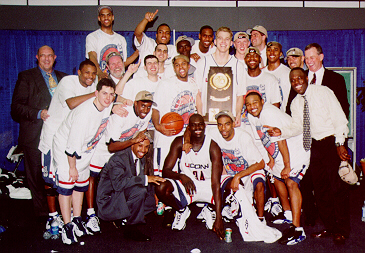 Jim Calhoun and the 1999 UConn Huskies
We couldn't ask for a more perfect ending to a spectacular season.
After 21 years of hard work, 21 years of waiting, the University of Connecticut men's basketball team brought a national championship trophy home to Connecticut this year, defeating the arch-rival Duke Blue Devils 77-74 in St. Petersburg, Florida.
Their first national championship. Their first Final Four. Their seventh Sweet 16 this decade. The first men's team in New England to win a national championship in over 50 years. Their fifth Big East title in six years. The UConn Huskies deserve recognition for their impressive array of on-court achievements. More impressive than the team's on-court performance, however, is the manner in which they achieved their success and captured the hearts of millions in Connecticut and across the nation.
For five months out of the year, Connecticut lives, breathes and dreams Husky basketball. From 1990, when Christian Laettener's buzzer-beater crushed Connecticut's Final Four hopes, to 1998, when North Carolina abruptly ended UConn's season, Connecticut fans wondered when it would be their turn. In 1999 the Huskies proved that courage, determination and team spirit can make dreams come true and that, with enough desire and dedication, the underdog could come out on top.
None of this would have been possible, however, without the guidance of Head Coach Jim Calhoun. Until this season, Calhoun was labeled "one of the best coaches never to reach a Final Four." Now, he has a national championship to his credit and the entire state of Connecticut sharing in his victory.
In 13 seasons at Connecticut, Calhoun's teams have a record of 304-120, a winning percentage of over 71 percent. His coaching success, however, is not limited to UConn. In 27 years as a head coach on the NCAA Division I level, Calhoun's teams have compiled an impressive record of 544-257, winning more than 68 percent of the games he's coached.
Without question a model basketball coach, Jim Calhoun is also a model citizen. He is Honorary Chairman of the Connecticut Children's Medical Center and the Children's Miracle Network, and an Honorary Co-Chairman of the Character Counts program. He has also hosted a celebrity golf tournament to benefit the Juvenile Diabetes and the Fidelco Guide Dog Foundations.
Calhoun is a spokesman for several children's agencies, including the Department of Children and Families (DCF) and the Covenant to Care program, which benefits abused children.
He has also helped the American Heart Association and last December donated $125,000 to the cardiology program at the University of Connecticut Health Center.
The State of Connecticut recognizes Jim Calhoun and the 1999 University of Connecticut Huskies for their tireless devotion to excellence on the court and excellence in the community, setting the standard for achievement and giving us all something to shoot for: to make our own dreams come true.

Susan Bysiewicz
Secretary of the State
Four Connecticut Women of Distinction
The four women we have chosen to honor in this edition of the Connecticut State Register and Manual are noteworthy not only for their individual achievements, but also because they exemplify what it means to devote one's life to the pursuit of excellence. Choosing only four was a difficult task, since Connecticut has so many outstanding women. From Ella Grasso, the first female governor in the nation, to Beatrice Fox Auerbach, a well-known businesswoman and president of the former G. Fox & Co., Connecticut women have had considerable success in life. The four women honored represent the achievement of women statewide in a variety of fields: science, literature, politics, and history. All rose to the pinnacle of success in their careers, and stand as wonderful role models for young people to emulate. I am pleased to have the opportunity to present them to you through this Connecticut State Register and Manual so that you can join me in celebrating their lives and accomplishments.
| | |
| --- | --- |
| | BARBARA KENNELLY |
Barbara Bailey Kennelly represented the First Congressional District for sixteen years. She rose through the ranks to become the highest-ranking female member in the history of the United States House of Representatives. In addition, she was the third woman in history to serve on the 200-year-old House Ways & Means Committee and the first woman to chair one of the subcommittees of the House Intelligence Committee. In August 1991, Speaker of the House Thomas Foley appointed Kennelly to be a Chief Deputy Majority Whip, where she served until her election as Caucus Vice Chair in 1994, the fourth ranking and the only woman in the elected leadership.
Kennelly was born on July 10, 1936, into a well-known Connecticut political family. She is the daughter of the late John M. Bailey, a former chairman of the state Democratic Party and the Democratic National Committee. She was married to the late James J. Kennelly, an attorney and former Speaker of the Connecticut House of Representatives. Her brother, John M. Bailey, is Connecticut State's Attorney. She has three daughters, a son and six grandchildren.
Kennelly left the House of Representatives to answer the call of Connecticut Democrats and accept their gubernatorial nomination in 1998. Although her candidacy was not successful, she waged a positive and issue-oriented campaign that proudly proclaimed her party's values and goals. In February 1999, President Clinton appointed her as Counselor to the Social Security Administration. She is uniquely qualified to serve in this role, as she was the ranking Democrat on the Social Security subcommittee of the House Ways & Means Committee.
Barbara Kennelly's legislative record reflects her deep commitment to working families. She fought for legislation to enforce child support collection, provide tax credits to the working poor and extend health care coverage to uninsured children.
Barbara Kennelly has earned respect from Democrats, Republicans and Independents alike, always willing to compromise while remaining true to those she represented. She is a model for women today, skillfully juggling her political career with her family life. The State of Connecticut recognizes Barbara Bailey Kennelly for her years of service to the First Congressional District, the state and the nation.
| | |
| --- | --- |
| | E. DORRIT HOFFLEIT |
"Love for research and boundless perseverance have enabled me to achieve not all that I might have wished," said E. Dorrit Hoffleit, "But far more than I would have ever dared to expect on the basis of mediocre high school grades." With over 400 journal articles and a career that spanned 68 years, there is no doubt that Hoffleit, one of the country's pre-eminent astronomers, has achieved plenty. She began her career in a time when there were few women in science and blazed a trail for female scientists everywhere, becoming a star in the scientific community.
Hoffleit received her bachelor's degree from Radcliffe College in 1928 and continued there to receive her master's and doctorate degrees. In addition, she received honorary degrees from Smith College and Central Connecticut State University. She was a member of the American Association for the Advancement of Science, the International Astronomical Union and the American Astronomical Society. Hoffleit served as the president of the American Association of Variable Star Observers from 1961 to 1963.
Over the course of her career, which began at the Harvard Observatory in 1929, Hoffleit discovered over 1,000 new variable stars. In 1956, she moved to the Yale Observatory. From 1956 to 1978, she also served as director of the Maria Mitchell Observatory in Nantucket.
Living by the motto, "Work for the work's sake and it will become a part of you. Work for the sake of worldly gain and you sell your soul to the devil," Hoffleit has spent her life learning about a subject she loves. At the age of 96, Hoffleit is officially retired, but still works at least eight hours daily. Learning for the sake of learning, not for personal gain has enabled her to influence more people than there are stars in the sky.
The State of Connecticut recognizes E. Dorrit Hoffleit for her contributions to science. Her work has advanced not only the field of astronomy, but also the status of women, both in science and in society.
| | |
| --- | --- |
| | GLADYS TANTAQUIDGEON |
At a time when national borders are blurring and the concept of one large, global community is becoming more accepted, we treasure links to our cultural heritage. One such link is Dr. Gladys Tantaquidgeon, Medicine Woman of the Mohegan Tribe, who has gone to great lengths to ensure the Mohegan culture's survival. Tantaquidgeon has dedicated her life to preserving her tribe's past and integrating it into its future.
Tantaquidgeon, who celebrated her 100th birthday on June 15 of this year, is the curator of the Tantaquidgeon Indian Museum founded over 60 years ago. It is the oldest Indian-operated Native American museum in the nation. The museum played a pivotal role in gaining federal recognition of the Mohegans as a tribe on March 7, 1994, and in the construction of the Mohegan Sun Casino.
Wearing a beaded belt that has been passed down by the tribe's medicine women since the 1700s, Tantaquidgeon is a constant reminder of the past. She is the granddaughter of the first Sachem Uncas. Much of her knowledge came from her aunt, Emma Fielding Baker, and her father, but Tantaquidgeon has a formal education as well.
Tantaquidgeon began studying anthropology in 1919 at the University of Pennsylvania and doing field work in the northwest. She also researched the herbal medicines of other East Coast tribes to expand her knowledge of the subject. In 1934, the Bureau of Indian Affairs hired her to work on the Rosebud Sioux Reservation in South Dakota as a social worker. She also served on the Indian Arts and Crafts Board and worked to improve Indian economies by selling artwork. Tantaquidgeon published a book on Native American folk medicine in 1970.
Jayne Fawcett, Tantaquidgeon's niece, says that Tntaquidgeon, having dedicated her life to advancing the rights of Native Americans while preserving their tradition, is somewhat uncomfortable with changes in the structure of the tribe, the most recent being the opening of the Mohegan Sun casino. She realizes that to ensure survival, however, the tribe must change with the times.
Gladys Tantaquidgeon has shown us how to accept and integrate change while maintaining one's beliefs and traditions. The State of Connecticut recognizes Gladys Tantaquidgeon for her years of hard work and commitment to preserving Mohegan culture.
| | |
| --- | --- |
| Copyright 1992, The Hartford Courant. Reproduced with permission. Further reproduction is prohibited. | ANN LANE PETRY |
Ann Lane Petry, the first African-American writer to explore the problems faced by black women living in an urban environment, published her first and best-known novel, The Street, in 1946. In it she drew attention to the desperate efforts of a young single mother to make a better life for herself and her son. Petry's accomplishments are particularly notable since they came at a time when discrimination ran rampant. Petry was a pioneer, paving the road for other African-American female writers, and bringing recognition to a problem that was all too long ignored.
Petry lived a private but unconventional life. She was born on October 12, 1908, into one of only two African-American families in Old Saybrook, where her family owned and operated a pharmacy.
Petry graduated from the Connecticut College of Pharmacy and worked for a time in the family business. She developed a passion for writing when she was young, however, and worked tirelessly at her chosen craft. Success did not come quickly for Petry, but she persevered, and the publication of a short story led to an invitation to apply for a writing fellowship. As a result of that fellowship, she published The Street in 1946.
The Street describes the life of Lutie Johnson, a single mother living in Harlem, where Petry lived for nine years with her husband, George. She turned her observations into a novel widely praised for its uncompromising realism. One and a half million copies of the book were sold, making her a literary celebrity.
Following the monumental success of The Street, she published two more novels, Country Place and The Narrows, numerous short stories and several children's books. In her later years, a new generation of readers discovered her work. A collection of her short stories, Miss Muriel and Other Stories, was published and The Street was reprinted in 1992. She was once again celebrated in newspaper and magazine articles, which praised the timelessness of her art and the value of her words.
Petry was uncomfortable with the trappings of celebrity. She chose to return with her husband to Old Saybrook in 1947, where she lived until her death at the age of 88 on April 28, 1997. The State of Connecticut recognizes Ann Lane Petry for her literary contributions and the important social issues she addressed.

Susan Bysiewicz
Secretary of the State
The "Interactive" Connecticut State Register & Manual and the ConneCT® Web Site
For 214 years, the Connecticut State Register and Manual has been providing the public with information and access to government in the State of Connecticut. That access was provided through the use of a technology that produced one of the great communication revolutions in world history – moveable type.
In the Fifteenth Century, printing presses were still crude by comparison with what we know today. It often took months to produce single books and they were not generally available until many decades later. That technology has continued to evolve to this day, filling libraries, bookstores and magazine stands with an astonishing array of printed materials. With the advent of other communication tools such as the telephone, radio, and television, we have had no difficulty in proclaiming our time as the "Information Age."
Today we are in the midst of another and potentially much more significant communication revolution – the development of the World Wide Web. Information is now available in our homes, twenty-four hours a day. News, music, literature, and movies are only a mouse click away. Businesses, governments, organizations, and private citizens are all furiously working to produce web sites, that collectively present more information to more people more easily than we could ever have imagined only a few short years ago. The evolution of this technology has outstripped anything we have known in the past. Nielsen Media Research estimates that American households are coming on-line at a rate of 18,000 per day, or more than half a million households per month.
The Secretary of the State's Office recognized the value of the technology and has developed a web site, www.ct.gov/sots, that contains not only information about our office, but also the entire text of this book. But the Secretary of the State's web site does not exist alone in cyberspace. It is part of and a partner in the larger State of Connecticut Web Site, www.ct.gov, known as ConneCT®.
In 1996, working through a collaborative group, now known as the ConneCT Management Advisory Committee (CMAC), liaisons representing agencies and organizations across all branches of government pulled together several separate web sites to establish ConneCT as the state's single home page. Today, the page attracts over 300,000 "hits" daily, and the collected "pages" that constitute the ConneCT web site average 2.5 million "hits" per week, as visitors seek information on state services, communicate with officials, or transact government business on-line. Visitors can find information on licensing and permitting activities, track the status of state legislation, look up cases in state courts, or locate town officials in the Connecticut State Register & Manual.
In the 1998 Best of the Web contest, sponsored by Government Technology magazine, ConneCT placed second nationwide among state and local government web sites, based on innovation and efficiency in offering easy access to government records and services. The site was also a semifinalist in the 1997 Global Information Infrastructure Awards.
The contents of the internet edition of the State Register and Manual follow the same organizational plan as the book. When viewing the Table of Contents, the user can simply click on the section title, which will link to a matrix of hyperlinks that follow the organization of that section. We have attempted to provide a logical system of links that will assist users in finding the answers to their questions quickly and easily.
To expand the usefulness of the information found in the Register & Manual, we have also constructed hyperlinks to as many other government office, department, and agency web sites as possible. We have chosen to describe this site as the "Interactive" Register & Manual because it allows users to move freely through the various internet offerings provided by a broad cross section of government departments at the federal, state, and local levels. Beyond that, we intend to link to important cultural and educational sites in Connecticut as well.
The World Wide Web has presented the Secretary of the State's Office, and our colleagues in other branches and departments of state government, with an exciting opportunity. We believe we have taken advantage of that opportunity and have provided the people of our state, and others around the world, with a window on government in the State of Connecticut. We urge you to visit and use our web sites and we welcome your comments and suggestions. It is our hope that this site will continue the work that was begun with the first edition of the Connecticut State Register and Manual in 1785 and serve as a key to increase knowledge, enhance awareness, and above all improve our understanding of our government.