Call Before You Dig Clearinghouse and Homeowners
Central Clearinghouse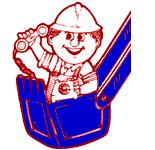 Call Before You Dig, Inc. (CBYD), is a non-stock, non-profit corporation established by the owners of the underground facilities under the direction of the Public Utilities Regulatory Authority. CBYD operates the central clearinghouse (through a contractor) which receives the notifications from the excavators and relays the notice to the owners of the underground facilities in the area of the proposed excavation. CBYD also provides many of the educational activities to alert excavators, utilities and the public about the program.

CBYD maintains a
website
which contains valuable educational information and provides for electronic notification of proposed excavations. CBYD also provides many educational outreach activities to educate persons about excavation safety.
Homeowners
Homeowners must comply with all the requirements for excavation notification. If the homeowner uses power-operated equipment, he/she is required to call CBYD 2 full working days before excavating. If a homeowner performs hand excavation, they are encouraged to call CBYD for markouts to protect themselves and minimize damages.
If a homeowner hires a contractor to perform excavation, the contractor must call CBYD.

Content last updated March 2022