IT Capital Investment Program - Project Status Reports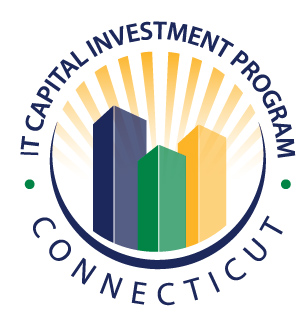 Included as one mechanism of project oversight through the Information Technology Capital Investment Program, is a requirement that agencies provide periodic project status updates to OPM's Information Technology Policy Office which reports shall be shared with the Information Technology Strategy and Investment Committee.

Agencies must communicate with the State Chief Information Officer (CIO) and the OPM IT Policy Director, or their designee, regarding the need for major scope and/or budgetary changes in regard to approved projects. The IT Policy Director and CIO shall consult, as needed, with the affected agencies, the Committee and OPM's Budget Division in this regard.
Project Close-out Reports

Agency Name

Project Name

Report
Board of Regents for Higher Education
Connecticut Education Academy (CEA)
Closeout

Department of Administrative Services

Enterprise Licensing

Closeout

Department of Administrative Services

Enterprise Licensing Management System (ELMS) Replacement RFP

Closeout

Department of Administrative Services
Enterprise Licensing Enhancements

Closeout


Department of Administrative Services

Business Analyst e-sourcing

Closeout

Department of Administrative Services
Establish Enterprise Unified Communications
Closeout
Department of Administrative Services


Business One Stop and Digital Experience Platform
Closeout


Department of Banking

IT Major Application Planning & Integration Support

Closeout

Department of Children and Families

SACWIS Replacement Project - Planning Phase

Closeout

Department of Consumer Protection

Mobile Technology - Initial Inspection Efficiency Enhancement

Closeout

Department of Consumer Protection
Enhancements to the Connecticut Prescription Monitoring and Reporting System (CPMRS)
Closeout
Department of Correction
DOC Offender Management Information System (OMIS)
Closeout

Department of Developmental Services

DDS Quality of Services Review Transformation

Closeout

Department of Economic and Community Development

Requirements for IT Major Application Planning and Integration

Closeout

Department of Emergency Services and Public Protection

Automated Fingerprint Identification System (AFIS)

Closeout

Department of Emergency Services and Public Protection

Criminal History Modernization Project

Closeout

Department of Emergency Services and Public Protection
Special Licensing and Firearms
Closeout

Department of Emergency Services and Public Protection
Criminal Identification and Modernization

Closeout


Department of Energy and Environmental Protection

VOIP (Voice over IP telephony) implementation at DEEP

Closeout

Department of Energy and Environmental Protection

DEEP Document Repository Automation


Closeout

Department of Energy and Environmental Protection
DEEP Enterprise Data Management
Closeout
Department of Energy and Environmental Protection
DEEP Enterprise Online Case Management System
Closeout

Department of Labor

Mobile Technology - Wage and Workplace Mobile Computing (WWMC)

Closeout

Department of Labor

CT State Information Data Exchange System (SIDES)

Closeout

Department of Labor

Internet Initial Claims Enhancements

Closeout

Department of Labor

Unemployment Insurance Reemployment and Eligibility Assessments (UI REA)

Closeout

Department of Labor
Unemployment Insurance (UI) Revitalization
Closeout
Department of Labor
ewage
Closeout

Department of Mental Health and Addiction Services

Scheduling and TimeKeeping System

Closeout

Department of Mental Health and Addiction Services

Planning Phase - Health Information Technology Electronic Health Record

Closeout

Department of Motor Vehicles
DMV, DESPP, DOI Real Time Insurance Verification Project
Closeout

Department of Public Health

Mobile Technology - Medical Facility Complaints Website

Closeout

Department of Public Health

Modernization of the Sexually Transmitted Diseases Database to a web-enabled application

Closeout

Department of Public Health

Local Health Reports

Closeout

Department of Public Health
Immunization Information System (IIS)
Closeout
Department of Rehabilitation Services
Integrated Consumer Service and Reporting System
Closeout

Department of Revenue Services

Electronic Filing - Real Estate Conveyance Tax Return

Closeout

Department of Revenue Services

IT Modernization - Business Case Development

Closeout

Department of Revenue Services
Mobile Technology - Mobile Revenue Collection
Closeout

Department of Social Services

ConneCT Project

Closeout

Department of Social Services
Medicaid Management Information System (MMIS)

Closeout


Department of Social Services

Husky Family Coverage

Closeout

Department of Social Services
Balancing Incentive Program (BIP)
Closeout
Department of Social Services
Social Security Number Removal
Closeout

Governor's Office

Regulations Modernization For The State Of Connecticut

Closeout

Department of Transportation
DOT Telephone System Replacement
Closeout
Department of Veterans Affairs
Department of Veterans Affairs
Closeout
Division of Public Defenders
DPDS Capabilities Improvement Program
Closeout


Office of Policy and Management

Grants management system

Closeout

Office of Protection and Advocacy

OPA Central Registry Abuse Investigation Database - Requirements

Closeout

Office of State Comptroller

State Employees Retirement System (SERS) Replacement Project

Closeout

Office of State Comptroller
Core-CT Health and Human Services Purchase of Service (POS) Contract Management
Closeout

Office of the Chief Medical Examiner

Mobile Technology - Medical Examiner Forensic Field Investigation

Closeout

Office of Early Childhood
Connecticut's Early Childhood Information System and Quality Rating and Improvement System.TQRIS
Closeout


Secretary of State

Election Infrastructure: Improving Speed of Reporting Results

Closeout

Secretary of State
Post Election Audit
Closeout
Secretary of State
Concord enhancements
Closeout

University of Connecticut Health Center

Integrated Electronic Medical Records

Active Project Status Reports

Agency Name

Project Name

Report

Department of Administrative Services

Enterprise Content Management (ECM) Service Development, Infrastructure Enhancement, and Records Management

FY2022 Dec Status Report


Department of Administrative Services

Talent Management

FY2022 Dec Status Report


Department of Administrative Services

Time Keeping

FY2022 Dec Status Report

Department of Administrative Services

Office of the Claims Commission - Electronic Filing and Case Management

FY2022 Dec Status Report
Department of Administrative Services
Das\Procurement E-sourcing Solution
FY2021 June Status Report
Department of Administrative Services
Centralization and Modernization of Human Resources
FY2022 Dec Status Report

Department of Administrative Services

Establish Enterprise Unified Communications Continuance

FY2022 Dec Status Report

Department of Administrative Services

Digital Government - Business one stop phase 2

FY2022 Dec Status Report
Department of Administrative Services
Purchase and Implementation of CivicGov

FY2022 Dec Status Report

Department of Administrative Services
IT Optimization - Remediation and Cost to Achieve Phase I
FY2022 Dec Status Report
Department of Administrative Services
Installation and maintenance of e-Builder software
FY2022 Dec Status Report
Department of Administrative Services
Cyber Security
FY2022 Dec Status Report

Department of Children and Families

CCWIS Replacement Project

FY2022 Dec Status Report

Department of Correction

Department of Correction Health Portal

FY2022 Dec Status Report

Department of Developmental Services

DDS Home and Community Based Management System

FY2022 Dec Status Report

Department of Economic and Community Development

Lean-Driven IT Revitalization Plateau 1 and 2

FY2022 Dec Status Report
Department of Energy and Environmental Protection
Sites Case Management System
FY2022 Dec Status Report

Department of Energy and Environmental Protection
ezFile Electronic Permitting - Phase 2
FY2022 Dec Status Report

Department of Labor

UI Modernization

FY2022 Dec Status Report

Department of Motor Vehicles

Unified Communications

FY2022 Dec Status Report


Department of Motor Vehicles

Voter Registration

FY2022 Dec Status Report

Department of Public Health

Electronic Vital Records Registration System - Module Integration Project

FY2021 June Status Report

Department of Revenue Services

Enterprise Content Management

FY2022 Dec Status Report
Department of Revenue Services
IT/CTax Modernization
FY2022 Dec Status Report

Department of Social Services

Health Information Exchange/Integrated Eligibility (IE)

FY2022 Dec Status Report

Department of Social Services

Shared Services Initiative

FY2022 Dec Status Report
Department of Social Services
CT Child Support Enforcement System
FY2022 Dec Status Report
Department of Social Services
CT Medicaid Enterprise Technology(CT METS)
FY2022 Dec Status Report

Division of Criminal Justice

Case Management

FY2022 Dec Status Report
Office of Health Strategy

State Wide Health Information Exchange

FY2022 Dec Status Report


Office of State Ethics

IT Ugrades and New Projects

FY2022 Dec Status Report

Secretary of State

Election Infrastructure: Improving Voter Service at Polling Places

FY2022 Dec Status Report
Secretary of State
CT eRegulations System Enhancements
FY2022 Dec Status Report
Secretary of State

Democracy Initiatives

FY2022 Dec Status Report
Secretary of State

Business Registry System

FY2022 Dec Status Report
For Further Information, Contact
John Vittner, (860) 418-6432; John.Vittner@ct.gov
Jim Hadfield, (860) 418-6438; Jim.Hadfield@ct.gov