Child Support Policy Conference - 2014
---
The Department's Bureau of Child Support Enforcement hosted a Connecticut Child Support Policy Conference titled "Shaping the Future for Families in Connecticut: The Child Support/Fatherhood Connection" at Central Connecticut State University on June 27, 2014.
The event brought together over 146 state, federal and local professionals to highlight the important role that child support plays in strengthening families, and the progressive changes in child support at the Federal and state levels to achieve that goal. Building on research and empirical data that supports that fact that children are better off when both parents are involved.
The conference shared best practices that fully integrate child support services and the connection to father engagement. In addition, it also identified some service gaps, areas for improvement, and began a meaningful discussion about how Connecticut can better integrate formal child support services with programs that provide essential supports for parents, both custodial and noncustodial.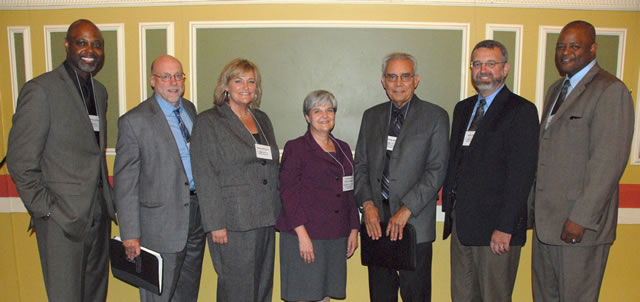 Child Support and Fatherhood leadership pose for a photo to commemorate the day. In the photo from left to right: Tony Judkins (DSS), David Mulligan (DSS), Diana DiTunno (DSS), Vicky Turetsky, Commissioner (DHHS, ACF, OCSE), Chuck Kenner (DHHS, ACF, OCSE), John Dillon (DSS) and Raymond Singleton, Deputy Commissioner (DSS)