Healthy Connecticut 2020
Creating the State Health Improvement Plan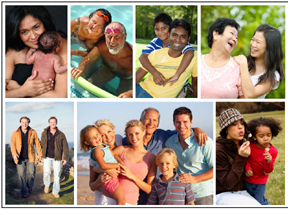 Healthy Connecticut 2020 is our state's translation of the national
Healthy People 2020
initiative. It provides a framework for health promotion and disease prevention in the current decade, with overarching themes of health equity and social determinants of health.
STATE HEALTH ASSESSMENT AND PLAN RELEASED AT MEETING OF STATEWIDE COALITION MARCH 25, 2014
The Healthy Connecticut 2020 State Health Improvement Plan and its companion document, the Healthy Connecticut 2020 State Health Assessment (see "Publications" below), were presented to the Connecticut State Health Improvement Coalition by Commissioner Jewel Mullen on March 25, 2014 at a "Call to Action" meeting (see news release). The Assessment and Plan represent the work of more than 100 Coalition partners and an equal number of staff at the Connecticut Department of Public Health. The presentations below were given at the meeting.
HEALTHY CONNECTICUT 2020 PUBLICATIONS AND WEB PAGES
State Health Assessment: Preliminary Findings (January, 2013)
Healthy Connecticut 2020 State Health Assessment (March, 2014)
Healthy Connecticut 2020 State Health Improvement Plan (March, 2014)
Where to Find Evidence-based Methods and Interventions (September, 2014)
UPDATED STATE HEALTH ASSESSMENT DATA
Presentation to State Innovation Model (SIM) Population Health Council (September, 2016)
State Health Profile Data Packet (September, 2016)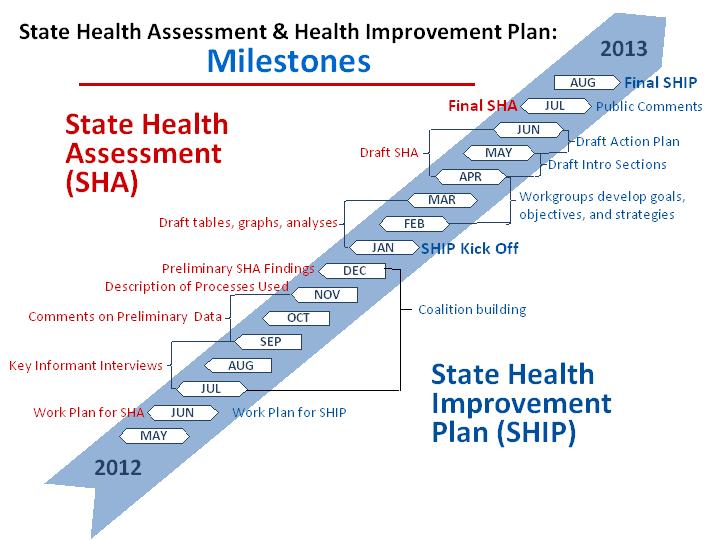 TOOLS FOR ASSESSMENT AND PLANNING
Sector and Stakeholder Wheel(PDF, 82 KB)
A representation of the major sectors and the key stakeholders in each sector to consider for inclusion in an assessment and planning coalition.
Stakeholder Engagement Matrix (Excel spreadsheet)
Contact information for stakeholders, and their roles or methods of engaging them in the assessment and planning processes.
Guide and Template for Comprehensive Health Improvement Planning (PDF)
Guidelines for developing a health improvement plan, elements of a Plan, boilerplate material for Connecticut, and framework for presenting goals, objectives, and strategies.
How Connecticut residents are faring in health improvement areas from the State Health Improvement Plan.
Slide sets of presentations and videos from Public Forums held in each of Connecticut's 8 counties, a State Agencies Forum, and a Spanish language Webinar. DPH staff data from the draft State Health Assessment and heard state residents' perceptions of the problems that affect their communities' health, and how their communities might become more healthful places to live.