Welcome to the world of Captain 5 A Day! Captain 5 A Day is a super hero who is featured in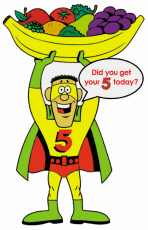 audiotapes for children to encourage them to eat fruits and vegetables and to be physically active. His name reminds everyone to eat a total of five servings of fruit and vegetables and to exercise everyday. Classroom activities packaged in an adventure box demonstrate that learning about new foods can be lots of fun. A parent workbook and video (in both English and Spanish) are included in the program. These materials were developed by the Connecticut Department of Public Health, in partnership with the Connecticut Department of Social Services and the U.S. Department of Agriculture.
This nutrition program currently reaches over 250,000 children, parents and teaching staff each year through workshops and training materials. Interactive workshops for teachers and parents are available to show them how to conduct activities with the kids.
The Captain 5 A Day program has been widely tested and used throughout the state in Early Childhood Education Programs. Everyone agrees that early intervention can set up lifelong behaviors that lead to better habits, better nutrition, and better health.
Check back soon for the new Captain 5 A Day website currently under construction.