Exercise Induced Asthma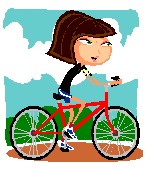 Exercise is a common trigger of asthma symptoms. Exercise can even induce asthma symtpoms in people who have no other triggers and do not experience asthma under any other circumstances.
People with exercise-induced asthma are believed to be more than usually sensitive to changes in the temperature and humidity of the air
When you are at rest, you breathe through your nose, which serves to warm and humidify the air you breathe in to make it more like the air in the lungs
When you are exercising, you breathe through your mouth, and the air is colder and drier. The rapid movement of air into the lungs before it is warmed and humidified triggers asthma symptoms

What Can You Do
Perform a warm up, light jogging or jumping 15-20 minutes before exercising. This helps to prepare the lungs for strenuous activity.

Practice inhaling through the nose and exhale through the mouth. This helps to warm the air as it moves downward into the lungs.

Use your rescue medication 15-20 minutes before exercise as prescribed by your physician.
With appropriate treatment, almost everyone with exercise-induced asthma can enjoy the mental and physical benefits of regular exercise.
Resources:

Below there are links to resources to help coaches learn more about asthma and how they can help their athletes manage their asthma.