Asthma Program
  Mission Statement
The mission of the program is to reduce asthma associated morbidity and mortality and improve the quality of life for Connecticut residents living with asthma.
Asthma is a chronic disease of the respiratory system that is characterized by reversible obstruction of the airways and airway hyper-responsiveness to a variety of stimuli. In Connecticut, it has been found that the following population subgroups are disproportionately affected by asthma: children, females, Hispanics, non-Hispanic Blacks, and residents of the state's five largest cities.
Statistics:
Among Connecticut residents surveyed in 2014, 72,000 (9.6%) children and 257,000 (9.2%) adults suffered from asthma.   In 2014, 8.6% of US children and 7.4% of US adults had asthma.

Asthma is the single most avoidable cause of hospitalization, yet it is consistently one of the most common admitting diagnoses in pediatrics.

In 2014, Connecticut incurred over $135 million acute care charges due to asthma as a primary diagnosis.
Of the $135 million asthma acute care charges, $92.8 million were for hospitalizations and $42.5 million were for emergency department (ED) visits. 
Of the $135 million, $102 million (76%) were charged to public funds (Medicaid or Medicare).
Residents from the five largest cities (Bridgeport, Hartford, New Haven, Stamford, and Waterbury) account for 18% of Connecticut's total population, yet they account for nearly half (46% or $62 million) of the $135 million asthma acute care charges in 2014.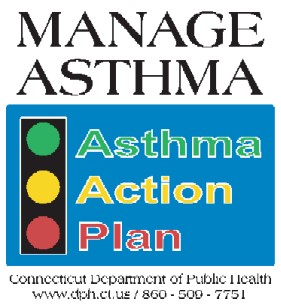 What You Need To Know
What is Asthma?
-Learn about the basics of asthma such as signs/symptoms, common triggers, and much more
Asthma Action Plans
-Learn the importance of having an asthma action plan as well as find a printable Asthma Action Plan (AAP)
Kids' Corner
-
Find links to kid friendly websites where children can learn all about asthma through fact sheets, games, videos, and activities
Healthcare Resources
-Learn how you can get insurance and which companies offer patient assistance programs to get medication
Healthy Homes
-
Learn about the Healthy Homes Initiative, Putting on AIRS, and other resources to learn how you can maintain a clean and healthy home
Environment
-
Learn how environmental factors affect your health as well as organizations that work to protect the environment
Day Care
-
Learn how to manage asthma in child care facilities, preschool educational program, and other resources
Schools-Learn about programs and initiatives for schools, resources to managing asthma in school-aged children, asthma reporting forms, and links to additional resources
Coaches' Corner-Find out about tips on how to manage exercise-induced asthma as well as other resources for coaches
Statewide Asthma Partnership-Learn about the partnership and find links to resources about policies and advocacy organizations as well as read the statewide asthma plan
Asthma Evaluation-Read the Asthma Program's evaluation reports and access evaluation tools.
Asthma Surveillance-Read the burden report, school-based asthma reports, data briefs, fact sheets, and find links to EPA map tracker and more
Publications-Read published journal articles
National Asthma Educator Certification Board-Find an asthma educator or learn how you can become a certified asthma educator
Asthma Educator Institute-Those who qualify to take the National Asthma Educator Certification Board (NAECB) examination, learn more about the American Lung Association's (ALA) 2-day prep course for the exam
 The Asthma Program can be reached at: 860-509-8251