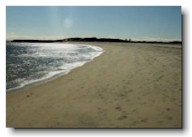 Public Beaches
Public beaches in Connecticut are regulated by the local health departments/districts.  Beaches at State Parks are controlled by the Connecticut Department of Energy and Environmental Protection.     
Connecticut's 2016 Beach Grant Annual Report to US EPA  
Beaches
2016 Listing of Connecticut's Regulated Beaches *UPDATED*
The Connecticut Department of Public Health implements a US EPA grant funded by the Beach Act.  The activities in this grant funded project focus on coastal beaches.  To learn more, go to New England Beaches - EPA
---
Beach Closure Information
Public Beaches:
For the most up-to-date information concerning the status of a public beach you should contact your local health department.  A list of local health departments is available here.
State Park Beaches:
For the most up-to-date information concerning the status of a State Park Beaches, go to EPA State Swimming Area Water Quality Report
---
Further Information
Regulations pertaining to Public Swimming Areas: 
---
Links:
If you need further information, please contact:
Recreation Program (Beaches)
410 Capitol Avenue, MS#12REC
PO Box 340308
Hartford, CT 06134
(860) 509-7758