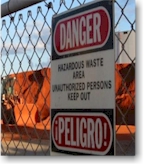 The Site Assessments and Chemical Risk Unit addresses health concerns about hazardous waste sites in Connecticut through a Cooperative Agreement grant from the Agency For Toxic Substances and Disease Registry (ATSDR). These sites include:
Superfund National Priorities List (NPL) sites

State Superfund sites

Brownfields sites

Landfills

Other locations with contamination
The Site Assessments and Chemical Risk Unit evaluates environmental data and provides education to address the public health impacts from exposure to hazardous substances at sites.
Locations where CTDPH has evaluated exposure to contamination.
Special Projects
SAFER Day Care Program: An initiative to ensure safe day care centers by identifying/addressing contamination at or near new or operating daycares, and to help daycares be environmentally safe & green in their operation.
Are There Contaminated Sites in Your Community? Workshop (11/15/2013)
Publications
---
Links
---
Contacts
Health Questions (860) 509-7740

Information about specific hazardous waste sites (CT DEP) (860) 424-3705