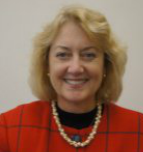 Maryann Cherniak Lexius, MPH, RS, Director of Health, Town of Manchester
In 2014, Ms. Lexius began her 37th year of uninterrupted service in the State of Connecticut working in local public health departments and districts.
Maryann received a Bachelor of Science Degree in Environmental Health Technology from Quinnipiac College in 1977, earned Registered Sanitarian status in 1979, and a Masters in Public Health degree from UCONN Health Center, School of Community Medicine in 1993.
Over her career she has worked at two Health Districts, East Shore District Health Department and Quinnipiack Valley Health District, and has served as Director of Health for the Towns of Berlin and Wallingford before coming to Manchester. The position in Berlin began as a part-time Director of Health position. Historically, she was the first full-time Director of Health in Berlin and Wallingford. Maryann is currently serving as the full-time Director of Heath for the Town of Manchester Health Department, where she has been since July of 2001.
Maryann is currently appointed to represent local public health on the State of Connecticut Department of Emergency Management and Homeland Security Advisory Council, the Public Health Preparedness Advisory Committee, the Connecticut Food Safety Advisory Group and is a Board member for the Connecticut Association of Directors of Health.