Health Services Hospice
and Palliative Care Program
Director of Health and Addiction Services: Dr. Kathleen Maurer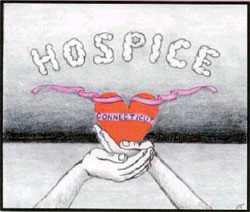 If you need more information, please contact Colleen Gallagher at (860) 692-7648.
In earlier times, hospice was a lodging for travelers to rest and find comfort. Today, hospice is regarded as a concept not a place, where end-of-life care is provided for patient and family encompassing body, mind and soul.
If you have a terminal illness when cure is no longer possible, hospice recognizes a peaceful and comfortable death as a valid goal. Hospice offers end-of-life care to all terminally ill inmates and their families regardless of age, gender, nationality, race, creed, and sexual orientation.
Within the Connectiuct Department of Correction, appropriate inmates are trained as hospice volunteers to provide end of life care to their fellow offenders at the York, Mac-Dougall-Walker and Osborn Correctional Institutions.
Palliative care is the active care of inmate patients whose disease is not responsive to curative treatment.
The goal of palliative care is achievement of the best possible quality of life for inmate patients and their families. Service extends across all stages of illness.
Philosophy of Connecticut Department of Correction Hospice Program
It is the philosophy of the Connecticut Department of Correction Hospice Program, through an Interdisciplinary Team approach, to provide twenty-four (24) hour compassionate, quality end-of-life care to terminally ill inmates remanded to the Department of Correction and to view their families and /or those emotionally connected to them as part of the "unit of care." This shall be accomplished in a safe, secure manner.
To provide quality end-of-life care irrespective of the inmates' criminal charge or personal history.
To honor the inmates' support systems including family as they identify family.
To address the inmates' needs holistically with emphasis on palliation of physical, social, spiritual and emotional suffering.
To assist the inmate with those activities which they consider life affirming.
To maintain an end-of-life program consistent with community standards.