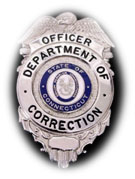 Correction Officer Position Information
24 Wolcott Hill Road
Wethersfield, CT 06109
Correction Officer Position Announcements
Please visit https://www.jobapscloud.com/CT/ to view State of Connecticut Executive Branch's Online Employment Center (OEC). Once on the OEC you can register an account (New User Registration) and then fill out a Master Application. The Master Application can and should be kept up to date and is used to apply for job openings of interest to you, including Correction Officer positions.

Be sure you are using a valid email address that you will check often.

All communication is via the email address entered in the OEC.

Set up job alerts via the link for interest cards.
Scheduling of the COPAT (Correction Officer Physical Ability Test) and subsequent interview appointments will also be communicated through the OEC.
Do to the high volume of applications, we are not able to respond to individual phone calls regarding application status. Change in status will be communicated to you via an email through the OEC. Consider your application status active unless you receive an email stating otherwise. Make sure you check you email, including spam/junk mail folder regularly.
Correction Officer Candidate Most Asked Questions