Food Waste Reduction and Recovery
"Throwing away food is like stealing from the tables of the poor, the hungry"
~ Pope Francis, World Environment Day, 2013
Legal Fact Sheets
The single largest component of solid waste sent to incinerators and landfills is food waste. According to the EPA food waste comprised 21.3% of total U.S. Municipal Solid Waste generated in the United States in 2011 - that's 36.31 million tons of wasted food. And for all that food waste generated, just 3.9% was diverted from landfills, or recovered.
Food waste represents inefficiencies in the food system. A 2012 report by the Natural Resources Defense Council found that up to 40% of food is wasted in the United States, accounting for losses at every step of the supply chain: production, storage, transportation, processing, retail, and consumer losses. When food is wasted, valuable energy, water and land resources are also wasted. Furthermore, combustion of food waste in waste-to-energy plants and/or decomposition of food waste in landfills contribute to pollution.
Wasting food also links with social issues. We are experiencing a paradox between food waste and hunger: Large quantities of edible food are being wasted while we have residents experiencing food insecurity. Food insecurity is when people do not have access to enough nutritious food for an active, healthy lifestyle. According to a 2012 study by the University of Connecticut, 12.7 percent of Connecticut residents were living in households deemed food insecure from 2008 to 2010.
The EPA Food Recovery Hierarchy provides a framework for the best way to make the most of excess food. Where reducing food waste at the source is inadequate, the next best thing is to divert edible or salvageable food to food banks and food rescue programs. When feeding people is not possible, then feeding animals is the next best option, followed by industrial uses then composting, and finally, landfilling or incineration as the last resort.
Food Banks and Rescue Programs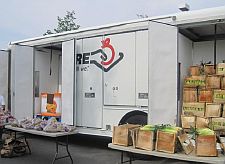 Connecticut is working to end hunger and reduce waste. Food banks and rescue programs serve community centers, soup kitchens, food pantries, shelters, senior programs, and child-care centers by providing them with food.

Food Banks
There are two food banks in Connecticut. They are community-based, professional organizations that collect food from a variety of sources, warehouse it, and then distribute it to food pantries, soup kitchens, shelters, and individuals through mobile distribution trucks. Fresh food now makes up about 50% of the inventory in CT's food banks. Before organizing a community food drive, get in touch with your local food bank.
Food Rescue Programs
Other types of food rescue programs often focus on recovering perishable and prepared foods and distribute food directly to agencies that serve hungry people. Food rescue groups operate on a smaller scale than food banks, relying mostly on volunteers who deliver food directly from a retailer to an organization such as a food pantry. Rescue groups can be found in communities and universities across the country. Some examples in and near Connecticut include:
There are also programs that help gardeners donate their excess produce from home to local food pantries such as:
In 2012, Connecticut passed Public Act 12-123 to protect people that donate food from potential legal liability incorporated as Connecticut General Statutes ("CGS") Section 52-557l.
Legal Fact Sheets:
On October 1, 1996, President Clinton signed this act to encourage donation of food and grocery products to non-profit organizations for distribution to individuals in need.
The Federal Bill Emerson Good Samaritan Food Donation Act
Protects you from liability when you donate to a non-profit organization;

Protects you from civil and criminal liability should the product donated in good faith later cause harm to the recipient;

Standardizes donor liability exposure. You or your legal counsel do not need to investigate liability laws in 50 states; and

Sets a floor of "gross negligence" or intentional misconduct for persons who donate grocery products. According to the new law, gross negligence is defined as "voluntary and conscious conduct by a person with knowledge (at the time of conduct) that the conduct is likely to be harmful to the health or well-being of another person."
What About Food Safety?
In 2000 the Food Recovery Committee of the Conference for Food Protection created comprehensive guidelines for recovering perishable products safely. These guidelines mirror the grocery industry handling and storage guidelines.
The U.S. Food and Drug Administration has developed federal regulations (21 CFR 110) on Good Manufacturing Practice in Manufacturing, Packing, or Holding Human Food.
Legal Fact Sheet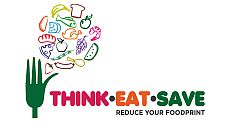 Wasted food at home can be avoided. Currently, American families throw out approximately 25 percent of the food and beverages we buy, adding up to a cost of $1,365 to $2,275 a year for the average family of four. (Source: "American Wasteland: How America Throws Away Nearly Half of Its Food" by Jonathan Bloom.)
Simple tips to reduce waste at home:
"The most remarkable thing about my mother is that for thirty years she served the family nothing but leftovers. The original meal has never been found."
—Calvin Trillin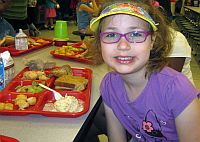 As of April 2013, twenty-three New England Colleges and Universities have joined the EPA Food Recovery Challenge, including some from Connecticut. Consider joining the EPA Food Recovery Challenge and receive resources and tools to track your food waste recovery efforts.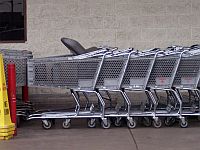 As a commercial food business owner or manager you likely know how to try and reduce food losses – because food losses often mean financial losses. Both the EPA and DEEP have food waste reduction resources for businesses, and Lean Path maintains food industry blog on food waste prevention. A study by The Food Waste Reduction Alliance found food waste at the retail level tends to consist of finished products more suitable for donation, while food waste generated through manufacturing tends to be unused ingredients, unfinished product or trimmings, peels and other unavoidable food waste more conducive to animal feed, composting or anaerobic digestion.
Why Donate Food?
There are several reasons why it makes sense for your business to donate food:
Simple tips to reduce wasted food at food businesses:
Restaurants
If we could recover just 5 percent of the food wasted each year, we could help feed 14 million people. With the help of grocery stores and restaurants, we can provide much-needed food to day-care centers, programs for the homeless, women's shelters and more.
~Feeding America.
Food Retailers/Wholesalers
Grocery stores, whether they are large corporations or independently operated should develop relationships with local food banks. Below are resources to help you learn the how's and whys of donating food, including expired, distressed, surplus and unsalable foods.
Food Manufacturers
Is your industrial food waste by-product a possible feedstock for other manufacturers? Could your by-product be used in the production of animal feed or other product? Depending on the type of by-products you generate, consider finding a company that makes pet food or other commercial animal feed. There also may be other human food products that can be manufactured from by-products. Consider joining and/or using regional on-line reuse and marketing portals such as the ReUse Marketplace . The website Alibaba is a business to business service. It puts manufacturers in touch with suppliers in touch with shipping companies, etc.
There are some piggeries that will accept food waste for direct feeding to animals. But, because swine are amplifiers of foot & mouth disease which can spread quickly to other animals, the feeding of certain foods (namely meats and food that has come into contact with meat) is regulated by the US Department of Agriculture and must be cooked by the farmer prior to feeding. "Garbage Feeders" as defined by CGS Sec 22-320a must be registered by the CT Dept. of Agriculture and licensed by the U.S. Dept. of Agriculture. To find piggeries in CT that are licensed to feed "Garbage" visit the State of CT eLicensing website and from the drop-down menu choose the License Type "Swine Garbage Feeders", then click on "search". Any questions about providing food residuals to animal farmers should be directed to the CT Dept. of Agriculture Animal Health Division.
Your business may find more options by partnering with an organics recycler that composts food residuals or operates an anaerobic digestion facility.

How much of your food and money are you literally throwing away? The Food Recovery Challenge asks businesses and organizations to reduce as much of their food waste as possible – saving money, helping communities, and protecting the environment. The Challenge is part of the EPA's Sustainable Materials Management Program, which seeks to reduce the environmental impact of materials through their entire life cycle, including how they are extracted, manufactured, distributed, used, reused, recycled, and disposed. Any business or organization can participate in the Food Recovery Challenge through prevention, donation and recycling. Join the Food Recovery Challenge Now! CT DEEP has joined this challenge as an endorser.

The goal of the U.S. Food Waste Challenge is to lead a fundamental shift in how we think about and manage food and food waste in this country. In this awareness campaign, the U.S. Department of Agriculture (USDA) and the U.S. Environmental Protection Agency (EPA) challenge producer groups, processors, manufacturers, retailers, communities, and other government agencies to join their efforts to 1) Reduce food loss and waste; 2) Recover wholesome food for human consumption; and 3) Recycle discards to other uses including animal feed, composting, and energy generation. Participants in the challenge list the activities they will undertake to help reduce, recover, or recycle food waste in their operations in the United States. The Challenge includes a goal of 400 partners by 2015 and 1,000 by 2020. The CT DEEP has joined this challenge by continuing their on-site food scrap composting program.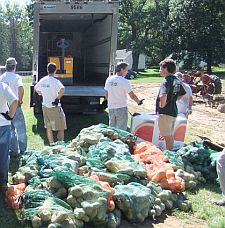 Gleaning is the practice of harvesting remaining or leftover crops in a field after a farmer has harvested what he or she plans to use and sell. This practice of recovering food from farms dates as far back as the Old Testament. Gleaning can be done in large organized groups, which may transport the food to a food bank or other donation center, or it can exist on a more informal basis—for example, when a farmer has a relationship with a neighbor who picks leftover crops for personal use.
Food losses at the farm occur in one of two ways - either the food is never harvested, or it is lost in the process of transporting it from farm to retail. Due to changing market demands and labor shortages, sometimes produce is never harvested and left in the farm fields. Farmers may plant more than they can harvest in order to hedge against potential damage due to disease, pests, and weather. When a field is left unharvested, and is consequently plowed under, it is referred to as a "walk-by."
Efforts to recover "walk-by" food from farms can reduce the amount of food that is plowed under, and give the food to people in need. Interested in getting involved in gleaning? Contact your local food bank, Foodshare, or the Connecticut Food Bank.
Do gleaners come to you farm? Do you provide gleaning services or know of organizations that do? Please let us know bytaking ourGleaning in CT Survey now.
Webinars
Guides and Toolkits
Studies, Case Studies & Reports
Broadcasts, Videos & Films
Articles, Papers and Books
Websites
Organizations
Apps
Other
Disclaimer: The Connecticut Department of Energy and Environmental Protection (DEEP) maintains the content on this web site to enhance public access to information and facilitate understanding of waste reduction, reuse and recycling. The DEEP is not recommending these resources over any others and recognizes these represent only a partial listing of resources on this subject.
Content Last Updated June 7, 2022