Getting Started
Setting Up a Recycling Program at Your School
"Tell me, I'll forget. Show me, I may remember.
But involve me, and I'll understand." ~ Chinese Proverb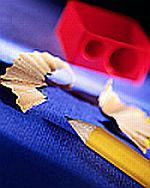 Step 1: Determine what must be recycled.
Refer to the CT School Recycling Reminder and local ordinances for guidance. Contact your local recycling contact to understand the recycling requirements in your town.
Step 2: Appoint an organizer for the program.
This organizer can be a group of students, a committee of parents, a teacher, an administrator or a combination of the four groups. No matter who the organizer is remember to gain support from the administrators, involve the custodial staff early and often, and develop a written recycling plan for your school that will transcend the organizer's tenure at the institution. This written policy can also serve as promotional material to educate fellow teachers, administrators, parents, and students. If you are working at the district level you will need to facilitate the appointment of an organizer and maintain a comprehensive list of organizers within your district with whom you can regularly communicate.
Step 3: Negotiate a contract with a hauler for your materials. School waste contracts are either incorporated into your municipality's waste contract or negotiated using a private hauler by your school business officials. Determine how your school's waste is handled and what your hauler has been contracted to collect. If recycling is not included in your waste contract, attempt to renegotiate your contract to include recycling services. If your contract cannot be renegotiated you will need to draft a new contract for the recyclables your school will collect.
Because current waste contracts compensate based on volume, haulers and landfill operators have an incentive to handle ever-increasing volumes of waste. On the other hand, customers have an incentive to decrease their volumes of waste to reduce the fees they pay. These competing incentive structures often impede progress towards source reduction. Resource Management (RM), increasing waste diversion through strategic contracting, is an alternative way of negotiating a contract that allows the financial prize to be shared by both the waste generator and the waste hauler. RM takes a holistic approach towards waste management and looks at waste and recycling as one resource that should be properly managed. RM contracts also offer the customer the assurance that their waste is being sent to the location with the most resource recovery potential. Please visit our web page on Resource Management Contracting for more information.
Important Differences in Resource Management Contracts
vs. Traditional Hauling Contracts*
Features

Traditional Hauling and Disposal Contract

Resource Management Contracts

Contractor Compensation

Pricing structure is based on waste volume or the number of scheduled pick-ups.

Capped fee for waste hauling/disposal service.

Performance bonuses based on value of resource efficiency savings.

Incentive Structure

Contractor has a profit incentive to maximize waste service and volume.

Contractor seeks profitable resource efficiency innovation.

Waste Generator/Contractor Relationship

Minimal generator/contractor interface.

Strategic alliance: waste generator and contractor work together to derive value from resource efficiency.

Scope of Service

Container rental and maintenance, hauling, and disposal or processing. Contractor responsibilities begin at the dumpster and end at the landfill, resource recovery facility, or processing site.

Services addressed in traditional hauling and disposal contracts plus services that inform and influence waste generation (i.e., product/process design, material purchase, internal storage, material use, material handling, data management, reporting).
* Chart applied from
EPA WasteWise Program
Important Details to Address in Your Contract:
Allow for variable price savings for avoided hauling and disposal that can flow back to you and your program
Require detailed reporting of tonnages
Make the contract as transparent as possible so it will be easy to change with the ebbs and flows of your new waste program
Establish compensation that allows hauler to reap financial benefits for service improvements and innovations
Assess a financial penalty for failing to achieve minimum performance benchmarks or standards.
Establish a cap on waste hauling/disposal service compensation that decreases over time.
Step 4: Obtain appropriate recycling containers.
Bin placement and quantity are essential to the effectiveness of your recycling program. Consider what type of bin, or bins you need. Some communities are moving to 'single stream' recycling, while others have 'dual stream' or fully separated. To determine how many bins your school needs to start their recycling program, compile a list of all classrooms, staff lounges, and common spaces (i.e. hallways, cafeteria, and library) that currently have a waste receptacle. Based on how many items your recycling program will include, and how these items must be separated for collection you can determine the quantity of bins your school will need. You should attempt to place a separate bin for all materials being collected next to most of your school's waste receptacles. Bins can be a large expense, but do not be discouraged! Consider holding fundraisers and research special funding opportunities for bins. Maybe there is a generous donor in town to help with the cause, or perhaps a local business would supply bins in exchange for using the bins as advertising. See the section on sources of recycling bins below.
Suggested locations for bins and materials generated:
Cafeteria – newspaper, bottles, cans and cartons
Lounges – white paper, bottles, cans, cartons and newspaper
Meeting areas – newspaper, bottles, and cans
High traffic hallways – white paper, bottles, and cans
Classrooms – white paper and newspapers
Offices – white paper
Library – white paper and newspaper
Study area – white paper and newspaper
Remember to check with your hauler and/or your contract for proper separation instructions. If the hauler requires you to separate your materials (i.e. if you do not mix paper with bottles and cans) each location above will need a bin for each material being collected. If your hauler will pick up all of your materials in a single dumpster, you will only need one additional bin for your recyclable materials.
Step 5: Draft a strategy for collection and storage of materials.
Keep it simple! Start with the easy items: paper, cardboard, bottles, cans and cartons.
Make it convenient! Place your bins in visible, easily accessible locations and remember to provide a collection container or bucket to collect remaining liquids from bottles, cans, and cartons along with the appropriate instructions and signage for proper participation.
Use the student body! Student collection of bins from each classroom teaches students responsibility and alleviates the burden placed on the custodians. Be sure to check with the custodial staff to confirm that student involvement does not conflict with union guidelines.
Involve the custodial staff! Alert the custodial staff to your proposed changes and solicit their input.
Provide proper storage receptacles! If your school does not have additional external dumpsters for storage of recyclables you may need to find funding for these larger outdoor bins or look into obtaining bins directly from your hauler.
Step 6: Education, Promotion and Outreach
All participants must understand their role in the process. It is important to engage the teachers, the students, and the staff. Scheduling a performer or speaker for a large assembly program for the student body as a kick-off event for a new or improved recycling program is a great way to reach the students. Signage is also very important. Produce a flyer that can be distributed to teachers to post in their classrooms and other key locations around the school, or sent home to parents. Classroom activities and lessons are equally important. If your community is a member of the Northeast Resource Recovery Association, look into joining The School Recycling Club for further assistance as you move forward.
At the district level you are looking at the whole picture. Each school may have its own unusual or specific needs, but you can save money by developing trash and recycling contracts, working with custodial staff and teacher contracts and large-scale purchasing of collection container or other equipment at the district level. There is efficiency of scale to integrate recycling into the school operations at the district level. For more information refer to "Seeing Green Through Waste Prevention: A Waste Prevention Guide For School Districts"
Review steps 1-6 above to understand what you will be asking of your staff at the schools in your district. Incorporating waste reduction as part of your school district's overall way of doing business can provide a number of important benefits:
Ability to negotiate better contracts
Creates new markets for recyclables
Utilizes increased purchasing power
Provides consistency throughout students' academic careers
Increases efficiency of a school's recycling program
Encourages recycling through competition
Provides opportunities for environmental education

Additional Things to Consider:
How will your waste

contract

be handled? Through the municipality or independently by the school or district?

Consider where your schools are going to store their recyclables

Identify the scope of the waste reduction program

Decide how your individual school's waste reduction programs will be evaluated.
As a school business official, you may be responsible for negotiating waste management and recycling contracts for your school district or campus. In addition to reviewing the information in "For School Districts" above, here are some important things to consider when establishing these contracts:
Where Will Your Recyclables Go? (Marketing Recyclables)
Many public schools in Connecticut will already have an end-market for their recyclables – often the same destination as the municipality. However, many schools, districts and private schools may be 'on their own' – relying on you, their business administrator, to market recyclables collected at the school. Like other commodities, clean and uncontaminated recyclables can raise funds. But you need to know what the market is demanding. For example, will you get a better price if you separate high grade white office paper from other paper? Or is it cheaper to collect all paper together even though you'll receive a lower price? Below are some resources to get you started, but are not an exhaustive list of options in Connecticut.
Are you curious about how other schools market their recyclables? Feel free to post this question on the CT Recyclers list, a yahoogroup of Recycling professionals in Connecticut. To be put on the list or to post a question, contact Sherill Baldwin at sherill.baldwin@ct.gov
How Will the Recyclables Get There? (Finding a Hauler) Try to use your current waste hauler and renegotiate your contract to include recyclables. If they are not willing, call one of their competitors, or go out to bid. Don't be fooled! The state does not issue permits wherein the hauler is authorized by the Department to collect recyclables and waste in the same container and separate them at an intermediate facility. Recyclables must be collected separately from trash.
How Will the Recyclables be Collected and Stored?
Try to include
collection container
provisions in your waste and recycling contract. If that can't be negotiated, then the school will need to
purchase
containers themselves. The size and quantity of indoor and outdoor containers will be dependent on the size of your school and the provisions in your contract. Work with your hauler to determine your appropriate outdoor container needs and refer to
"Step 4: Obtain appropriate recycling containers"
to help with your indoor container requirements.
Who Will be Responsible for Running the Program?
It is important to make sure someone at the school is in charge of monitoring the program. Require every school to appoint a contact that you can go to with questions, and who will report directly to you with any issues their school may be having. Refer to the
"For Schools"
section to understand what your school contacts will be overseeing.
How Will You Know it is Working? What gets monitored gets managed! Data collection is key to a successful program. It is very important to receive feedback from schools on how their waste reduction program is running. You want to ensure that the program is working and making incremental improvements. Outline a reporting process for the schools, so they can easily report their numbers and their problems to you.
The DEEP maintains a list of collection container (bin) manufacturers on our website with links to each company. Almost all of them have photos of their bins, so it is a good place to start looking at styles, sizes, cost, etc.
CT Recyclers Listserv - Connecticut municipalities can post a message on the CTRecyclers Listserv. With many towns switching to automated pick-up, some may have spare recycling bins. This list is open to professionals and community volunteers working on municipal recycling efforts and is meant for discussing recycling and solid waste recovery challenges and opportunities. To join, email Sherill Baldwin at sherill.baldwin@ct.gov

Reuse Marketplace - The Reuse Marketplace is an innovative Internet-based materials reuse exchange program. It connects members who have items they no longer need with others who can use them. Membership in Reuse Marketplace is free and limited to businesses, organizations, institutions and governments, but anyone can browse for materials currently available or wanted. Recycling containers are sometimes offered. See the list of other material exchanges on the CT DEEP website.
Curbside Value Partnership - While the focus of the Curbside Value Partnership is to help encourage curbside recycling, and not recycling within schools, the organization might know of other programs that could help. They are devoted to increasing participation in curbside recycling nationwide through its national program that engages with recycling stakeholders from the government, private industries, as well as haulers and materials recovery facilities.
Design Your Own Bins! You can make your own recycling bin out of any reasonably sized box, plastic container or bin that can be reused and labeled. Make sure the label is very clear so that people will know it is meant for specific items only.
School Recycling Fact Sheets - (CT DEEP)
Carton Recycling In Schools (Carton Council)
A District-Wide Approach to Recycling - (CA Integrated Waste Management Board)
A Solid Waste Management Resource Guide for Massachusetts Schools - (State of Massachusetts)
School Recycling Toolkit: A Guide to School Recycling - (Virginia Recycling Association)
How to Start and Sustain a School Recycling Program - (North Bay Corporation, CA)
10 Steps to Starting a Recycling Program at your School - (Mississippi Dept. of Environmental Quality) (Powerpoint Presentation))
Kentucky School Recycling Guide - (Kentucky Dept. of Environmental Protection)
Tools to Reduce Waste in Schools - (US EPA)
Disclaimer: The Connecticut Department of Energy and Environmental Protection (DEEP) maintains the content on this web site to enhance public access to information and facilitate understanding of waste reduction, reuse and recycling. The DEEP is not recommending these resources over any others and recognizes these represent only a partial listing of resources on this subject.
Content Last Updated February 2020