Roadside Tree Planting and Maintenance: Whom to Contact?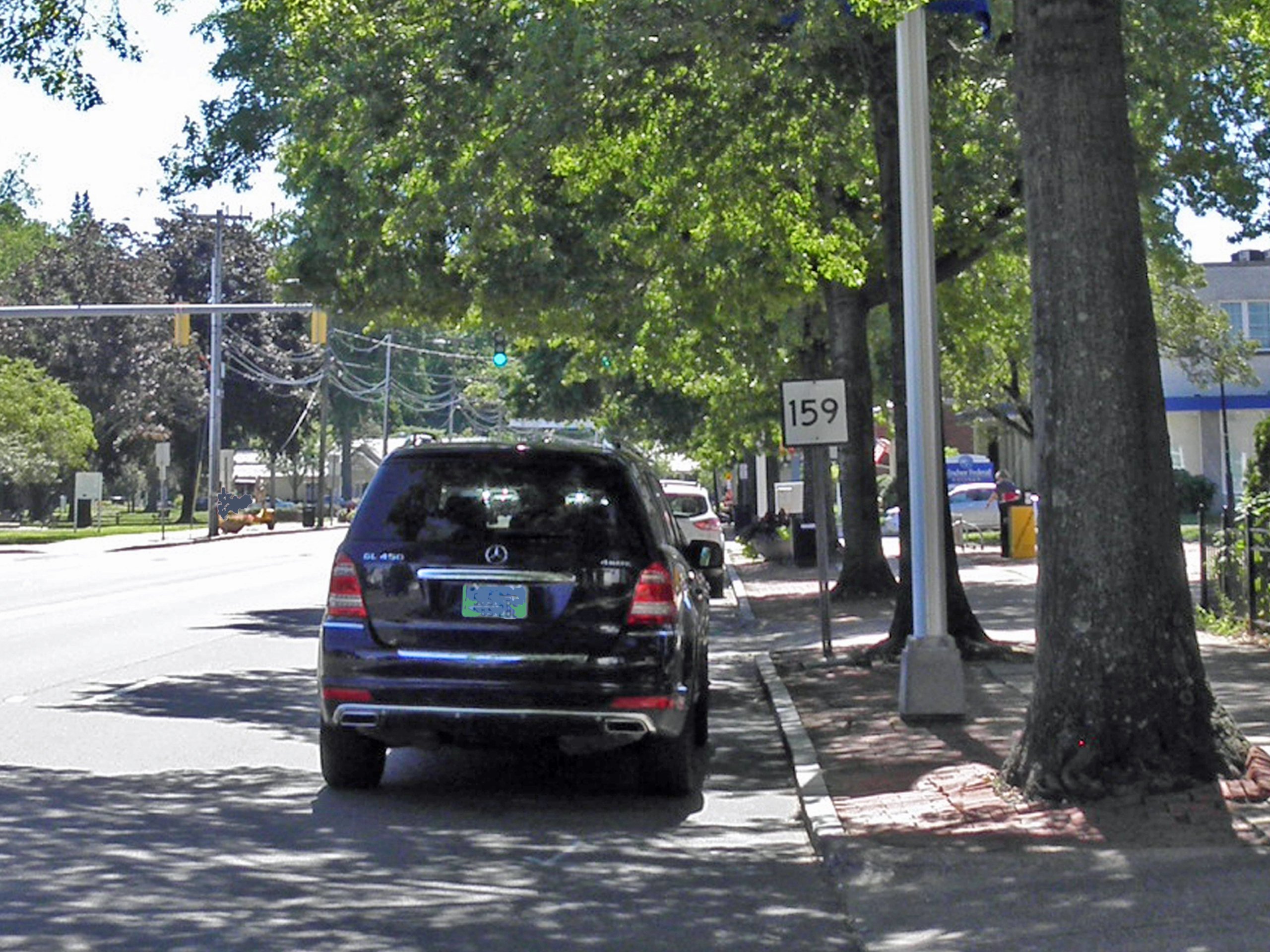 Route 159 is a state highway that is also known
as Broad Street in downtown Windsor. The pin
oaks that line this section of Route 159 are
maintained by the Town of Windsor, under a
permit from the DOT.
When dealing with trees alongside a road, it is important to determine whether the road is a state road or a municipal road. This will affect the procedures involved with seeking to plant new trees or maintain or remove existing trees.
Municipal Roads
Most roads in the state are municipal roads, under town or city control.

Trees on public land alongside these roads are under the authority of the municipality's tree warden. The responsibilities of the tree warden are included on the Tree Warden web page.

Also on the Tree Warden's page is an interactive map containing contact information for each of the state's tree wardens, by town.
State Roads
There are slightly more than 3,700 miles of state roads in Connecticut.

Most of these are state highways and have an associated route number.

For example - Route 1 runs along the shoreline; Route 41 runs through the centers of Sharon and Salisbury.

Trees along state roads are under the authority of the state Department of Transportation (DOT). You can find the correct contact for tree issues along state roads here.
Municipal Maintenance Along State Roads
In certain cases, particularly in town and city centers, the municipality takes on the responsibility of managing the trees alongside a state road.

For this to happen, the municipality must receive permission from DOT.

As an example, in the photo above, Route 159 in Windsor is a state road. DOT gives the Town of Windsor permission to maintain the pin oaks alongside this portion of the road.

The state has final authority over state roads. It is only with regards to town or city roads that the tree warden automatically has care and control of public roadside trees.
Management of Trees Alongside a State Road:

Planting, Pruning or Removing Trees

Anyone who wants to plant, prune or remove a tree or shrubs alongside a state road must first receive an encroachment permit from the DOT. This is the same type of permit as is required for construction or the clearing of land within the DOT right of way.
Connecticut State Laws Relating to Tree Management on State Roads
The primary state law regarding the management of trees alongside state roads is CGS Sec. 13a-140.
Among the key provisions of this law:
The Commissioner of Transportation has sole authority regarding the cutting, removal or pruning of trees alongside state highways "as far as is reasonably necessary for safe and convenient travel thereon."

There is no posting requirement to notify the public of DOT's intent to prune or remove a tree, such as exists for town trees.

A written permit from DOT is required before any individual or entity outside of DOT will be allowed to cut, remove or prune vegetation alongside a state highway.

A permit may not be issued for a tree to be "cut or removed" that is over 18 inches in diameter unless the chief elected official of the local municipality is notified.

A request for a permit for the removal of any tree, shrub or vegetation shall not be refused "if such removal is necessary for that use of such adjoining land which is of the highest pecuniary value".
CGS Sec. 7-149a discusses how roads that are not state roads can be designated as "scenic roads", including the role of mature trees in that designation. Regulations Sec. 13b-31c-1 to 13b-31c-5 outlines how state highways can be designated as scenic roads.
DOT's Tree Maintenance Practices
DOT Statement on its Roadside Tree Removal Practices (August 9, 2013)
A Landscape Designer is assigned to each of DOT's four Maintenance District Offices. The Landscape Designer is largely responsible for overseeing the condition of the trees and vegetation alongside the state roads in each of the Maintenance Districts, including recommending maintenance activities.
DOT's highway tree maintenance activities are conducted by DOT tree crews and by contracted tree crews.
For further information, contact the appropriate DOT Maintenance District Office.
Trees and Urban Forests: Learn More | Forestry Main Page
Content last updated on October 2019