Long Island Sound Trawl Survey
Sport Fish Restoration funds support the Marine Resource Survey, including
1. Marine Angler Survey
2. Long Island Sound Trawl Survey
3. Estuarine Seine Surveys

The Long Island Sound Trawl Survey is a vital tool Marine Fisheries staff use to measure the abundance and distribution of finfish, squid and other macro-invertebrates (lobster, crabs, horseshoe crabs, whelks) in Long Island Sound, independent of commercial or recreational fishing. By comparing Trawl Survey data with current fishery data (landings, catch/effort, seasonal patterns) each species' harvest can be weighed against its abundance, providing a gauge to determine whether harvest limit targets are being met. The Trawl Survey also provides a measure of recruitment strength (abundance of young fish) entering the population each year, as well as detailed characterization of the size and age composition of several species entering the sound.
To date, the Trawl Survey has documented 99 finfish species and more than 60 invertebrate taxa. Each spring (April, May, June) and fall (September, October) the 50-foot R/V John Dempsey carries its crew of 4-6 scientists and vessel staff on the monthly cruises, sampling 40 stations selected at random from 12 depth and substrate categories (called "strata") between Groton and Greenwich in both Connecticut and New York waters.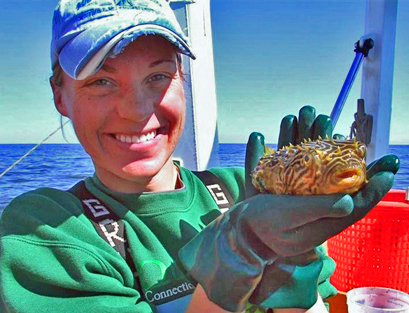 Here are monthly trawl survey sampling maps for the current year. Temperature, salinity and water depth are recorded at each site before the 46-foot-sweep trawl net is deployed for 30 minutes. Upon retrieval of the net, the sample is quickly sorted by species, counted, weighed and further processed as needed to support specific research and monitoring needs.
Trawl Survey results are broadly used to support both local and coast-wide fishery management and, increasingly to gauge the ecological health of the Sound. Frequent users of
Survey results include the Atlantic States Marine Fisheries Commission, Mid-Atlantic and New England Fishery Management Councils, National Marine Fisheries Service, Environmental Protection Agency, US Fish and Wildlife Service, Army Corps of Engineers, State of New York, numerous university researchers, environmental groups and environmental consulting companies.
Marine Fisheries Division Long Island Sound Trawl Survey Reports
You can also view the Long Island Sound Trawl Survey slide show found on the EPA Long Island Sound Study website.
Other reports include: The distribution and size composition of finfish, American lobster, and long-finned squid in Long Island Sound based on the Connecticut Fisheries Division Bottom Trawl Survey, 1984-1994 (K. Gottschall, M. Johnson and D. Simpson, 2000) is an analysis of the first ten years of the Trawl Survey available in a NOAA Technical Report online.
Each year the Long Island Sound Trawl Survey hires a few Seasonal Resource Assistants to help with project sampling.
A Seine Survey of juvenile fish is conducted each September in order to monitor production year to year and gain early information on future adult abundance. Since 1988, this survey has tracked recruitment of winter flounder, at eight sites from Groton to Greenwich. Estuarine Seine Survey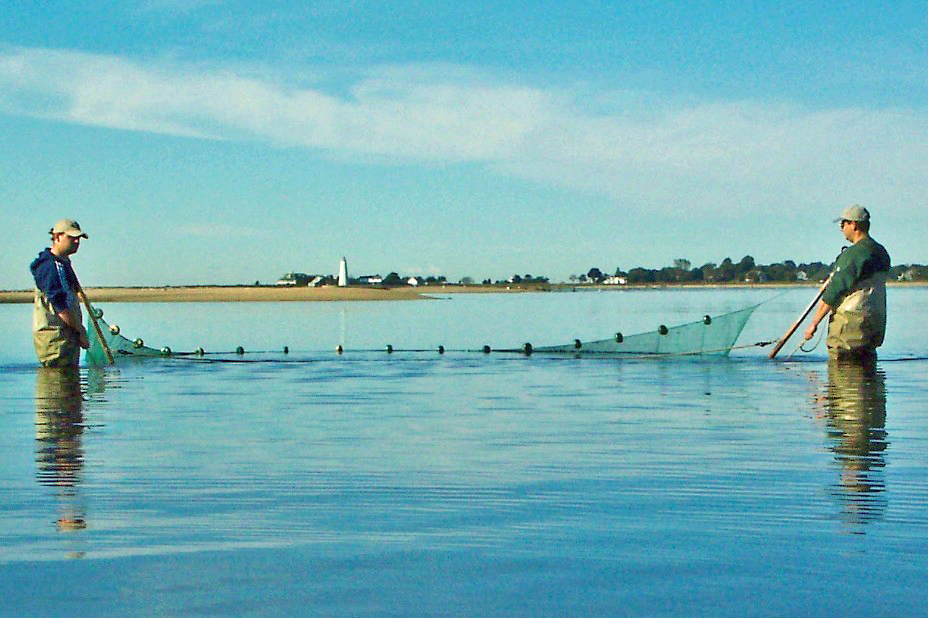 Content last updated on July 3, 2023.