Channel Catfish: An Exciting Warmwater Fishery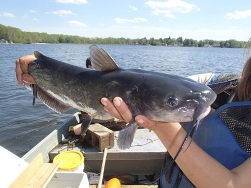 Recognizing the popularity of self-sustaining channel catfish populations in the Connecticut River (since the 1960's) and more recently the Thames and Housatonic Rivers, the Inland Fisheries Division chose 11 waters to stock channel catfish into in 2007. Due to the initial success, the program has been expanded, and channel catfish stocking now occurs in 25 lakes and ponds. Channel catfish are stocked by more states than any other warmwater fish and can provide quality fishing, especially in waterbodies where the establishment of other types of game fish can be difficult.

Channel Catfish:
Are found in almost every state in the United States,

are popular gamefish, sought after by anglers across the country,

grow to large sizes providing the opportunity for trophy-sized catches,

are easy to catch from shore with simple equipment,

and are good to eat.
Fishing for Channel Catfish:
Channel catfish can be caught throughout the day, but dusk or night time are the best times to target them.

Bait like these, fished on or near the bottom are your best bet:
- nightcrawlers,
- live minnows,
- cut chunks of fish,
- or chicken livers, which are a particularly popular bait used by catfish "sharpies"
How to fish for channel catfish:

Hot tip to make your own weight:
Community Fishing Waters (green dots) are stocked with large 14-18" catfish. Catfish Management Lakes (blue dots with black center) are stocked with 9-12" catfish that will grow to 16" within 3 years.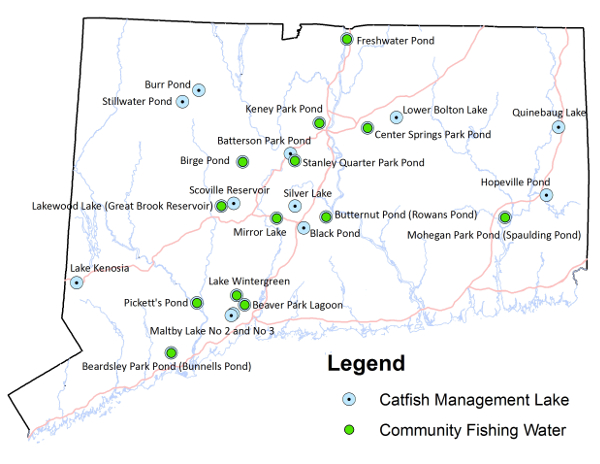 Please contact the Fisheries Division with any questions.
Phone: 860-424-FISH (3474)
E-mail: deep.inland.fisheries@ct.gov
Content last updated August 2020