Biographies
Marissa Paslick Gillett is Chairman of Connecticut's Public Utilities Regulatory Authority (PURA). Governor Ned Lamont nominated Gillett to begin serving on the three member regulatory authority on April 26, 2019, and her appointment was confirmed by both the House of Representatives and State Senate in the 2019 session of the Connecticut General Assembly.

Prior to her appointment, Gillett was the Vice President of External Relations for the
Energy Storage Association
– the national trade association representing the energy storage industry. In that role, Gillett served on the association's executive team, contributing to the organization's overall strategic vision and direction, as well as providing leadership of the research, educational programming and events, marketing, and communications teams.
From 2011 to 2018, Gillett worked at the Maryland Public Service Commission, an independent agency within the Maryland state government that regulates public utilities, where she most recently served as the senior advisor to the chairman. Her duties included a number of matters on energy issues in the state, such as advising the agency's chairman and other commissioners on technical, legal and policy matters related to offshore wind procurement, statewide energy efficiency programs, advanced metering infrastructure, grid reliability issues and electric vehicles. Additionally, she represented the commission on these topics by testifying before the Maryland General Assembly and by leading stakeholder engagement initiatives as part of the state's grid modernization proceeding.

Gillett received a Bachelor of Science in Bioengineering from Clemson University in Clemson, South Carolina, and a Juris Doctor from the University of Baltimore School of Law in Baltimore, Maryland.

John "Jack" Betkoski III is Vice Chairman of Connecticut's Public Utilities Regulatory Authority (PURA).
Betkoski has served on Connecticut's utility regulatory authority since 1997 when he was named a Commissioner of the Department of Public Utility Control. He was elected Vice Chairman of that body in 2007. When PURA was established on July 1, 2011 as the state's new regulatory authority, Betkoski was appointed a Director by Governor Dannel P. Malloy and elected as Vice Chairman of the new authority.
He is the former President of the New England Conference of Public Utilities Commissioners (NECPUC) and the National Association of Regulatory Utility Commissioners (NARUC).
In addition to his NECPUC and NARUC responsibilities, Betkoski is currently Chairman of the Connecticut Water Planning Council. Betkoski is also a member of the American Water Works Association Research Foundation's Public Council on Drinking Water Research. He was also a member of the EPA National Drinking Water Advisory Council, serving on its Water Security Working Group.
Betkoski is past Chairman of the Board of Directors for Griffin Hospital in Derby, and serves as Chairman of the Board of Director for the National Multiple Sclerosis Society, Connecticut Chapter. He is on the board of Waterbury Youth Services, and VARCA, Inc. of Derby, a private non-profit agency which provides work opportunities to individuals with special needs. He also is a member of the Advisory Board of The Salvation Army of Waterbury.
Betkoski served as a member of the Connecticut General Assembly, representing the 105th District (Ansonia, Beacon Falls, and Seymour) as a state representative from 1987-1997. He was co-chairman of the legislature's Commerce Committee from 1993 to 1997. His experience in the legislature and in working with issues affecting the underprivileged, through various human service agencies, gives him a unique perspective on the needs of all segments of Connecticut's population.
Betkoski was the Waterbury Salvation Army's Director of Human Services from 1989-1997, and held various administrative positions in human services agencies from 1974-1989. He served on Beacon Falls' Board of Selectmen from 1981-1987 and Board of Finance from 1979-1981. He presently serves as Chairman on the Beacon Falls Economic Development Commission.
Vice Chairman Betkoski was born in Waterbury and is a lifelong resident of Beacon Falls, Connecticut. He received his B.A. from Sacred Heart University, and his M.S. and Sixth Year Diploma in Advanced Studies in Administration and Supervision from Southern Connecticut State University.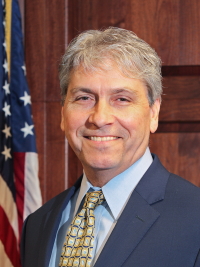 Michael Caron - Commissioner
Michael Caron is a Utility Commissioner of the Connecticut Public Utilities Regulatory Authority (PURA). Governor Dannel P. Malloy nominated Caron to serve on the three member regulatory authority on July 12, 2012. His appointment was confirmed by both the House of Representatives and State Senate in the 2013 session of the Connecticut General Assembly.

Prior to his appointment, Caron was the Director of Public Affairs – Global Sites for Pfizer, Inc. and an associate lobbyist for the lobbying and business development firm Camilliere, Cloud & Kennedy.

Caron previously served as a State Representative from the 44th District for nine terms (1991-2009) and Assistant Republican Leader for five terms (1999-2009). During his time as a member of the General Assembly, Caron served on the Finance, Revenue & Bonding Committee, as Ranking Member of a number of legislative committees including the Transportation Bonding Sub-Committee. He was a member of the Energy and Technology Committee and was an ex officio member of the Connecticut State Bond Commission.

Caron introduced and worked for passage of the Fuel Cell Energy Tax credit and the High Performance Building legislation for state bonding projects.

Caron also headed Caron Strategy and Consulting, a public policy firm and worked in the financial services industry as Registered Investment Advisor.

Caron has been active with several community organizations, including: the Southeastern CT Enterprise Region Board of Directors and the Community Health Charities of New England where he served as Chairman of the Board. Additionally, he has served as the Vice-Chair of the United Mental Health Services Board of Directors and the Chair of the Northeast Economic Alliance Board of Directors.

Caron received his B.A. in History and a B.S. in Finance from Central Connecticut State University. He lives in West Hartford with his wife Maureen.