Community Partners in Action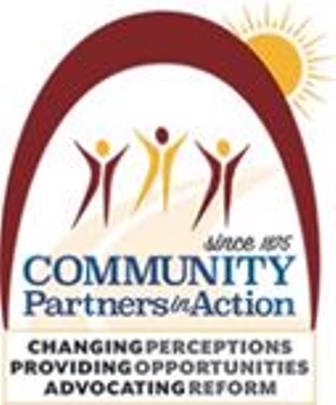 Community Partners in Action
Community Partners in Action (CPA) was fortunate to be awarded four grants through the OPM Non-Profit Grant Program in 2014. The funding made it possible for our agency to address several priority Transportation, Energy Efficiency and Safety needs:
Removing Transportation Barriers
Grant #1 New Client Transportation Vans Keep Programs Moving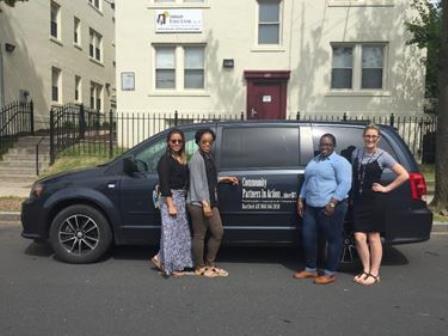 Client transportation is an essential requirement for most CPA programs. We learned that
several vans used by two of CPA's Alternative in the Community Programs (AICs) were breaking down and being taken out of service multiple times a year.
The reduction in available vans was limiting our ability to transport clients to appointments, assignments and services they are MANDATED to attend by the court and Probation. In addition, the vehicles were just unsafe to drive.
Our first NPG award was used to replace five AIC vans. With the new vehicles, transportation interruptions for the two AICs have virtually disappeared. The new vans also reduced the programs' combined transportation costs by $13,222 over the past two years.
Three Grants Improve Buildings in CPA's Washington St Complex

117-119-121-123 Washington Street in Hartford. CT is a four-building complex where CPA has provided health and human services for adults in the Criminal Justice System for 17 years. The complex includes residential programs that are staffed 24 hours a day.
When CPA decided to occupy the buildings in 2000, they were dilapidated and had been empty for years. We completed an extensive renovation to the early 1900's era Complex that transformed it from a boarded up eyesore to respectable, functioning buildings providing important community services.
Grant #2: High-Efficiency HVAC System Will Produced Years of Energy Savings
During our 2000 renovation, funding limitations only allow us to only repair the HVAC system for the complex. As you can imagine, energy costs have skyrocketed since then and energy expenses for the programs were getting higher and higher.
Our second NGP award allowed CPA to install an energy-efficient HVAC for the Complex. The new system is projected to generate $17,000 in energy costs savings over the next five years.
Grant #3: New Roof Reduces Risks to Health and Safety
When the Washington St Complex was renovated in 2000, CPA replaced the roofs on two of the buildings and replaced a third roof a few years ago. The roof on the fourth building had finally reached the end of its useful life. Not only were repair costs continuing to climb, the 2011 Nor'easter and 2013 snowstorm had caused significant damage from ice damming and the weight of snow. The inside walls of the building were damaged from leaks and the risk of mold developing was increasing.
With our third NPG award, we were able to replace the roof on Building 121. This significantly reduced the building's health risks and creating a projected repair savings of $5000 over the next five years.
Grant #4: State of the Art Technology Enhances Safety and Security
Buildings #119 and #121 in the Washington St Complex house programs for over 750 high risk probation, pre-trial and community release individuals per year: The Hartford AIC, Work Release Residential Program and Hartford Transitional Housing Program.
Our staff is well trained in procedures that ensure the safety of our clients, staff and the Greater Hartford community. With the many advances in security technology, CPA wanted to enhance our safety practices in order to maintain the high standards outlined in state and federal guidelines.
Our fourth NPG award allowed CPA to install an Integrated Access Control/IP Video surveillance system that is shared across the two connected buildings. The new system covers blind spots with greater video surveillance coverage, improves security with electronically accessible security doors and produces both live and recorded video images that can be access on-site and remotely via the internet.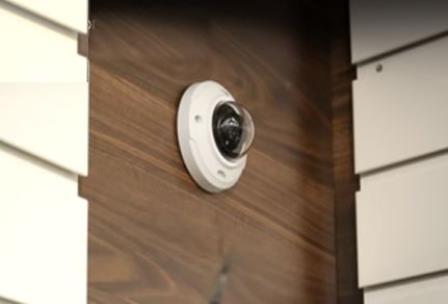 About:
Community Partners in Action focuses on behavioral change and advocates for criminal justice reform. Together, our employment, basic needs, reentry and recovery services make a positive impact lives, while reducing recidivism and improving public safety. Founded in 1875, we are the oldest continuously operating agency focused on criminal justice in Connecticut.
Contact:
Sandra Bradford-Jennings, MHA, bCRE, Development Director
Community Partners in Action, Hartford, CT