CW Resources
We are very excited to tell you our second elevator connected to Grant #16OPM8002AM has FINALLY finished. This means the grant process we planned is complete. (I believe our OPM state paperwork already submitted is also complete, unless you need something more.) It wasn't easy, but building the new elevator and modernizing our 111-year-old freight elevator in this 1906 building has been an incredible, exciting process. We are so happy. The efficiencies of moving product up and down in our eight-story building with two elevators are clearly evident to us. Getting our 6,000 plus Meals On Wheels out of this building per day with all the employees, volunteers and coolers has never run so smoothly. This wouldn't have happened without the State of Connecticut's generous grant. Attached is a photos of a large crane lifting the new motor and controls up to the machine room on the roof of our building, the second is the large truck that brought the elevator parts here, and the last is a photo of CEO Ron Buccilli and I holding the acceptance paper and keys. On behalf of everyone at CW Resources, thank you, OPM and the State of CT SO Sincerely.
Best regards,
Anita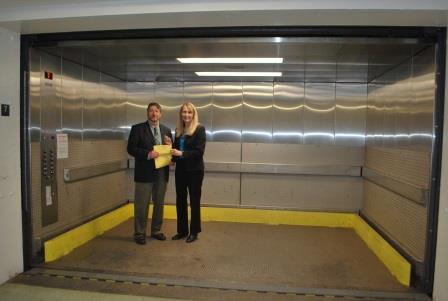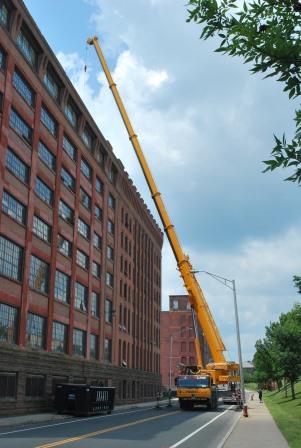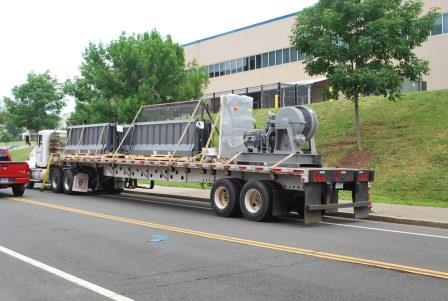 FOR IMMEDIATE RELEASE
CONTACT: CONTACT:
Anita Kersten, Joan Rhinesmith
Grant Writer & Project Coordinator Public Relations Director
CW RESOURCES, INC. CW RESOURCES, INC.
(860) 229-7700 X286 (860) 229-7700 X225
akersten@cwresources.org jrhinesmith@cwresources.org
State Grants Benefit Persons with Disabilities and the Elderly
NEW BRITAIN, CT—Until recently, the 152 workers with disabilities had to deal with bad weather to get safely from their vehicles, through the parking lot and into their workplace. Mud, snow and slush tracked into the building in bad weather posed a secondary slipping danger and required constant staff attention. Every year, CW Resources, a Connecticut based nonprofit that serves and employs persons with significant disabilities, conscientiously put crushed stone in the parking lot to prevent issues, and every year the stone simply disappeared in the soft, wet Naugatuck, CT soil. Parking could be a difficult for both cars and vans transporting workers. Every day staff had to help workers get to and from the building. Many days in inclement weather, staff had to pool efforts to get a stuck vehicle free from the mud. Despite the security measures and deterrents in place, several catalytic converters were stolen from vehicles by vandals looking for resalable metals. The parking lot was dark, hard to navigate, unprotected and unsafe. Aware of the need, CW Resources, headquartered in New Britain, set out to find a solution. Thanks to special grants to nonprofit organizations serving individuals with disabilities within the State of Connecticut, all this has changed.
"Countless vocational rehabilitation programs operate on minimal funding. Meeting the basic needs of those served becomes harder and harder as costs increase and funding doesn't," said Sandra Lavoy, CW Resources' Senior Vice President Community Rehabilitation Services. "Tight budgets mean there are few dollars to purchase new equipment or fund additional services. Grants make a crucial difference."
The state created the Nonprofit Grant Program to improve the efficiency, effectiveness, safety and/or accessibility of health and human services being administered by nonprofit organizations that deliver such services in Connecticut. Applicants who deliver these services under one or more State contracts or agreements and funded from one or more State agencies received priority consideration. CW Resources met all the criteria and received five grants for much needed facility improvements valued at $517,458.
Intention of the Nonprofit Grant Program (NGP)
The State of Connecticut NGP was intended for capital projects or items that achieve or address at least one of the two following priorities: 1) Improving or enhancing the efficiency or effectiveness of health and human services delivered by health and human services organizations. Or 2) Addressing documented need for health, safety and Americans with Disabilities Act (ADA) improvements for which other funding sources are not readily available. The grants-in-aid were awarded to selected Connecticut private, 501(c)(3) nonprofit health and human service organizations.
Only capital projects or items allowed by Public Act 13-239 were considered. Eligible projects for grant funding included facility alterations, renovations, improvements, additions, and new construction; health, safety and ADA projects; energy conservation improvements; information technology systems; technology that promotes client independence; and the purchase of vehicles. Grants were also provided to acquire or upgrade electronic health or medical records and other health information technology systems; and for project that would convert the use of property to address mutually agreed to state agency service needs.
The state NGP is funded by proceeds from State General Obligation Bonds and administered in accordance with Section 13 of Public Act 13-239, June 2013 Session. Use of the funds is subject to review and approval of the State Bond Commission in accordance with Section 3-20 of the Connecticut General Statutes. The State Bond Commission was authorized to issue up to $20,000,000 in funding to support eligible projects. The State of Connecticut Office of Policy and Management (OPM) reviewed and approved the grants and was tasked with administering them.
Grants Provide Much Needed Help
CW Resources' Community Rehabilitation and Food Services Divisions continue to look for creative solutions to contain or lower its operating costs wherever possible. Its offices and production departments are occupied primarily by persons with disabilities. With programs that assist thousands of Connecticut residents, CW Resources received five grants in total: parking lot improvements, two grants for ADA compliant fixtures at six of their facilities, a freezer and generator for their Meals On Wheels program, and ten passenger vans serving the six facilities.
CW Resources operates several highly successful programs that employ and support nearly 700 persons with disabilities in Connecticut. They operate a large bottle redemption program, a school to work program, supported work opportunities, rehabilitative social services, custodial and grounds maintenance services, a food packaging facility and a large Meals On Wheels operation that prepares and delivers meals to congregate sites and homebound residents. CW Resources' Naugatuck facility alone employs 152 individuals, 95% of whom are persons with disabilities supported by state funded programs. Their Naugatuck facility received grant funds for parking lot paving, flood lighting on the building, an eight-foot high anti-climb fence. Since installing these features, no vehicle has been stuck in mud and there have been no vandalisms or thefts in the parking lot.
"This greatly improves the safety, efficiency, accessibility and effectiveness of our services," said Carol Williams, Program Coordinator of CW Resources' Naugatuck facility. "Workers are able to get to and from their workstation where they can be productive longer. We appreciate everything."
Two similar grants provided ADA compliant door openers, restroom faucets, and both self flushing toilets and urinals at six CW Resources facilities located in Bristol, Gales Ferry, Naugatuck, New Britain, and two in West Hartford. These grants increase the independence and safety for persons with disabilities. The touch-free automatic door openers and restroom fixtures promote independence, accessibility and a healthful sanitary environment. They allow all persons using the restrooms to avoid touching the toilet, faucet and the exit door. Clean hands are healthy hands, especially where food is prepared. This grant benefits 463 persons with disabilities served by State programs, up to 233 persons with disabilities not on state programs, and offers additional assurance of food safety to the 3,250 elderly who daily receive Meals On Wheels.
"The automatic door openers and restroom devices allow for greater independence in meeting the most basic needs," said Mrs. Lavoy. "Consumers [persons with disabilities] can now move independently and easily around the building where they work, inside and out. This saves a lot of time, frees staff up to do other things, and we all feel safer and proud of our workplaces."
A third NGP grant provided ten new passenger vans for CW Resources' Community Rehabilitation and Food Services Divisions to use in support of their DDS programs and Meals On Wheels. CW Resources currently operates a fleet of 177 vehicles. At the time of the grant, 30% of their vehicles were over ten years old or had high mileage. While their vehicles are routinely maintained, CW Resources continues to seek grants to help purchase newer vehicles. Their passenger vehicles are primarily multi-passenger mini-vans and wheelchair accessible vans used to transport over 100 people to and from their homes to CW Resources work and program centers, and more than 350 people every day from CW Resources work and program centers to their job sites. The ten new multi-passenger mini vans are efficient, reliable and save money on fuel and maintenance. They are used daily at the six CW Resources facilities.
CW Resources' fourth NGP grant provided a large freezer and backup generator for its Meals On Wheels Program. The freezer allows CW Resources to purchase fresh frozen, high quality meat in bulk and save the program money. The freezer helps to offset the increasing cost of food, labor and transportation. Cost savings go back into the program. The backup generator is sufficient to keep all of CW Resources freezers going in the event of a power outage, and it serves as a precaution to ensure no loss of perishable food. Anyone who has lost all the food in their freezer from a power outage knows what it's like to have to replace everything. With the large bank of 18 freezers and refrigerators at CW Resources, the loss would be significant.
"We work with nationally-based food purveyors to find the most cost-effective products that meet the federal and state mandated nutritional requirements for the elderly. Food manufacturers periodically inform us of opportunities to bulk purchase fresh frozen meat at substantial savings," said Senior Vice President Robert Williams. "We buy beef steak, chicken breast/leg, pork tenderloin/chops, and fish fillets in bulk. With freezers designated for the different food types, we are now able to bulk purchase up to 25,000 pounds of fresh frozen meat at one time. The return on investment and savings from that goes right back into the program."
About CW Resources
CW Resources. Inc. started in 1964 with a mission to provide employment opportunities and training for adults with disabilities, a largely ignored population able, willing and wanting productive work. In the beginning, most tasks involved assembly, packaging, salvaging, sorting, mailing and other light industrial activities. As local industries became increasingly aware of their mission and reputation for good quality work, CW Resources started subcontracting an ever expanding variety of jobs in the community. CW Resources has also had a longstanding commitment to serve Connecticut elderly.
In Connecticut alone, CW Resources Community Rehabilitation Division serves 696 adults with disabilities, 67% of whom are on state funded programs. Their Food Services Division prepares and delivers over 6,500 Meals On Wheels per day to feed Connecticut elderly, 93% of whom are on state and federally funded programs. Of these, approximately 40% receive assistance from the Connecticut Home Care Program for Elders, a program designed to help the elderly stay in the comfort of their own homes rather than going to nursing homes.
"Benefits from these grants will positively impact our employees and the elderly of Connecticut for many years to come," said Ms. Lavoy."

CW Resources employee Raymond Rosa uses the grant-provided ADA Compliant door opener
to enter the building safely at his own pace.
CW Resources operates a large glass, aluminum and plastic bottle recycling business in Naugatuck, CT
where 144 persons with disabilities work. State funded grants make their workplace easily accessible.
Nick Grenier and Sean Wright of CW Resources Naugatuck facility load sorted product
in the newly paved parking lot with security fencing.
Fenced in, paved and well lighted parking lot increases safety and efficiency for workers with disabilities.
Door openers throughout the buildings make is easy for workers to
independently move about the facility when they need to.