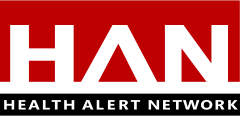 The Health Alert Network (HAN) is maintained by the Connecticut Department of Public Health (DPH)
and provides a venue for emergency alerting, emergency communications, data collection and public health related communications.
The HAN is comprised of three distinct communication systems:
Everbridge is a web-based emergency notification system that allows the DPH to quickly provide critical information to various public health partners including local health departments, hospital preparedness program (HPP) coordinators, the state's 13 Coordinated Medical Emergency Dispatch (CMED) centers, and other public health emergency responders. Everbridge provides the DPH with the capability to send out mass communications using a variety of delivery methods including fax, voice messaging, text, email, and pager.
The Medical Satellite (MEDSAT) radio network is a satellite radio system that acts as a back-up to Everbridge. DPH has provided all Connecticut hospitals with MEDSAT radios.
The statewide radio network also serves as a back-up to Everbridge. The interoperability of the radios allow the DPH to communicate with state police, DEMHS, and other public health emergency responders in a radio call group.
WebEOC is a web-based emergency management information system used by the State of Connecticut to document routine and emergency events/incidents. Web EOC provides a real-time common operating picture and resource request management tool for emergency managers at the local and state levels during exercises, drills, local or regional emergencies, and/or statewide emergencies.
To learn about Connecticut's Health Alert Network, please contact the DPH Office of Public Health Preparedness and Response (OPHPR) at (860) 509-8282.