Lyme Disease Signs & Symptoms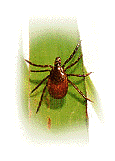 What you should look for
Many symptoms are associated with Lyme disease. It is known as the great masquerader because it's symptoms mimic so many other diseases and conditions. Lyme disease should be considered when a person has a history of being in a tick infested area or has knowledge of tick bites.
Early signs and symptoms of Lyme disease infection include: 
An expanding red rash
Flu-like symptoms that include: muscle aches, fatigue, and fever.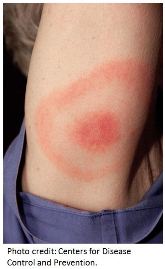 These symptoms generally appear 2-32 days after the bite of an infected deer tick. Some people who are bitten by an infected deer tick do not develop early symptoms of Lyme disease and this makes it difficult to get early treatment. Left untreated the infection may spread to other parts of the body.
Early disseminated disease symptoms may resolve on their own after a few weeks to months and include: 
Rashes on other parts of the body
Facial or Bell's palsy
Meningitis
Pain and swelling in large joints
Heart palpitations
Dizziness
Late disseminated disease symptoms occur months to years after the tick bite if treatment was not started soon after the bite. About 60% of people not treated for Lyme disease after a tick bite may have intermittent bouts of arthritis, with severe joint pain and swelling.
Chronic neurological issues can occur months to years after infection in up to 5% of those untreated. Symptoms may include numbness or tingling in the hands and feet, shooting pains, and problems with short-term memory.
Post-treatment Lyme disease Syndrome (PTLDS)
is a condition that can occur after treatment for Lyme disease in about 10%-20% of patients. PTLDS causes ongoing symptoms of fatigue, pain, or joint and muscle aches. These symptoms can last for more than 6 months. The cause of PTLDS is unknown but most experts believe it is the result of an auto-immune response that damaged tissues and affected the immune system during the infection.
If you are bitten by a tick and experience any of these symptoms contact your physician. Speak with your doctor about lingering symptoms after you have been treated for Lyme disease.
To contact the Epidemiology and Emerging Infections Program, please call 860-509-7994.