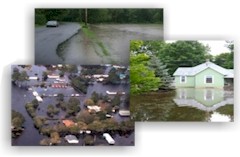 Be Prepared! The Connecticut Department of Public Health, Drinking Water Section recommends that public water systems across the State take precautions against the potential for severe natural disasters and emergency events, such as a major hurricane. The resources below will assist you in preparation and response to a potential severe weather event.
---
Flood and Storm Water Advisory
During and after periods of significant rainfall and excessive flooding, the Department experiences a significant increase in water quality violations among the State's Public Water Systems involving bacteria. All wells susceptible to flooding should be used only after its quality is verified. All wells that have been flooded, either in pits or low-lying areas, should be properly disinfected, and tested prior to consumption. The Department has provided an updated Flood and Storm Water Advisory for Public Water Systems concerning this issue.
After the Storm... Suggested Post-Hurricane Activities
---
Public Water Supply Consumer and Private Well Information:

Hurricanes, especially if accompanied by a tidal surge or flooding, can contaminate the public water supply. Drinking contaminated water may cause illness. You cannot assume that the water in the hurricane-affected area is safe to drink.

In the area hit by a hurricane, water treatment plants may not be operating; even if they are, storm damage and flooding can contaminate water lines. Listen for public announcements about the safety of the municipal water supply.
---
Hurricane/Natural Disaster Emergency Information Links: