Hospice and Palliative Care Program
Words and Artworks of Inmate Volunteers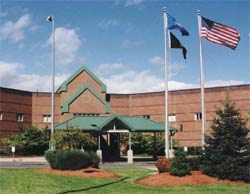 "No training class could really prepare you for hands on with a patient so you could have expectations, but hands on the heart feels very different."
"This is a service of the heart and soul; a journey of patient and volunteer."
"How incredible the changes in my values, perspective, meditation regularly, trying to practice daily, how significant the clarity, the peace, serenity, how differently the emotional aspect has become, less of self, more of others, the old self slowly crumbles, awareness increases, no easy task. Spirituality grows every day."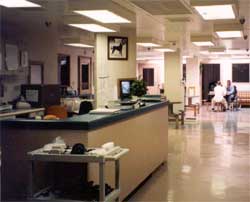 "I never helped anyone out in my life; this is truly a chance in a life time to care for someone else, not only myself."
"I thought it would be easy to sit and have a conversation with a client."
"How integral a role I seem to be playing out, how dignified it feels to be spoken to as a caregiver, not an inmate, by staff, sincerely seeking my input, and trusting me, to be sincere, what kind of a gift is that?"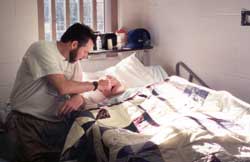 "There is no way word of mouth or written literature can convey the importance and emotional significance that is Hospice."
"I can't explain the words how is feels to be involved in a pivotal part of someone's life; you will have to read it on the faces of those of us blessed to be involved."
"Never in my life have I found so many blessings, when not once have I gone looking, they just keep rolling in; to think, not that awfully long ago I thought I was totally worthless..."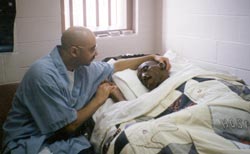 "The reality of actually working with someone who is in the process of dying is comparable to nothing else."
"I suppose its my selfishness, of the people I've come to know and love; that's the hardest part, knowing this I might have to say goodbye."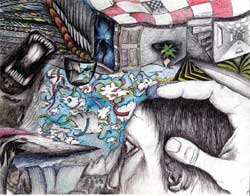 "It has brought me back to a time in my life when it felt good to be a participant in some position, meaningful aspect of humanity, knowing someone is counting on you and fulfilling their responsibility."
"My experience helped me to build the courage of self in that I found something I only hoped I could; artistic expression, and that perhaps I had more to give, leading me to embark upon the journey of the first prison "Hospice Program" in the State of Connecticut."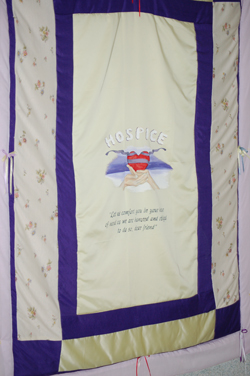 "This is conceptual in that there is nowhere to run, nowhere to hide from yourself no matter how far down the hole things may go. Sooner or later, they became part of your life."
"This was started as a way to break away from the "norm". As I experimented with color, I began working with my first hospice patient and found that as I tried to draw, everything kept coming up 'black', so I finished the piece in a very somber manner."