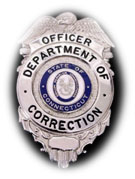 Questions Most Asked By
Correction Officer Candidates
24 Wolcott Hill Road
Wethersfield, CT 06109
Phone: (860) 692-6800
Fax: (860) 692-6864
Q: If I need to update my application or contact information, who should I call?
Any changes you wish to make to your application should be faxed to our office at (860) 692-6864. Please include your full name and last four digits of your social security number on your fax.
If you do not have access to a fax, you may mail the information to:
Department of Correction
Recruitment Unit- Correction Officer Process
24 Wolcott Hill Road, Wethersfield, CT 06109
Q: What is the salary for Correction Officer?
Your base annual salary for the first ten weeks of employment is $40,856.00. After successfully completing the academy and being promoted to Correction Officer, your annual salary will be $45,396.00. This does not include any shift differentials, weekend differentials, overtime or meal allowances.
Q: How long is my application good for?
Once you take and pass the exam, the exam list is good for a two year period. Your application is active as long as the exam list you are on is active.
Q: What happens if I don't get hired?
If you don't get hired, and the exam list you are on expires, you must start the process from the beginning and take the written and physical fitness exams if you still want to be considered for the position of Correction Officer. While we understand this can be frustrating, it is the only way to remain an active candidate with the current structure of the process.
Q: When would you contact me?
We contact candidates for one of three reasons: We need additional information or clarification on an aspect of your application. We find that, based on DOC Directives, we cannot consider you for employment. To make an offer of employment.
Q: How will I know if I'm going to be hired?
When we receive approval to hire a class, we will notify candidates by phone offering them an appointment as a Correction Officer.
Q: It's been more than six months since my interview, and I still haven't heard anything. What should I do?
This is a common occurrence in the process of becoming a Correction Officer. It is a very competitive process with many excellent candidates. If you have not received any communication from our Human Resource office stating that you've been dropped from the application process, then you are still eligible to be hired. Please do not contact our office to check on your status, consider this your status.
Q: What happens if I get an appointment letter?
If you receive an offer of employment, it is contingent upon you successfully completing a pre-employment physical examination, which includes a drug screening. Once you pass the drug screen you are given an official appointment letter with your start date and salary information.
Q: What kind of training will I receive?
For your first ten weeks of employment you will be a Correction Officer Cadet. Your training will consist of a combination of classroom and on the job training with peer mentors at a facility in the area to which you are assigned. The classroom training will be held at the Maloney Center for Training and Staff Development in Cheshire, CT for the first six (6) weeks of employment. The other four (4) weeks you will train with your peer mentors at a Correctional Institution.
Q: Is the training academy like boot camp?
As a para-military organization there are many physical aspects to the training you will receive, along with learning self-defense. The academy has an adult education format with written examinations that you will need to pass. The focus is on providing you with the knowledge that you need to be successful as a Correction Officer. The military chain of command is still in effect, and you will be expected to respect your training officers as such.
Important
Conditions of Employment

you should know
Applicants selected for employment will be scheduled for and must pass a pre-employment physical, which includes a drug screening.


Applicants selected for appointment will have no choice of facility or shift assignment.


If selected, cadets may be subject to random drug testing during their working test period.


Applicants will be required to adhere to the Department's dress code, including personal grooming standards.


As mandated by OSHA, facial areas affected by fit testing of masks must remain clean-shaven for all hazardous duty employees.


Applicants will be required to attend ten weeks of training which will include classroom, physical, and on the job training.


All employees hired after May 1, 2002 will not be allowed to smoke on agency property.