Industrial Wastewater Compliance Assistance
What to expect from an inspection
Common Violations and How to Avoid Them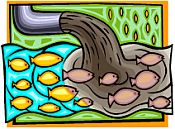 Effluent Violations
You must maintain effluent quality within the limits specified in your permit. Since there are many factors that can contribute to an effluent violation, you must always:
Properly operate and maintain the wastewater treatment system;
Have capable and trained personnel operate and monitor the treatment system;
Treat only wastewater authorized for treatment and/or discharge by the permit.
Complying with these minimum standards should allow you to avoid or control the majority of circumstances that could lead to an effluent violation or Notice of Violation.
Learn more about notification requirements.
Improper Sample Collection, Preservation, Handling, and/or Analytical Techniques
You should review your permit requirements and pertinent regulations (especially 40 CFR Part 136) and the example DMR Sample Data Form of the DMR Instruction Manual.
Sample location; collection method; sample volume, containers, preservatives, holding time; chain of custody; and analytical methods must be appropriate to ensure valid monitoring results.
Learn more about sample collection and documentation.
Not Maintaining or Maintaining Incomplete Monitoring Records; Not Submitting or Submitting Incomplete DMRs.
You must maintain a monitoring program sufficient to complete your DMR. You should review the DMR Instruction Manual and initiate the use of monitoring, maintenance, and operational logs The logs and DMR must be complete and accurate, and the DMR submitted in a timely manner as prescribed in your permit.
File electronically!
If you are required to submit DMRs to comply with an Individual NPDES or Pre-treatment permit, you are eligible to file electronically. Learn about NetDMR.
Discharging Wastewater Without a Permit
You must determine if all wastewater discharges associated with your facility are authorized by a permit and that the wastewater is being discharged in accordance with the permit and all approvals.
Submitting a Late Permit Application
The Water Permitting and Enforcement Division (WPED) must receive your application for renewal at least 180 days prior to the expiration date of the permit. If you do not submit a complete application on time, your permit will expire, and you will be discharging without a permit. Late applications are subject to additional fees proportional to the amount of time that are overdue. WPED will notify you 270 days prior to permit expiration. See RCSA Section 22a-430-4(d) and CGS Section 22a-6j(a)-(b).
Improper Operation & Maintenance of Monitoring Equipment and Alarms
You must properly maintain all monitoring equipment and alarms associated with the limitations specified in your permit to ensure accurate readings and to prevent or mitigate effluent violations. Proper maintenance includes but is not limited to regular probe cleaning and meter calibration, and periodic testing of alarms.
Verbal notifications
Water Permitting & Enforcement Division (WPED): 860-424-3025. When outside normal business hours, call 860-424-3338 and then 860-424-3025.
Bypass, Spill or Environmental Emergency: DEEP Emergency Response and Spill Prevention, 860-424-3338.
Written communications to the WPED
Department of Energy and Environmental Protection (DEEP), 79 Elm Street, Hartford, CT 06106-5127.
Any written communications except those noted below: Director, Bureau of Materials Management and Compliance Assurance, WPED.
DMR Violations - Permit Limitations
Submit written notification with the next DMR form to: Bureau of Materials Management and Compliance Assurance, DMR Processing Unit.
How to Maintain Compliance with Your Individual Discharge Permit
Content last updated January 2020