Materials Management Summit Series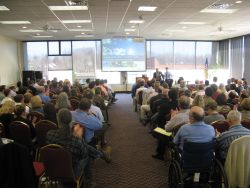 The CT Department of Energy and Environmental Protection (DEEP) hosted a series of three Summits as part of its Solid Waste Management Plan and Climate Change Action Plan strategies. The idea for these events grew out of a Roundtable discussion which took place on January 18, 2012 with Northeast environmental and economic development commissioners to explore how 21st century waste management could unlock the value of the materials economy.
Please review the materials from these events and the variety of topics covered. More resources will be included as the events unfold.
Conference Materials



Transforming Materials Management

for the 21st Century

1/18/12

Presentations:

Not all speakers provided electronic presentations. Please see the agenda for a complete list of speakers.

Resources:

Unlocking the Value:
Transforming the Connecticut Materials Economy

3/22/12

Handouts:

Presentations:

Not all speakers provided electronic presentations. Please see the agenda for a complete list of speakers.

Keynotes

Panel 1: Product Stewardship and Increased Material Supply

Panel 2: Increasing Commercial & Institutional Food Scrap Recovery

Panel 3: Manufacturing and Product Development Using Recycled Content

Panel 4: Processing Recyclables - Current Capacity and Future Opportunities

Panel 5: Building Food Scrap Recycling Capacity - Closing the Infrastructure Gap

Panel 6: Waste-Based Business and Community-Economic Development Opportunities in CT

Summit #2

Capturing the Value:
Transforming Municipal Materials Management

6/12/12

Presentations:

Not all speakers provided electronic presentations. Please see the agenda for a complete list of speakers.

Keynote:

Panel 1: Saving Money and Reducing Trash

Panel 2: Optimizing Services for Residents & Schools

Panel 3: Collection Best Practices: The Role of Haulers in Successful Communities

Resources:

Exhibitors:

Launching Innovation:
Transforming Materials Management in Connecticut

10/4/12

Presentations:

Resources:

Report Prepared by the Northeast Waste Management Officials' Association (NEWMOA) for the Connecticut Department of Energy & Environmental Protection (December 2012)

*Co-sponsor for Summit #2 and Summit #3
Reduce/Reuse/Recycle | Solid Waste Management | Top of Page
Content Last Updated on October 18, 2019