Camping
In advance of Tropical Storm Isaias, all Connecticut State Parks, Forests and Campgrounds are closed, effective at noon on Tuesday, August 4, 2020. We anticipate reopening Wednesday, August 5, 2020 at noon for campers. Please follow us @CTStateParks for additional updates.
Walk-in campers will not be permitted for the 2020 season. All campers must make reservations in advance of their stay. Reservations must include the names of all campers. Visitors to campsites will not be permitted, only registered campers will be permitted in the campground.
Pursuant to Governor Lamont's Executive Order 7BBB, all travelers entering Connecticut from a state with a positive test rate higher than 10 per 100,000 residents, or higher than a 10% test positivity rate over a seven-day rolling average, are directed to self-quarantine for a period of 14 days. The states that currently meet this threshold are: Alabama, Arkansas, Arizona, California, Florida, Georgia, Iowa, Idaho, Louisiana, Mississippi, North Carolina, Nevada, South Carolina, Tennessee, Texas, and Utah. This list will be continually updated as the situation develops across the country. Please review the Connecticut Travel Advisory webpage of Connecticut's COVID-19 Response website for any updates to this list.
Reminder to CT Campers & Vacationers To Leave Firewood At Home
Connecticut offers campgrounds, including sites with
rustic cabins
,
in thirteen state parks or forests.
Select a campground from the map or use the list
below
.
Reservations for all state campgrounds are available
online at Reserve America
or by calling toll free 1-877-668-CAMP (2267).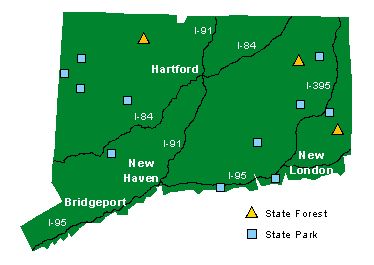 Parks with Camping Areas:

Forests with Camping Areas:

Horse
Camping Areas:
---

Content last updated June 2020