Camping
The Connecticut Department of Energy and Environmental Protection (DEEP) has announced that the closure of DEEP campgrounds and campsites will be extended through June 11, with further extensions possible depending on the status of the COVID-19 pandemic. Current reservations will be canceled and customers will be refunded in full. DEEP is monitoring public health guidance and determining any operational changes that will be necessary to safely reopen camping.
Connecticut State Parks has suspended all new camping and cabin reservations for the 2020 season until further notice. We are assessing campground status on a daily basis. If you've made a reservation for the season on or after 6/12/2020, and we determine your campground is safe to open, your reservation will be honored. If it is determined that additional closures to the camping season are warranted, you will receive a full refund. Thank you for your patience as we work to protect the safety of our visitors and staff.
Reminder to CT Campers & Vacationers To Leave Firewood At Home
Connecticut offers campgrounds, including sites with
rustic cabins
,
in thirteen state parks or forests.
Select a campground from the map or use the list
below
.
Reservations for all state campgrounds are available
online at Reserve America
or by calling toll free 1-877-668-CAMP (2267).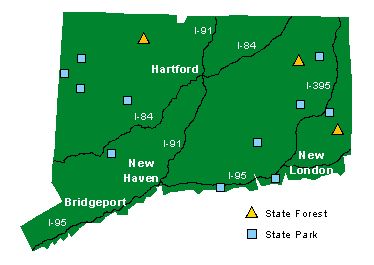 Parks with Camping Areas:

Forests with Camping Areas:

Horse
Camping Areas:
---

Content last updated March 2020