Connecticut Interagency PFAS Task Force


The finalized PFAS Action Plan has been released by the Office of the Governor.
On November 4, 2019, Governor Ned Lamont officially released the finalized PFAS Action Plan prepared by the Connecticut Interagency Task Force. The plan recommends a comprehensive series of actions that the State could carry out to address per- and polyfluoroalkyl substances (PFAS) in Connecticut.
During the public comment period following the release of the Draft PFAS Action Plan on October 1, 2019, over 400 public comments were received. After review and careful consideration of each comment, the draft plan was revised, where appropriate, to reflect public input and was delivered to Governor Lamont on November 1, 2019.
Now available for download:
per- and polyfluorinated alkyl substances (PFAS
), Governor Ned Lamont established the Connecticut Interagency PFAS Task Force on July 8, 2019. This Task Force, which is led by the Department of Public Health (DPH) and Department of Energy and Environmental Protection (DEEP) and contains
representatives
from a broad variety of state agencies, is tasked with delivering a PFAS Action Plan to Governor Lamont by November 1, 2019. This Action Plan will contain a comprehensive strategy to:
Minimize human health risk for Connecticut residents,
Minimize future releases of PFAS to the environment, and
Identify, assess, and clean up historic releases of PFAS to the environment.
To address these three focus areas, the Task Force established Committees on
These Committees welcomed participation from all interested stakeholders.
Task Force Timeline
The Interagency PFAS Task Force was established by Governor Ned Lamont on July 8, 2019.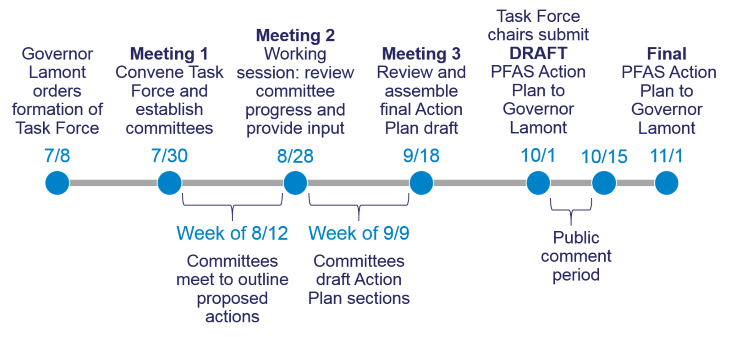 Presentations were posted to this web page following each Task Force meeting.
September 18, 2019 - Task Force Meeting
August 28, 2019 - Task Force Meeting

PFAS Interagency Task Force Meeting - August 28, 2019
July 30, 2019 - Task Force Kick-Off Meeting
Task Force Webinars
Agencies and Entities in the Interagency PFAS Task Force
Department of Energy and Environmental Protection (Commissioner Katie Dykes, Task Force co-chair)
Department of Public Health (Commissioner Renée Coleman-Mitchell, Task Force co-chair)
Office of the Governor
Department of Emergency Services and Public Protection
Connecticut Airport Authority
Office of the Attorney General
Office of Planning and Management
Department of Transportation
Public Utilities Regulatory Authority
Department of Consumer Protection
Connecticut Military
Department of Correction
Department of Administrative Services
Connecticut State Colleges and Universities
University of Connecticut
Department of Agriculture
Department of Developmental Services
Connecticut Agricultural Experiment Station
PFAS Resources and Documents