Electronic Waste (E-Waste)
Recycling

"We have forgotten how to be good guests, how to walk lightly on the earth as its other creatures do."
~ Barbara Ward, Only One Earth, 1972
From the mining of the raw materials to the recycling or disposal of our electronic products, electronics have a significant impact on the environment. By considering the environment when you purchase, use and dispose of a computer, television, or other electronic device, you can conserve energy, help the environment and save money.
Related Topics
What Do I Do With...?
State Electronics Challenge
Universal Waste
Product Stewardship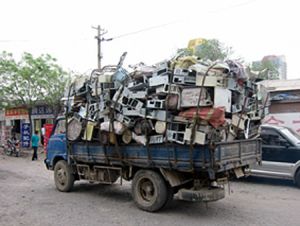 Computers and televisions are only part of the consumer electronics waste stream which also includes VCRs, radios, cell phones, and small appliances. Collectively, they are referred to as electronic waste, or "e-waste" and are one of the fastest growing portions of our waste stream. As new electronic equipment becomes faster, cheaper and more efficient, more and more of these devices, especially computers, will find their way from the desktop to the bottom of the closet. For each new product that is introduced to consumers, one or more products become outdated or obsolete. In 2005, EPA estimated that 26 to 37 million computers became obsolete amounting to approximately 1.9 to 2.2 million tons of waste nationally.
Careful disposal of these items is important because many electronic products contain hazardous components. Computer monitors and televisions can contain leaded glass. Materials such as beryllium, mercury, cadmium, nickel, zinc, silver and gold can be found in printed circuit boards. Cadmium can also be found in batteries and mercury can be present in relays and switches. If it is not recovered for recycling, it will likely end up in a waste-to-energy facility, where most of our trash is disposed in Connecticut. Incineration of e-waste can produce dioxin and contribute to heavy metal contamination in the atmosphere.
Responsible recycling and disposal of e-waste can help prevent exploitation of people in lesser developed countries where much of the e-waste from the U.S. has historically been disposed. Media exposés of companies that sent e-waste overseas where unprotected workers rummage through vast mountains of smoldering electronics to recover bits of recyclable metals served to shed light on the problem that our e-waste was causing elsewhere. This, among other reasons, prompted states, including CT, to pass e-waste recycling laws that help to ensure responsible recycling and disposal of these items.
Please Dispose of E-Waste Properly!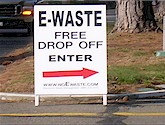 An e-waste recycling law was enacted in July of 2007 which allows Connecticut residents to properly recycle certain covered electronic devices (CEDs) such as computers, monitors, printers and televisions for free. This law requires municipalities to provide a free drop-off location for their residents to recycle CED's. DEEP maintains a list of these residential e-waste drop-off locations on our website. However, more detailed information about individual town e-waste recycling programs can be found through your local recycling coordinator. In addition to this new recycling program, as of January 1, 2011, covered electronic devices (CEDs) are banned from the trash.

Many towns in Connecticut participate in regional, one-day collections for these devices. Collections are sponsored by regional trash authorities, regional planning agencies and municipalities and generally take place in the spring and fall. These trash authorities do these collections voluntarily and at their expense. To find out when the next collection will be held that you may be eligible to participate in, contact your local recycling coordinator.
Many manufacturers of electronic products, especially computer manufacturers, have implemented programs to recycle their products through mail back programs, or have partnered with retail stores for collection. For information about manufacturer take-back programs (whether mail-in or drop-off) visit the EPA's Electronics Recycling Challenge. Also, check the consumer electronics section of our "What Do I Do With…?" webpage for more recycling options and take-back programs.
Please see the electronics section of our Reuse Centers and Material Exchanges web page for e-waste reuse options.
Businesses must make their own arrangements for the proper management of e-waste. Manufacturers of electronics are not required to pay for the recycling of electronic devices generated by businesses, town offices, schools, non-profit organizations, or any other non-household generator. E-wastes generated from non-residential sources (commercial, governmental, retail, etc.) are regulated under current federal and state hazardous waste laws. Some electronic materials are considered hazardous waste . Others must be managed in accordance with the Universal Waste Regulations (RCSA Section 22a-449(c)-113).
To recycle your electronic waste, contact a business that has registered with DEEP to dismantle used electronics. Your local municipality may also accept covered electronic devices (CEDs) from non-households, and may charge a fee. Contact the municipal recycling coordinator to see if your business may recycle e-waste through the community where your business is located.
Please note that Covered Electronic Recyclers (CERs) must be approved by DEEP to work with municipalities and be authorized to receive covered electronic devices generated by Connecticut residents. These companies may or may not accept electronics from businesses.
Some electronics may have reuse value. Learn more about reuse options for electronics.
When it comes time to replace your old electronics, do a little research and see which product is safest for the environment. Some manufacturers are beginning to use less toxic materials in their products, integrate recycling, and reduce their impacts on the environment by changing their manufacturing operations and policies.
EPEAT (Green Electronics Council) EPEAT is a system that helps purchasers evaluate, compare and select electronic products based on their environmental attributes. The system currently covers desktop and laptop computers, thin clients, workstations and computer monitors.
Your Ultimate Guide to Consumer Electronics (Consumer Electronics Association)
State Electronic Challenge (NERC) Encourages government, schools and public entities to buy greener electronics, reduce their impact during use, and manage obsolete electronics in an environmentally safe way.
Green Initiative – Electronics (EPA)
Guide to Greener Electronics (Greenpeace) - November 2012
General
The Story of Electronics - Video production by the Story of Stuff Project
(November 2010)
Management of Electronic Waste in the United States (EPA), Fact Sheet, July 2008
Electronics (Earth911)
Green Your CT State Agency - Manage Electronics and E-Waste (CT DEEP)
Recycling / Donation
Where Can I Donate or Recycle My Old Computer and Other Electronic Products? (EPA) Includes different organizations, manufacturer and retailer programs and government supported donation programs
Electronics Recycling Challenge (EPA)
National Center for Electronics Recycling
Disclaimer: The Connecticut Department of Energy and Environmental Protection (DEEP) maintains the content on this web site to enhance public access to information and facilitate understanding of waste reduction, reuse and recycling. The DEEP is not recommending these resources over any others and recognizes these represent only a partial listing of resources on this subject.
Content Last Updated May 27, 2020