Chemical Management and Climate Resilience

CT's businesses can be prepared to "weather the storm"
Connecticut was hit with at least 5 major storms plus lesser weather events since 2010. It is important to make your business and property resilient to natural hazards and reduce the risk of on-site chemicals causing pollution. Storm events can result in property damage, loss of inventory, and environmental contamination and liability. Accidental releases of toxic chemicals have also put communities and emergency responders at risk. Working together, businesses and local emergency officials can increase awareness and take steps to reduce risk and protect human health and safety. Use the resources below to be better prepared.
1. Take CT DEEP's Free on-line Training
The 21st Century Resilient Business: How Managing Chemicals Can Help Your Business Weather the Storm -
Designed to help a variety of businesses, especially those in flood prone areas that use chemicals in their process, sell chemicals and store hazardous waste onsite
, including service providers and retail stores that sell toxic products. It provides steps businesses can take to reduce risks and prevent damage, contamination, and liability and keep your business operating.
Examples of actions some CT facilities/businesses have already taken are included. (Approximately 20 minutes)
Related Materials:
Course Transcript,
Checklist, Additional Resources and Links
document referenced in the training, and an
informational survey
.
2. Watch Videos with Information from CT Businesses:
If your business or facility has hazardous materials, chemicals or waste on site you'll want to watch this! Come along on site-visits to a business and a facility, both located in flood prone areas along CT's coast, to find out what changes they are making towards becoming disaster resilient. They offer ideas and examples that you can incorporate at your site.

3. Use Tools, Outreach Materials & Resources for Businesses: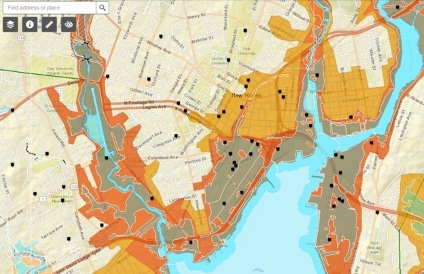 The CT Toxic Users & Climate Risk Viewer is a tool for businesses as well as local and state emergency preparedness and response planners. Layers include
the national flood hazard zones,
hurricane evacuation areas,
facilities that are EPCRA Tier 2 filers,
RCRA hazardous waste generators,
storage/ disposal facilities, and
Toxic Release Inventory reporters.
A layer with sea level rise will be added in the future.
Business, especially those that store hazardous chemicals, materials and/or wastes on site can assess the vulnerability of their location to climate-related natural hazards and take action to prevent damage or contamination from toxic on-site materials.
EPCRA-regulated facilities subject to
CGS 22a-610(e)
can assess risk and update hazard mitigation plans and applicable evacuation plans accordingly.
Guidance Documents:
Local, Regional, and State Emergency Planning:
Municipalities and regions can utilize their Natural Hazard Mitigation Plans (NHMP) to promote best management practices to prevent pollution from chemical releases from businesses in the event of a natural hazard. NHMPs that are due for an update can include new initiatives aimed at chemical management, utilize DEEP's information and promote through municipal websites and social medial.
Natural Hazard Mitigation Plans with chemical management initiative:
DEEP offers to meet with/make presentations for COGs, municipalities, LEPCs and other emergency response officials, business associations and others to provide detailed information about our project, promote outreach materials and training and provide technical assistance.
Other Resources & Links:
Last updated January 2023